ę BCS Title Game
|
Main
|
Top Headline Comments 1-10-12 Ľ
January 09, 2012
Overnight Open Thread - Case of the Mondays Edition
And for those who were wondering - here's the new 2012 schedule for the ONT: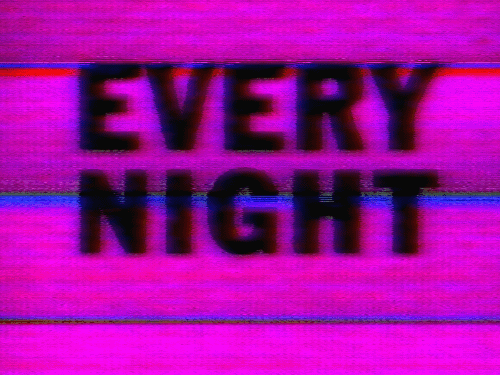 Was Gordon Gekko an #OWSer?
Jim Geraghty points out that when you listen to his 'greed is good' speech in context, Gekko's complaints are very similar to some of the rants you hear from Occupy Wall Street protesters. Of course his proposed solution was vastly different from the #OWSers.

[Gordon Gekko:] Today, management has no stake in the company! All together, these men sitting up here own less than three percent of the company. And where does Mr. Cromwell put his million-dollar salary? Not in Teldar stock; he owns less than one percent. You own the company. Thatís right, you, the stockholder. And you are all being royally screwed over by these, these bureaucrats, with their luncheons, their hunting and fishing trips, their corporate jets and golden parachutes.

Cromwell: This is an outrage! Youíre out of line Gekko!

Gordon Gekko: Teldar Paper, Mr. Cromwell, Teldar Paper has 33 different vice presidents each earning over 200 thousand dollars a year. Now, I have spent the last two months analyzing what all these guys do, and I still canít figure it out. One thing I do know is that our paper company lost 110 million dollars last year, and Iíll bet that half of that was spent in all the paperwork going back and forth between all these vice presidents.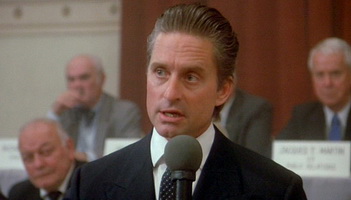 Katy Peterson Gives A Rip About Alabama
And after this commercial I'm ready to buy a fake Alabama ID off of ebay and go vote for her.

What's It Like To have a Trophy Wife?

I have what you might call a trophy wife. She's 14 years younger than me and very attractive. She's every bit my intellectual equal but I did meet her after many great successes in life. I met her at a charity event where I was perhaps ironically flirting with the much-plainer coat check girl and she cockblocked me.
My wife is pretty hot and she says she loves me and she does everything right, but I've learned there is a thing called men's intuition so you always have doubts. They never go away.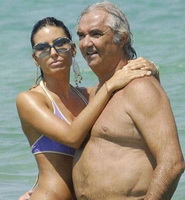 Testicle-Eating Monster Fish Finally Caught
So all us dudes can rest a little easier and go free-balling in the water once again.

An intrepid British angler today told how he snared a predator which kills men - by biting off their testicles.

Fearless Jeremy Wade, 53, spent weeks hunting for the fish in remote Papua New Guinea after locals reported a mysterious beast which was castrating young fishermen.

He finally unmasked the perpetrator as the Pacu fish - known locally as ĎThe Ball Cutterí - and managed to catch one in his small wooden fishing boat.

Mr Wade wrestled the 40lb monster on to the floor of his boat and opened its snapping jaws with his naked hands - to discover a jaw-dropping array of human-style teeth.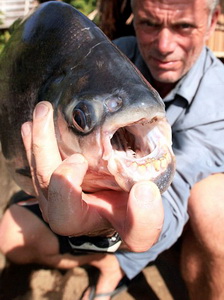 Ever Wanted To Pretend You Live Aboard the USS Enterprise (NCC-1701)?
Well now you can thanks to this 24 hour video of ambient star ship sounds. There's even a TOS loop for the old-schoolers.

Survey: Gardasil Doesn't Turn Teen Girls into Sluts
But no word on whether they get retardated:

Teen girls ages 15 to 19 who are vaccinated against HPV are not more likely to be sexually active, according to a survey in The American Journal of Preventive Medicine. Another positive finding is that sexually active girls who were vaccinated against HPV were also more likely to consistently use a condom than sexually active girls who were not.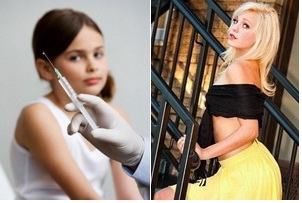 The Yahoo AoSHQ group. Bla bla bla. And don't forget about the Job Bank.
Tonight's post brought to you by unruly passengers: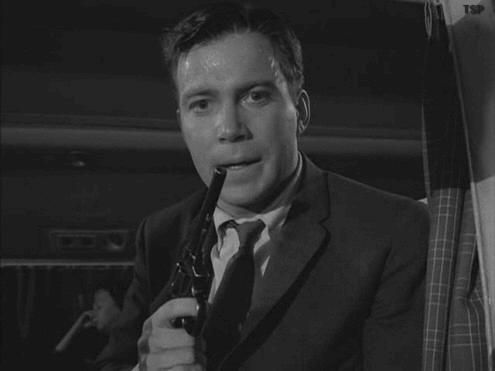 Notice: Posted by permission of AceCorp LLC. Please e-mail overnight open thread tips to maetenloch at gmail. Otherwise send tips to Ace.

posted by Maetenloch at
09:50 PM
|
Access Comments