« December 18, 1944
|
Main
|
Breaking: Kim Jong-Il Is Dead »
December 18, 2011
Overnight Open Thread
Welcome to the ONT party at the weekend's end. Only 6 shopping days left before Christmas and don't forget about the open-all-night-including-xmas-eve Rite Aid.
Love on the Rocks: The Decline of Marriage
We're not getting hitched like we used to:

Earlier this week it was reported that the number of married people in the U.S. has nosedived--from 72% of the adult population in 1960 to just over half (51%) today.
And Pam from
GoRetro
gives some reasons for why young people are forgoing getting married unlike their parents and previous generations.
Fundamentally it's because women no longer need to get married for financial reasons and guys no longer need a wedding to get access to regular sex (as all predicted in Logan's Run). As Insty likes to point out we've gradually taken away many of the social benefits of being a married couple and only added to the burdens (particularly for men).
But Pam does identify one recent development that's a typical example of the extra costs and burden that marriage has these days - the 'expected' expensive super-wedding:

Weddings used to be simpler and more affordable--a church ceremony followed by a reception at the local VFW, restaurant or country club. During the 80s and 90s, around the time people started buying McMansions and charging everything to their credit cards with abandon, we started to see wedding celebrations get bigger and more lavish.
Now I imagine the number of couples choosing to keep living together rather than getting married over the cost of a wedding is a relatively low percentage, but still when you relentlessly shift the cost/benefit ratio of marriage towards the cost side, it's not really surprising that people would alter their behavior accordingly.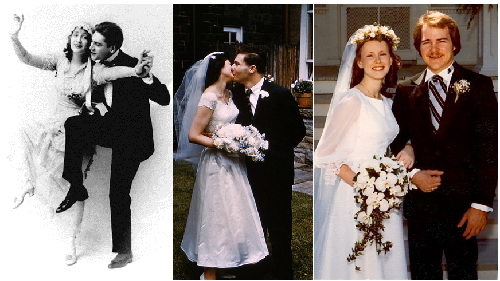 Jonah Goldberg on The Editorial
National Review in an editorial officially declined to endorse Gingrich which many take to be a de facto endorsement of Romeny. So needless to say base outrage has gone to 11. Jonah Goldberg responds and points out that NR endorsements have far less impact that many anti-GOP establishment conservatives like to imagine.

Now on to some of the unfair, hyperbolic and just plain weird charges.
First of all, what is with this complaint that we are trying to "dictate" who people vote for? I don't get it. We are, as always, an opinion magazine sharing our opinion. It is not binding.
Under William F. Buckley National Review made many questionable endorsements — a point he would happily concede. NR endorsed no one in 1960 — neither Nixon nor Goldwater. There were heated arguments on every side of that decision. In 1968 the magazine endorsed a much more liberal Nixon (to the considerable dismay of Bill Rusher). In 1971, National Review "suspended support for Richard Nixon." In 1972 we endorsed the great John Ashbrook for president. In 1973 we essentially endorsed Spiro Agnew for president, even as George Will was savaging him in the same magazine, indeed, the same issue (largely prompting Stan Evans to quit the magazine, I believe). In 1980, WFB kept the magazine from endorsing Reagan (Bill loved the Gipper but had grave concerns about his age). We endorsed Mitt Romney in 2008, for many of the same reasons some of our biggest detractors today did — to stop John McCain.
IMO a lot of conservatives get themselves all wrapped around the axle over which candidate to support based on internecine differences and concerns which turn out to be mostly inconsequential in retrospect. Looking at their endorsements NR is not immune from this either.
Diet Pepsi Celebrating 9/11?
Snopes says it's a "mixture" but they get unreliable whenever it comes to anything political or controversial. But to me it seems like a pretty generic cityscape so probably not. On the other hand most bottlers are locally owned and independent of Pepsico so it's possible they could have tweaked the design a bit.

OnLive Gaming?
So Bryan Preston is giving the cloud-based OnLive gaming system two thumbs up and I'm intrigued. It's a small box you buy for about $100 that can play most available console games over the internet. The reviews all seem good and it's quite portable and doesn't have the hassle of discs. Anyone have any experience with it?

Austria's Christmas Parades
Also feature Krampus, a demon who works with St. Nicholas and comes and takes away the naughty kids. Good cop/bad cop has been around for a long, long time.

Ms. Hannah Minx's JWOW
She talks about her hana.

Weekly AoSHQ Commenter Standings
Top 10 commenters:
1 [691 comments] 'Joffen' [96.99 posts/day]
2 [505 comments] 'Vic'
3 [487 comments] 'Tammy al' Thor'
4 [428 comments] 'AllenG (Dedicated Tenther) says 'No' to RINO Romney'
5 [333 comments] 'chemjeff'
6 [323 comments] 'tasker'
7 [296 comments] 'soothsayer'
8 [282 comments] 'willow'
9 [277 comments] 'ace'
10 [260 comments] 'Niedermeyer's Dead Horse'
Top 10 sockpuppeteers:
1 [50 names] 'kbdabear' [7.02 unique names/day]
2 [44 names] 'garrett'
3 [36 names] 'asoqeg'
4 [32 names] '18-1'
5 [30 names] 'al-Cicero, Tea Party Jihadist'
6 [29 names] 'Billy Bob, the 1%'
7 [28 names] 'tasker'
8 [26 names] 'fluffy'
9 [25 names] 'toby928▒'
10 [25 names] 'andycanuck'
The group. Yeah.
Tonight's post brought to you by MAD 2011: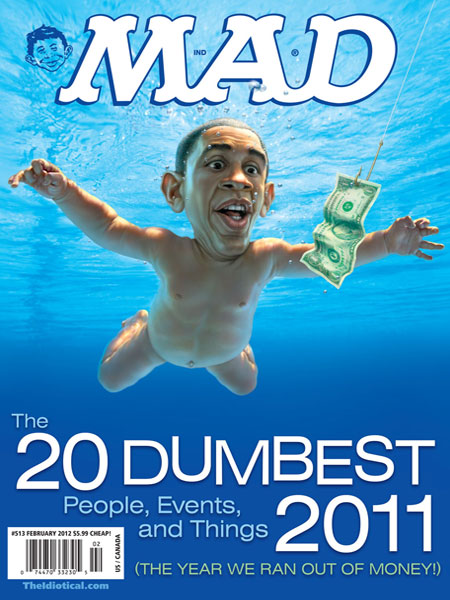 Notice: Posted by permission of AceCorp LLC. Please e-mail overnight open thread tips to maetenloch at gmail. Otherwise send tips to Ace.

posted by Maetenloch at
09:11 PM
|
Access Comments