« Liveblogging the FNC Sioux City GOP Debate
|
Main
|
RIP: Christopher Hitchens »
December 15, 2011
Overnight Open Thread - Paul Harvey Edition
In 1959, Marine Corps pilot William Rankin was cruising at nine miles above the earth in an F-8 Crusader combat jet when his engine failed and he was forced to eject.

At approximately 6:00 pm, Lt Col Rankin concluded that his aircraft was unrecoverable and pulled hard on his eject handles. An explosive charge propelled him from the cockpit into the atmosphere with sufficient force to rip his left glove from his hand, scattering his canopy, pilot seat, and other plane-related debris into the sky. Bill Rankin had spent a fair amount of time skydiving in his career—both premeditated and otherwise—but this particular dive would be unlike any that he or any living person had experienced before.
Between him and the ground was a large, black storm and as he fell he was caught and trapped within the storm's powerful up and down-drafts. He would become the only human being to ever parachute through a full cumulonimbus "anvil" cloud and live:
At the apex Rankin caught up with his parachute, causing it to drape over him like a wet blanket and stir worries that he would become entangled with it and drop from the sky at a truly terminal velocity. Again he fell, and again the updrafts yanked him skyward in the darkness. He lost count of how many times this up-and-down cycle repeated. "At one point I got seasick and heaved," he once retold.
Read the rest of the story
here
to find out what happened to him.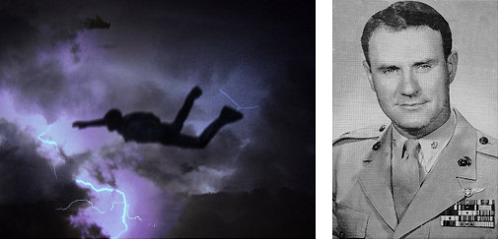 Did the Marine Corps Embellish The Story of Medal of Honor Awardee, Dakota Meyer?
Marine Dakota Meyer was awarded the MOH for his heroic actions in 2009 and in presented with it this September by President Obame in a White House ceremony. But now according to an investigation by McClatchy it appears that the account of his actions that led to the award was full of inaccuracies and was likely embellished by the Marine Corps.

Asked to explain the individual discrepancies and embellishments, the Marines drew a distinction between the citation and the account of Meyer's deeds that the Marines constructed to help tell his story to the nation. They described that account as "Meyer's narrative of the sequence of events," which Marine officials said they didn't vet…

The Marine officials, who requested anonymity because of the issue's sensitivity, acknowledged that portions of the narrative were changed from the account Williams submitted. They said that the changes occurred between July, when Obama approved Meyer's medal nomination, and the September White House ceremony. Inaccuracies were written into the citation and the narrative of Meyer's deeds, although the narrative contained far more errors and exaggerations.
Note that no one is disputing that Meyers completely deserved the MOH for his actions on Sept. 8, 2009 in the Ganjgal Valley.
What's most striking is that all this probably was unnecessary. Meyer, the 296th Marine to earn the medal, by all accounts deserved his nomination. At least seven witnesses attested to him performing heroic deeds "in the face of almost certain death."
But as the citation moved up through the command some apparently felt that it needed to be 'improved'.
So how'd the Corps' narrative of what happened end up being "enhanced" between July and September? McClatchy says USMC brass were irate after Cpl. Rafael Peralta's MOH candidacy was downgraded in 2004 to a Navy Cross and that they were intent on a Marine being awarded the Medal before Commandant James Conway retired last year. Once they finally had an awardee and a national stage for him at the White House, maybe the temptation to make him more of a superhero than he already is proved too great.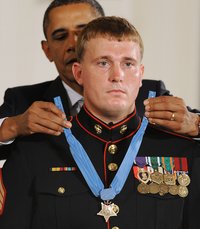 New Fatwa Permits Kidnapping, Imprisonment & Rape of "Infidel Women"
But what about honorable married infidel women? Nope - they get raped too:

On October 28, 2011, the jihadi forum Minbar Al-Tawhid Wal-Jihad published a fatwa by Sheikh Abu Humam Al-Athari, a member of its shari'a council, in which he unequivocally permits mujahideen to capture the infidels' women and have sexual intercourse with them, even those who are married, on the claim that their marriage bonds to infidels are dissolved as soon as they are taken captive.
So why hasn't there been a sudden outbreak of lady infidel jihad rapes around the world? Well you see the fatwa only applies
when you think you can get away with it
:
Al-Athari emphasizes that before deciding to take infidel women captive, "one must consider the gains and losses that will result from this deed, which is to say that if the imam of the Muslims in a given country believes that taking the infidels' women captive will lead the infidels to band together and rape the Muslims' women, and that the Muslims are in too weak a state to prevent this, he should forbid taking [infidel women] captive…"
Ah such fine decent human beings.
Companies "For" And "Against" Christmas
Depending on whether they say "Christmas" or merely "Holiday" - as compiled by the American Family Association.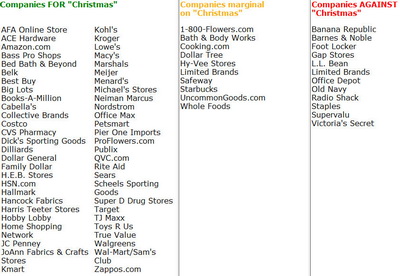 What's the Most Dangerous Over-the-Counter Drug?
Short answer: Tylenol (acetaminophen).
More people actually die from aspirin overdoses but they're almost all suicides whereas acetaminophen deaths are mostly accidental.

Compared to other over-the-counter drugs, acetaminophen has a relatively narrow safety margin—that is, the difference between a safe-but-effective dose and an overdose is relatively small. Doctors have reported liver failure from as little as 2.5 grams in a day, which is 1.5 grams less than the approved limit.
When I took a class on drugs as an undergraduate I remember being surprised at how low the LD50 dose was for Tylenol, and since then I've been very hesitant about using it and have never mixed it with alcohol.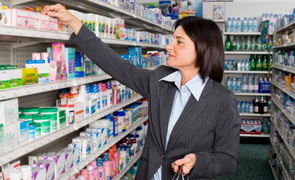 The 1976 Argos Catalogue
It's British but I think my friends and I owned every one of the toys shown. Now the only products that don't seem hopelessly dated are the watches, LEGOs, and Tonka trucks.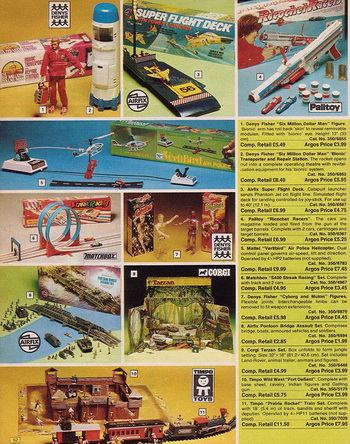 Got 'Rabbit Fever'?
Well Best in Show may have been a mockumentary but it turns out that there is a real subculture of people involved with show rabbits that puts it to shame. Who wouldn't want to be Rabbit Queen?

Do You Offer a One-Night Stand Gift Bag?
Because apparently that's the classy thing to do for all your new special lady friends:

The New York Post is reporting that whenever Derek Jeter has a one-night stand, he keeps a car on call, ready to take the woman home, and stocks it with "a basket of signed memorabilia" to … remember him by?
But if your signature isn't enough, then consider these other thoughtful accessories that your former lady friend might appreciate:
1. Fancy bubble bath, because obviously I'd be taking a shower as soon as I got home, but might as well make it a luxurious bath.
2. Toothpaste, in case I'm not going home and need to be in public.
3. A Starbucks gift card (to pick up coffee on the way to wherever I'm going).
4. Sunglasses, in lieu of extra strength concealer, which would be a weird gift.
5. Coconut water, to hydrate.
6. "I Just Had Sex" T-shirt to wear immediately.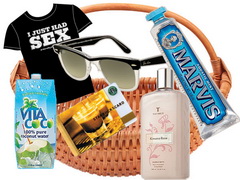 Yahoo group. That is all.
Tonight's post brought to you by the blogger's lament: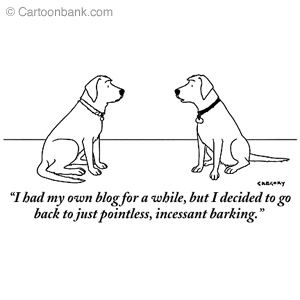 Notice: Posted by permission of AceCorp LLC. Please e-mail overnight open thread tips to maetenloch at gmail. Otherwise send tips to Ace.

posted by Maetenloch at
09:39 PM
|
Access Comments