« Warren "Tax Me More" Buffett's Company Sues IRS Over "Illegal" Taxation
|
Main
|
Christopher Walken Did Not Call Up A Show To Say "There Was a Tragedy" »
November 19, 2011
College Football Thread UPDATED
Congrats to Iowa State for pulling off the huge upset over Oklahoma State (2) last night in a double overtime crazy thing. Tough night for the Cowboys, who learned that morning that the OSU girl's basketball head coach Kurt Budke and assistant Miranda Serna were killed in an airplane crash Thursday evening.
Lots more football today, including Nebraska (17) and Michigan (20), USC (18) at Oregon (4), and OU (5) in Waco to take on Baylor (25).
And by "take on" I mean beat the Bears like they owe em money.
The other top 5 games, LSU (1) at Ole Miss, and Alabama (3) vs. Georgia Southern.
Have a good weekend you goofballs, and kind thoughts for the OSU folks.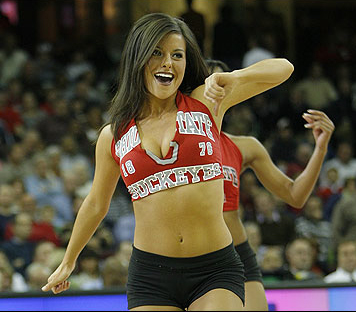 UPDATE: As noted by the first few commenters, Lee Corso drops an F-bomb on ESPN's College Gameday (video at the link, also warning, for, you know, an F-bomb)

posted by Dave In Texas at
12:02 PM
|
Access Comments