« The Walking Dead
|
Main
|
Top Headline Comments 10-Halloween-11 »
October 30, 2011
Overnight Open Thread
Halloween is coming.
An Awesome Speech by John Ratzenberger - Cliffy For Senate?
For the last year or so there's been recurring talk that John Ratzenberger might run for the Senate from CT as a Republican in 2012. And after watching this speech I can see where the buzz is coming from - he's a natural speaker and an all-round interesting guy. He definitely passes the beers-over-pizza test, and I'm betting he could work fiscal reform into the conversation and still keep it interesting.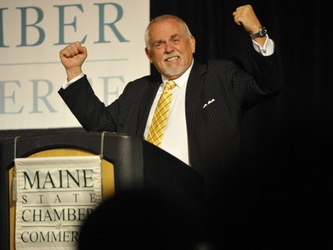 Here Ratzenberger is speaking before the Maine State Chamber of Commerce last week about the importance of manufacturing as part of American strength:

Ratzenberger, the actor famous for his "Cheers" role as Cliff Clavin, the know-it-all postman, and for his voice roles in every Pixar movie, has emerged in recent years as a leading advocate for manufacturing. He wrote the book "We've Got it Made in America, A Common Man's Salute to an Uncommon Country," addressed Congress and its Manufacturing Caucus, and sits on the Center for America board.

...His talk had a sense of "when I was a kid" and an overwhelming theme of an America that has lost its way. It played well to the crowd of roughly 500 in a state that still has a strong manufacturing tradition through its paper mills, defense contractors, shipyards and other businesses.
The video is below the fold. It's only 20 minutes long and he really gets rolling around the 5:00 mark.
Justice Scalia: Gridlock is a Feature - Not a Bug
Just because it makes the googoos fret and wring their hands doesn't mean that it's a bad thing:

The Europeans look at this system and say "It passes one house, it doesn't pass the other house, sometimes the other house is in the control of a different party. it passes both, and this president, who has a veto power, vetoes it," and they look at this, and they say (adopting an accent) "Ach, it is gridlock." I hear Americans saying this nowadays, and there's a lot of it going around. They talk about a disfunctional government because there's disagreement… and the Framers would have said, "Yes! That's exactly the way we set it up. We wanted this to be power contradicting power because the main ill besetting us — as Hamilton said in The Federalist when he talked about a separate Senate: "Yes, it seems inconvenient, inasmuch as the main ill that besets us is an excess of legislation, it won't be so bad." This is 1787; he didn't know what an excess of legislation was.

Unless Americans can appreciate that and learn to love the separation of powers, which means learning to love the gridlock which the Framers believed would be the main protector of minorities, [we lose] the main protection. ...Americans should appreciate that; they should learn to love the gridlock.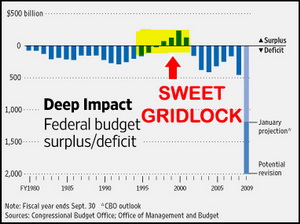 If U.S. Cities Were Countries, How Would They Rank?
Well when you see it this way you do have to wonder why certain elites obsess over the approval of say Canada or Austria when we have single counties that exceed them in GDP and population.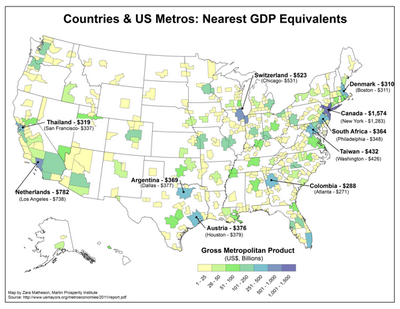 Halloween Costume or Williamsburg Hipster?
FYI Williamsburg is a neighborhood of Brooklyn known for its menagerie of free-range hipsters.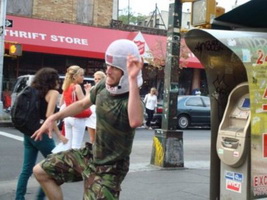 Dentists: Let Kids Gorge on Candy
So now you can do what you were gonna do anyway only with 78% less guilt:

For example, as far as oral hygiene goes, it is better to eat five candy bars at once than to eat one every few hours. In the first scenario, acid will build up in your mouth, but your saliva will naturally neutralize this over the course of an hour or so. And then that acid is gone. In the second scenario, you are constantly exposing your teeth to acid throughout the day, too much for saliva to wash away.
Gorging also is better, because it is more likely to be followed by tooth-brushing.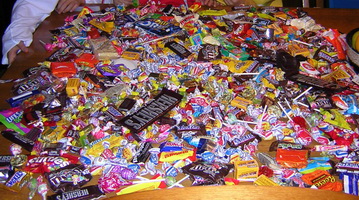 How To Crack Almost Any Electronic Safe with Just a Bounce
Pretty much any solenoid-based electronic safe is vulnerable to this type of crack except for maybe higher end ones with counterweights and interlocks. You can guess what category most hotel safes fall into.

The 100 Greatest Horror Movie Quotes
Thanks to kratos.

Do You Know The Story of Why Special Hawaii Bills Were Printed?

After the attack on Pearl Harbor, military officials surmised that in the event of an invasion of Hawaii, Japanese forces would have access to a considerable amount of US currency that could be seized from financial institutions or private individuals. Faced with this scenario, on January 10, 1942, Military Governor Delos Carleton Emmons issued an order to recall all regular US paper money in the Islands, save for set caps on how much money both individuals ($200) and businesses ($500; save extra currency for payroll purposes) could possess at any time.

On June 25, 1942, new overprinted notes were first issued. Series 1935A $1 Silver Certificate, Series 1934 $5 and $20 Federal Reserve Notes, and Series 1934A $5, $10, and $20 Federal Reserve Notes from the Federal Reserve Bank of San Francisco were issued with brown treasury seals and serial numbers. ...The hope was that should there have been a Japanese invasion, the US Government could immediately declare any Hawaii-stamped notes worthless, due to their easy identification.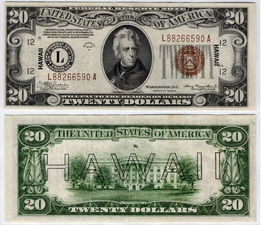 Is This Costume For Real?
Yes. Yes it is.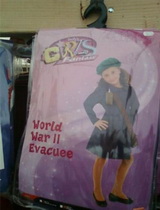 Weekly AoSHQ Commenter Standings
Top 10 commenters:
1 [479 comments] 'Soothsayer' [67.23 posts/day]
2 [452 comments] 'AllenG (Dedicated Tenther) is tired beyond tired of the trolls'
3 [415 comments] 'Vic'
4 [407 comments] 'Y-not'
5 [377 comments] 'CoolCzech'
6 [376 comments] 'steevy'
7 [317 comments] 'sifty'
8 [301 comments] 'kbdabear'
9 [267 comments] 'Mallamutt, RINO President for Life'
10 [259 comments] 'RINO Vice President For Life AuthorLMendez, Formerly YRM, Who
Supports The Ban Of Curious'
Top 10 sockpuppeteers:
1 [84 names] 'kbdabear' [11.79 unique names/day]
2 [48 names] 'Mallamutt, RINO President for Life'
3 [43 names] 'Baroque'
4 [37 names] 'al-Cicero, Tea Party Jihadist'
5 [30 names] 'logprof'
6 [30 names] 'Samuel Adams'
7 [29 names] 'toby928▒'
8 [29 names] 'Soap MacTavish'
9 [29 names] 'Beefy Meatball'
10 [27 names] 'garrett'
The group. Yeah.
Tonight's post brought to you by bad candy: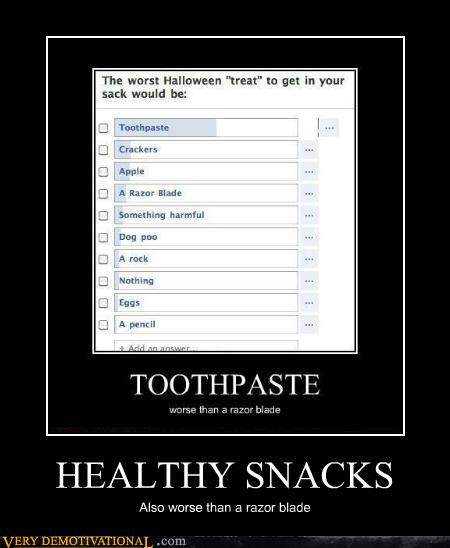 Notice: Posted by permission of AceCorp LLC. Please e-mail overnight open thread tips to maetenloch at gmail. Otherwise send tips to Ace.

posted by Maetenloch at
09:46 PM
|
Access Comments