« It's Not Class Warfare, It's Math
|
Main
|
Top Headline Comments 10-26-11 »
October 25, 2011
Overnight Open Thread
Why Your Future Is Probably Red
As in red state that is. When you compare the current and long-term fiscal conditions among the states, it's clear that the center of gravity for any future growth will be in the red zones. So the odds are good that you - or your children - will eventually end up moving to the South or some other reddish area.
I guess now is as good a time as any to start coming to terms with your our red state destiny.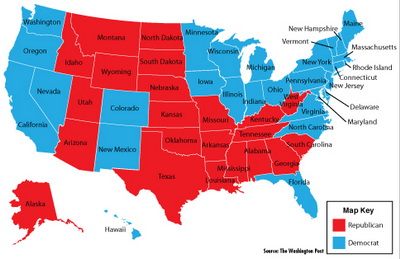 CDR Salamander: The South I Know

I have lived up North. I have lived in California. The residents always looked at me funny when I told them that race relations are better in the old Confederacy.

The economics though, are clear. So is the culture - and our nation is voting with its feet.
Lee Habeeb: Southern Like Me
Here self-described Jersey boy Habeeb explains why he moved to Mississippi:

Where there are plants and jobs, people move. And Americans have been moving south from the rust belt and industrial North for decades. In 1960, Detroit had a population of 1,850,000. Today, it has 720,000. Houston is now larger than Detroit, Atlanta is larger than Boston, and Dallas is larger than San Francisco.

Those numbers reflect a shift in political power. Texas picked up four seats in the House of Representatives this past year, while Ohio and New York lost two. Georgia and South Carolina picked up a seat, while New Jersey and Michigan lost one.

What caused this migration of capital — the human, industrial, and political varieties? Ask transplanted business owners and they'll tell you they like investing in states where union bosses and trial lawyers don't run the show, and where tax burdens are low. They also want a work force that is affordable and well-trained. And that doesn't see them as the enemy.

In short, policy matters. So, too, does culture.
And Richard Florida of the Atlantic argues that the South isn't just growing on low wage jobs - it's now a hotbed of high tech startups:

And while the level of venture investment in the South-Central states (including Oklahoma, Arkansas, Kansas, and Louisiana) remains low relatively speaking, the region saw a staggering 540-percent growth between 2005 and 2010, the largest increase across any region of the country by far. Overall, roughly one in ten of the nation's venture investment dollars are spent in the South.

...But high-tech has spread quite far into and throughout the South. Greater Dallas ranks sixth, putting it ahead of San Francisco, San Diego, New York and Chicago. And 10 Southern metros number among the top 50 (that's one in five on the Milken list, which includes Canada)
Dennis Miller Shines on O'Reilly
About the only reason I ever watch Bill O'Reilly is for the appearances of Dennis Miller and MKH. Here Miller opines on the debates, #OWS, and why former Deputy Press Secretary Bill Burton really, really sucks.

Meghan McCain Interviews OccupyWallStreeters
And the retardation is strong, showing that all those years of college were wasted on her and the protesters. Sweasel does a little fisking:

I was given those opportunities as a result of the hard work from both sides of my family.

No, Meghan, you were given those opportunities because of money. You inherit money. You don't inherit hard work. Your forebears may (or may not) have worked hard for the money, but you just woke up under a pile of it. If you want credit for hard work, you'll have to do some of your own.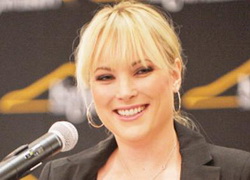 Is Your Happiness in Your Genes?
It turns out that about a third of your happiness level is inherited:

'It has long been suspected that this gene plays a role in mental health but this is the first study to show that it is instrumental in shaping our individual happiness levels (PDF),' writes De Neve. 'This finding helps to explain why we each have a unique baseline level of happiness and why some people tend to be naturally happier than others, and that's in no small part due to our individual genetic make-up.
I'd say my baseline happiness level is 'happy with mild disgruntlement'. So thanks Mom and Dad!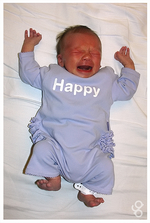 How People Actually Die
Shockingly it turns out that daily life is dangerous. Who knew?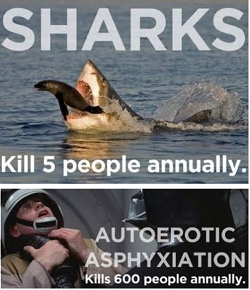 On The Internet No One Knows You're Dead
Here Christopher Taylor points out that these days the first sign that something has happened to somebody is their internet silence:

I had a guy there who was a friend, but he stopped posting one day. What happened to him?

What I'm getting at here is that if suddenly one day I stopped posting on WATN, would anyone reading have a clue what happened? If I got hit by a meteor or fell dead from an aneurism, how would my World of Warcraft friends know? In my case, my brother could let people know, but how many people have that option?

And even if someone could, how often does anyone have all your passwords, let alone know all the people and places that should be told?
It turns out Gerard Vanderleun's sudden silence was actually due to a serious heart attack last week (he's now recovering okay). However no one on the blog has heard anything from coblogger Purple Avenger since June which is worrying. If you have any info, please let us know.
The Stockdale Paradox is named after admiral Jim Stockdale, who was a United States military officer held captive for eight years during the Vietnam War. Stockdale was tortured more than twenty times by his captors, and never had much reason to believe he would survive the prison camp and someday get to see his wife again.

...Then comes the paradox: While Stockdale had remarkable faith in the unknowable, he noted that it was always the most optimistic of his prisonmates who failed to make it out of there alive. "They were the ones who said, 'We're going to be out by Christmas.' And Christmas would come, and Christmas would go. Then they'd say, 'We're going to be out by Easter.' And Easter would come, and Easter would go. And then Thanksgiving, and then it would be Christmas again. And they died of a broken heart."

What the optimists failed to do was confront the reality of their situation.
Men's Rules For Women
Well really more explanatory guidelines than rule-rules.

Don't ask us what we're thinking about unless you are prepared to discuss such topics as navel lint, the shotgun formation or motorcycles.

Shopping is something we will never enjoy.

Anything you wear is fine. Really.

…

Don't rub the lamp if you don't want the genie to come out.

You can either ask us to do something OR tell us how you want it done – not both.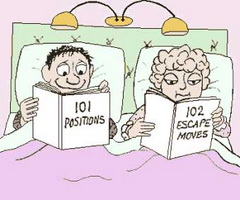 The Yahoo AoSHQ group. You know the way.
Tonight's post brought to you by the Mattel Marauder:

I'm pretty sure this toy and ad were responsible for the long-running rumor that Mattel made M-16s for the US military.
Notice: Posted by permission of AceCorp LLC. Please e-mail overnight open thread tips to maetenloch at gmail. Otherwise send tips to Ace.

posted by Maetenloch at
09:59 PM
|
Access Comments