« Rick Perry's Tax Plan Preview is Up at WSJ
|
Main
|
Top Headline Comments 10-25-11 »
October 24, 2011
Overnight Open Thread
Scrooge McDuck On The Occupiers
Okay this is supposed to be a snarky jab against the so-called 1% for violating the social compact or some such. But in fact McDuck is correct:
If you want your own treasure, get out there and plunder it yourself.
And his offer to loan you the equipment in exchange for 90% of the profits is actually a fairly good deal for treasure hunting. If it's a bust, you're only out your labor and don't incur any debt. And if it's a hit, then even with 10% you'll probably make enough to buy your own equipment for the next project.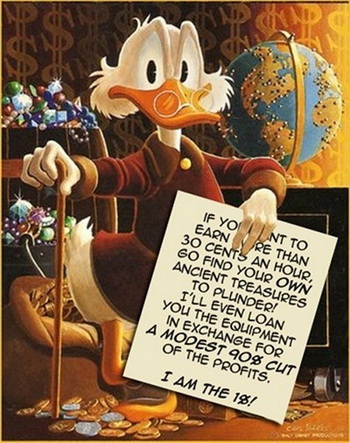 And where did the whole 1% meme start anyhow?
Well Lee Stranahan traces it back to a 2006 documentary called what else, 'The One Percent'.

That dates back to 2006 or so with a documentary called The One Percent that was put together by a rich, white inherited-wealth millionaire named Jamie Johnson. One of the heirs to the Johnson & Johnson fortune, guilty rich boy Johnson currently fights the man by writing a column called The One Percent for the revolutionary periodical Vanity Fair. His first film was called Born Rich and that about sums the Johnson oeuvre.

Needless to say Johnson is suffering a severe case of Rich Kid Guilt aggravated by acute economic ignorance along with active Daddy issues. But unshockingly given all his hand-wringing and agitprop Johnson has so far declined to give his 'unearned' wealth to charity. You can watch the entire 80 minute documentary on YouTube
here
.
Meanwhile most Americans are finding the whole Occupy thing a big meh.
How The EU Dominos Will Fall
Well the fall of the first domino (Greece) is inevitable now, and Germany simply does not have enough money to hold domino four up. Meanwhile the Eurocrats are still deep in denial so odds are it's going to be sudden and ugly.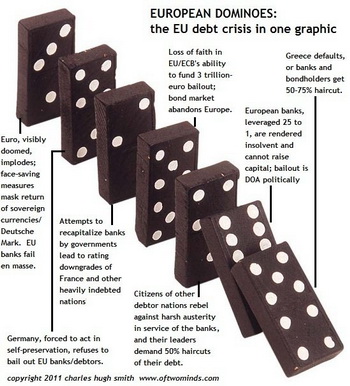 The 24th Anniversary of Borking
It was 24 years ago Sunday that civility in modern politics died when Democrats and their cronies in the MSM pulled out all the stops - including slander, defaming, and invasion of privacy - to keep Robert Bork off the Supreme Court. And as usual Teddy Kennedy distinguished himself in utter vile shamelessness:

Perhaps the most disgusting of all those disgusting performances was committed by one of America's most disgusting families, the Kennedys. The day Robert Bork was nominated, Senator Ted Kennedy rose in the Senate and said this:

Robert Bork's America is a land in which women would be forced into back-alley abortions, blacks would sit down at segregated lunch counters, rogue police could break down citizens' doors in midnight raids, schoolchildren could not be taught about evolution, writers and artists would be censored at the whim of government, and the doors of the Federal courts would be shut on the fingers of millions of citizens for whom the judiciary is often the only protector of the individual rights that are the heart of democracy.

This was not the expression of a difference of opinion. It was a stream of outright lies that escaped the designation of slander only because the speaker enjoyed the immunity of Senatorial privilege.
So why did the Democrats go ugly at that time? Probably due to frustration over Reagan's success, fear for Roe v. Wade, and the arrival of the by-any-means cohort of Boomers into power.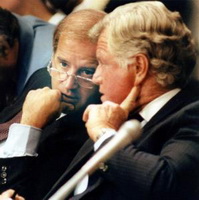 Some Random Links o'Mystery:
Wooden Watches
The Stickman-o-matic
This may not apply to most of you but for future reference: How to be a Good Guest Blogger
Plus Stormtroopers in Daily Life
(thanks to a secret cob-logger-type)
Just in case: How To Pick Locks
But of course always use your moron powers for good m'kay?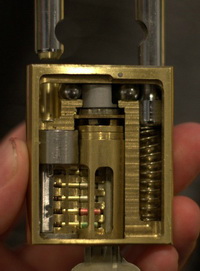 The Beauty of Imperfection
I think this has been covered on the ONT before but in Japan crooked or 'fang-y' teeth on women (known as yaeba) are not only accepted but actually considered attractive. So much so that some women actually pay to have their overly perfect teeth altered:

"It's not like here, where perfect, straight, picket-fence teeth are considered beautiful," said Michelle Phan, a Vietnamese-American based in Los Angeles, who wrote about the phenomenon on her popular beauty blog. "In Japan, in fact, crooked teeth are actually endearing, and it shows that a girl is not perfect. And, in a way, men find that more approachable than someone who is too overly perfect."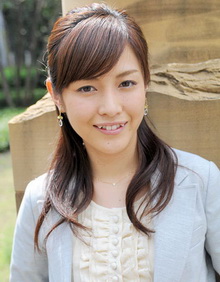 Cheese: The Most Stolen Food in the World
Okay this was a surprise:

Almost four percent of the world's cheese supply ends up stolen, putting cheese ahead of other frequent grocery targets like candy and alcohol. Shoplifting rates as a whole are going up, because, hey, times are tough. "For the past six months, [retailers] have been affected by bad news—economic slow down, government cuts and now an increase in shoplifting," one retail analyst
So guard that cheese!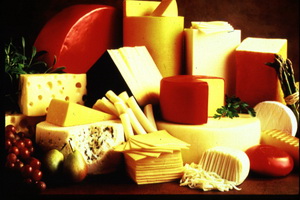 The Yahoo AoSHQ group. Bla bla bla. And don't forget about the Job Bank.
Tonight's post brought to you by Warrant Officer Ellen Ripley: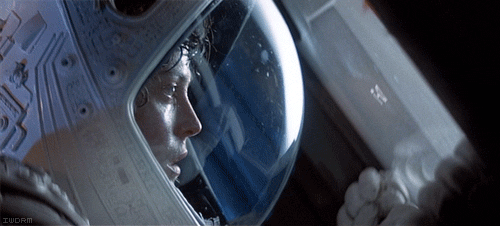 Notice: Posted by permission of AceCorp LLC. Please e-mail overnight open thread tips to maetenloch at gmail. Otherwise send tips to Ace.

posted by Maetenloch at
09:31 PM
|
Access Comments