« The Walking Dead [Ben]
|
Main
|
Top Headline Comments 10-24-11 »
October 23, 2011
Overnight Open Thread - Insult Edition
At a loss for tossing off casual but cruel insults because you ain't so good with the words?

Well never fear - with these tools you'll soon be breaking spirits and causing eating disorders with the best of them.
The Shakespeare Insult Generator
Easy enough for even the 'tardiest moron to sound edumacated.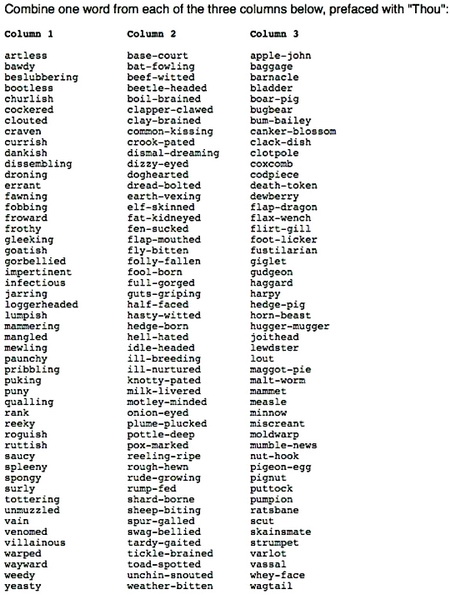 But if that's a bit too foofoo for you, then you might as well go direct to the font of the nastiest, vilest insults available today - I speak of course of YouTube video comments.
And thanks to the YouTube Insult Generator you can enter any term and get insults direct from the Id of the intertubes: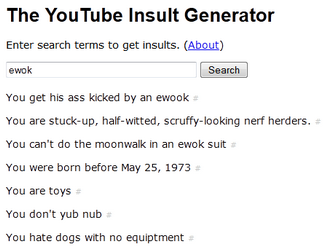 Is Obama Raising His Voice?
Literally. Pundits have noticed that Obama's speeches in the last few months seem testier and his voice seems more tense. Is this true or just a matter of perception? Well a linguist actually does some testing:

What I noticed is that president Obama seemed a mite testy in his weekly address for 10/1/2011 ("Fighting for the American Jobs Act"). This led me to ponder the phonetics of testiness, and of emotional expression in general. For this morning's Breakfast Experiment™ I thought I'd take up one small aspect of one dimension of this large topic, namely what happens to F0 ("fundamental frequency", commonly called "pitch") when you "raise your voice".
I pitch-tracked both speeches (well, all of the hundreds of speeches I've collected for the past few presidents, but that's another story), and plotted a comparison of the percentiles

...The difference is a fairly large one: an average pitch of 137.3 ±0.38 Hz on October 1, vs. an average of 106.6 ±0.31 Hz on August 6, for a proportional difference of about 29%.
So it's not your imagination - Obama really is talking like a stressed SCOAMF.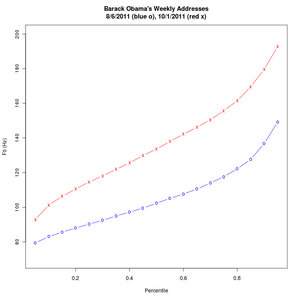 How Cheap is Life in China?
Cheaper than you can imagine.
Last week a 2 year old girl in southern China, Wang Yue, accidentally wandered into a street and was run over by a van. When driver realized what had happened, he ran over her again in order to get away. What's really shocking is that over the next few minutes no less than 17 people walked or rode by and ignored the gravely injured little girl. Eventually the little girl was taken to a hospital, but she died a few days later. The video of the entire incident is available here (Warning: it's disturbing).

As the girl lay bleeding on the street, no one offers her any assistance. Nearly 20 passersby and motorists pointedly ignore her: in one instance, a woman walking by with a child crosses the street to avoid the limp frame lying by the side.
Shockingly, a second vehicle then runs over Wang, although it appears that this time the driver was unaware of the girl lying there.
Minutes later, a 59-year-old scrap recycler comes upon the child, and pulls her to the side of the road, but when she sought help from nearby shopowners, she was told to mind her own business.
Later the minivan driver turned himself into the police and offered this explanation for why he drove over her:
"If she had died, I would have been required to pay only about 20,000 yuan (about USD $3134) in compensation, but if she were injured, it would cost me hundreds of thousands of yuan in hospital expenses," he said.
I could write a whole essay about this incident, but I'll boil it down to this: Culture matters; and if you ever need help from strangers, just hope that you're in a country with a culture based on judeo-christian values.
Streetless in Seattle
Seattle's mayor, Mike McGinn, really, really doesn't like cars.

Sure enough, when McGinn became mayor, he began pursuing anti-car policies. He'd like to levy an $80 fee for registering a car in Seattle, and he has raised taxes on parking in privately owned garages. He now plans to raise parking-meter rates downtown to $4 an hour from $2.50, which would make it costlier to park in Seattle than in any other American city except Chicago. He also supports maintaining the so-called head tax, which docks businesses $25 annually for every employee who drives alone to work.
But it turns out that McGinn lavishes $$ on his cycling buddies despite the fact that climate and topological layout make commuting by bicycle non-viable for most Seattle residents. So call him a tool of the 'Cycle Mafia'.
What Happened to US Currency?
It used to be...awesome - now it's utterly bland as if designed by a committee of dullards.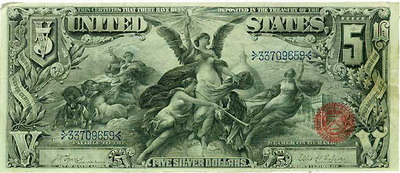 George Orwell on Vegetarians
He had their number even back in 1937:

"One sometimes gets the impression that the mere words 'Socialism' and 'Communism' draw towards them with magnetic force every fruit-juice drinker, nudist, sandal-wearer, sex-maniac, Quaker, 'Nature Cure' quack, pacifist, and feminist in England....The food-crank is by definition a person willing to cut himself off from human society in hopes of adding five years on to the life of his carcase; that is, a person out of touch with common humanity."
More
here
.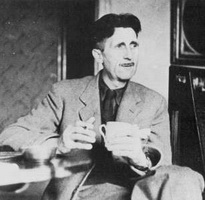 When Pilots Pass Out
Here military pilots get spun up to 6Gs on a centrifuge. See if you can guess who blacks out and who doesn't.

The Bad, Bad, Horrible Sitcoms of the 80's
Case in point - Small Wonder:

You fondly remember Small Wonder, but you are so very, very wrong. It's unwatchable. A robotics scientist (Dick Christie) develops a humanoid servant-bot named V.I.C.I., short for "Voice Input Child Identicant." But then, creepily, Ted builds V.I.C.I., or Vicki rather, to look like a little girl, and one that wears a Downton Abbey maid's for some reason. Ted then takes Vicki home to live with his family so the robot can become accustomed to people, because that's what robots do: they adapt and grow and need love.
Breakfasts Around the World
Warning: Looking at this will make you hungry.
The jokes about English cuisine are all based on truth, but the English sure do breakfast well. Even the black pudding is tasty - just don't ask what's in it.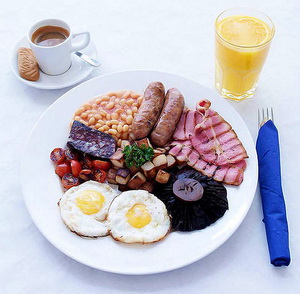 Weekly AoSHQ Commenter Standings
Top 10 commenters:
1 [581 comments] 'FlaviusJulius' [81.56 posts/day]
2 [450 comments] 'soothsayer'
3 [429 comments] 'Vic'
4 [426 comments] 'As If!'
5 [408 comments] 'Y-not'
6 [339 comments] 'steevy'
7 [322 comments] 'CoolCzech'
8 [318 comments] 'nevergiveup'
9 [302 comments] 'Robert'
10 [285 comments] 'cherry pi'
Top 10 sockpuppeteers:
1 [77 names] 'kbdabear' [10.81 unique names/day]
2 [54 names] 'Barbarian'
3 [53 names] 'FlaviusJulius'
4 [49 names] 'al-Cicero, Tea Party Jihadist'
5 [36 names] 'Breaker19'
6 [36 names] 't-bird'
7 [35 names] 'toby928▒'
8 [35 names] 'andycanuck'
9 [30 names] 'Drummers'
10 [29 names] 'soothsayer'
The group. Yeah.
Tonight's post brought to you by Jerry Lee, Carl, Elvis, and Johnny: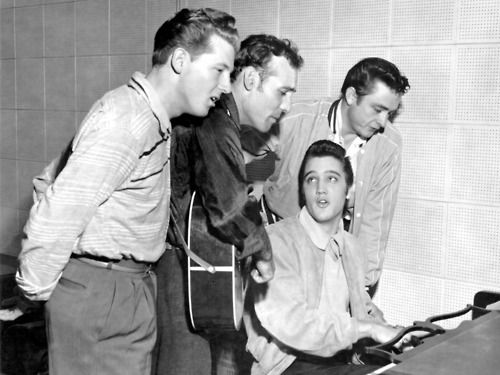 Notice: Posted by permission of AceCorp LLC. Please e-mail overnight open thread tips to maetenloch at gmail. Otherwise send tips to Ace.

posted by Maetenloch at
09:24 PM
|
Access Comments