« ALCS Thread
|
Main
|
Sunday Morning Non-Book Open Thread »
October 15, 2011
Overnight Open Thread
What a beautiful day it was here in VA today. Just perfect. Carved out some pumpkins with the kids. Sadly, no tiger cub was around like the above picture.
So can you find the hidden cat in the above photo? There might be two.
Makeup And Perception
Hmmm. Study: Makeup Makes Women Appear More Competent.

WANT more respect, trust and affection from your co-workers?
Wearing makeup — but not gobs of Gaga-conspicuous makeup — apparently can help. It increases people's perceptions of a woman's likability, her competence and (provided she does not overdo it) her trustworthiness, according to a new study, which also confirmed what is obvious: that cosmetics boost a woman's attractiveness.
Of course, it's not all makeup and roses with the results.
But some women did not view the study's findings as progress.

"I don't wear makeup, nor do I wish to spend 20 minutes applying it," said Deborah Rhode, a law professor at Stanford University who wrote "The Beauty Bias" (Oxford University Press, 2010), which details how appearance unjustly affects some workers. "The quality of my teaching shouldn't depend on the color of my lipstick or whether I've got mascara on."

She is no "beauty basher," she said. "I'm against our preoccupation, and how judgments about attractiveness spill over into judgments about competence and job performance. We like individuals in the job market to be judged on the basis of competence, not cosmetics."
Funny. A teacher wanting to be judged on competence? That's a novel concept. Too bad the unions will say NO.

Adjusting Speed Optical Illusion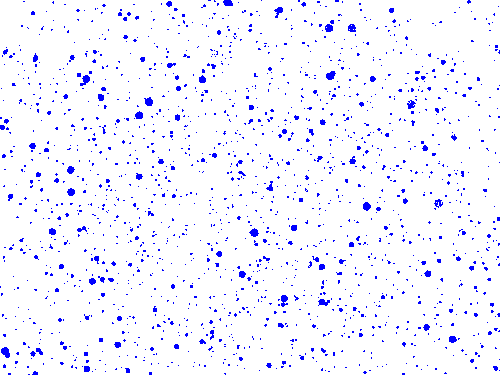 Wait for the warping animation above to get running. Then, when you cover up the center of the image with your hand (or fingers), you'll notice the remaining unblocked dots appear to speed up. Remove your hand, and they'll slow down.
More optical illusions here.

Suicide Bomber Ants
Dayum. Looks like the Religion of Peace is even getting to the insect world. Suicide Bomber Ants: They Blow Themselves Up Real Good!

Several south-east Asian species of ant in the Camponotus cylindricus group (i.e. carpenter ants) have enlarged mandibular glands that extend into their gaster (the bulbous posterior portion found in bees, wasps and ants). When disturbed, the ants rupture the membrane of the gaster, causing a burst of secretions containing chemicals – the largest gland reservoirs yet known in ants – that immobilize small insect attackers and kills the ant.

Or, as the folks at Newscientist.com put it, "The ants of Borneo go out with a bang, thanks to a body built to blow up during a suicidal death grip."

In other words, the six-legged blast-ended ant grabs onto the invading enemy and squeezes itself to death, literally blowing itself up and shpritzing a deadly sticky yellow goo everywhere, killing both intruder and ant.

Synchronized Cats

Fecal Fibs and Cellphones
You know who you are. The ones who don't wash their hands after using the restroom but say you do. Well, a study was done and you know what? Most of you are liars! Cellphone Bacteria Uncovers Fecal Fibs.

Of those surveyed, 95 percent claimed that they always wash their hands after using the toilet, with soap wherever possible. That was somewhat undermined by the discovery that 82 percent of people had bacteria on their hands (of a type that should have been killed by washing with soap) while 92 percent had bacteria on their phones.

It also emerged that 16 percent of people and 16 percent of phones had traces of E.coli. Bearing in mind phones rarely suffer from food poisoning, the clue to the origin of that contamination is the researchers' description of E.coli as "bacteria of a faecal origin", which brings a whole new meaning to having a crappy phone.

A-10 War Pron

Enemy Kittehs
Hmmm. What are those big cats US troops are seeing around Kandahar?

There are cats around Kandahar, but probably not the 300-pound furballs of death. Still, if you come across a large cat, don't provoke it. You may have 30 rounds, but it has nine lives.

Postal Pin-Ups
Last night I highlighted a story on the US Postal Service and how they are using junk mail to improve their bottom line. Now look at what they're doing. Mail Carriers Pose For Calendar To Promote Charity And Combat Job Cuts. I don't think I've ever seen a postal worker where I was like, damn, I wish she was in a calendar. Never.

Tonight's Tasking
Alright morons, here's your mission should you choose to accept it. Danger Room posted this a few days ago but I think we could come up with some really good and funny ideas. Vote: What's Iran's Next Insane Terror Plot? Surely we can do better than what has been posted!

AT-AT In Chicago
Oh man, Rahm Emanuel is gonna wish he a few of these come next summer when the G-8/NATO meetings go down in Chicago. Come to think of it, they'd be pretty useful against the #OWS crowds. Rachel Corrie, AT-AT style!

Cats Are Goofy

Tonight's ONT brought to you by:
Notice: Posted by permission of AceCorp LLC. Please e-mail overnight open thread tips to maet. Otherwise send tips to Ace.
PUT TEXT YOU WISH TO USE AS VISIBLE LINKING-LANGUAGE HERE
&topic=world_news">

posted by CDR M at
10:05 PM
|
Access Comments