« CLASSy: Administration Ignored Warnings From Own Analysts In Effort To Get Expensive Boondoggle Passed Into Law
|
Main
|
Gunwalker: Issa Says Fast & Furious Goes All The Way To The White House; 3 More Murders Linked To Gunwalker Weapons »
September 15, 2011
Obama's Green Jobs Program a Boondoggle As a General Matter, Says... The Washington Post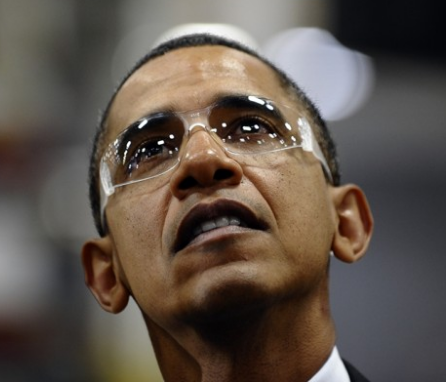 They don't say boondoggle. But the numbers the report do say it.
A $38.6 billion loan guarantee program that the Obama administration promised would create or save 65,000 jobs has created just a few thousand jobs two years after it began, government records show.

The program — designed to jump-start the nation's clean technology industry by giving energy companies access to low-cost, government-backed loans — has directly created 3,545 new, permanent jobs after giving out almost half the allocated amount, according to Energy Department tallies.
This is more than a half million dollars per job. Actually, it's more than that, because the WaPo calls these jobs "permanent." I think they are what is more accurately called "Solyndra permanent," by which I mean "temporary, until the loans have to be repaid, which they can't be."
Actually... Well, I was right, when I said "more than half a million dollars per job," because it is more than that. I lost a decimal place. It's five and a half million per job -- $5,444,000.
Obama's efforts to create green jobs are lagging behind expectations at a time of persistently high unemployment. Many economists say that because alternative-­energy projects are so expensive and slow to ramp up, they are not the most efficient way to stimulate the economy.

"There are good reasons to create green jobs, but they have more to do with green than with jobs," Princeton University economics professor and former Federal Reserve vice chairman Alan Blinder has said.
Now they tell us.
Obama is contending that the numbers should be padded with an additional 30,000 jobs at Ford -- apparently money went to retraining them to build hybrid fuel vehicles.
But those jobs aren't saved. Just some federal money went to retraining -- which the company usually does. The only reason federal money was even involved here was yet another subsidy for hybrid vehicles.
Where's the evidence they would have lost their jobs but for this? They probably just would have gone about their business, making cars people actually want, rather than the ones the Administration wants them to want.
Mark Muro, a Brookings Institution fellow who researches the clean-tech industry, said the agency appears to be counting every employee working in upgraded plants, when the more relevant question is how many workers would have been laid off without the loans.
Right, exactly, well here's the thing: Obama initially wanted to be the first president ever to get credit for jobs saved or created.
Later, he discovered that even by that measure, he was still failing. So when the ARRA asked businesses it had subsidized to report back to it about jobs, it did not ask such businesses to tell them how many jobs the subsidy had saved or created.
It specifically told them to report back which jobs had been funded, even by a dollar, with federal money, regardless of whether the job in question was ever in danger of being terminated. Just tell us if anyone's being paid, even by a few dollars, with our money; we want to count that as a job we funded.
Hence a number which really should be about jobs created, period, turned into jobs saved or created, and, in a final step of absurdity, then into jobs saved, created, or merely funded.
"I always take these job estimates with a big grain of salt," Josh Lerner, a Harvard Business School professor who has written about failed government efforts to stimulate targeted industries, said in an e-mail. "There tends to be a lot of fuzzy math when it comes to calculating these benefits (regardless of the party taking credit for the program)."
Now they tell us.

posted by Ace at
01:04 PM
|
Access Comments