« Error In ObamaCare Drafting May Permit States To Substantially Block ObamaCare On Their Own Initiative
|
Main
|
"Let's take these son of bitches out" - First Volley? [krakatoa] »
September 08, 2011
Oh Dear: Rick Perry "Physically Assaults" Ron Paul During Debate Commercial Break
I think Mediaite is on to something when they write:
There's no freakout like a Ron Paul fan freakout.
I need William Shatner to take the podium and say "Get a life."
A meme has emerged on the PaulWeb that, during a commercial break in last night's Republican Presidential Debate, Gov. Rick Perry "assaulted" fellow Texan Ron Paul, "suddenly grab(bing)" Paul's forearm while "aggressively pointing his index finger towards the Congressman's face."

The only "source" for these allegations is an AP photo with a much blander caption, but that's just what you'd expect from the anti-Paul media, right?

Here's the assault in progress: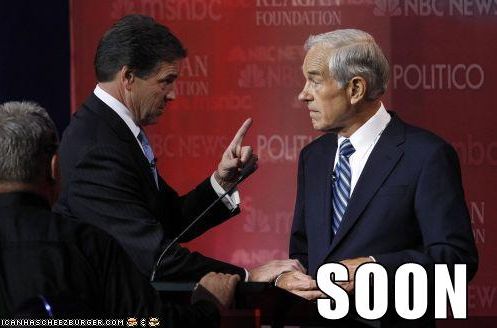 P-shop by Slublog
Another picture shows Perry "menacing" the Drow doctor from Texas.
The only thing here is that Ron Paul, I think, is maybe just slightly an angry old crank, and may decide to run 3rd party, and will especially be keen on such a thing if he's angry at Perry for touching him, which of course is coercive, and therefore an outrage in whatever silly version of libertarianism he believes in.
Was Rick Perry Trying To Prevent Paul from Fleeing To Mexico? Because that's what a border fence does, you know-- it prevents Americans from fleeing the tyranny of the USA to the democratic nirvana of Mexico.

posted by Ace at
02:35 PM
|
Access Comments