« Bank of America Could Slash Up To 30,000 Jobs
|
Main
|
Saturday Morning Open Thread: Dumb Crook Edition »
September 02, 2011
Candace Kita Presents: A Very Special almost NSFW Overnight Open Thread. [dri] NSFW?
I met up with Candace Kita at the AoSHQ oceanfront beach mansion on old Cape Cod recently. In between iced hurricane cocktails, I asked her what new projects she was working on. "Well I am currently shooting several guest appearances for network television shows that will be broadcast this fall. I can't go into specifics right now but I will give AoSHQ readers exclusive photos and info as soon as they are ready to air." "I am currently promoting a cool new modeling card product called "Bench Warmer Bubble Gum Trading Cards". You know, trading cards like the baseball cards you used to collect when you were a kid complete with a piece of bubble gum only these cards feature pictures of sexy models".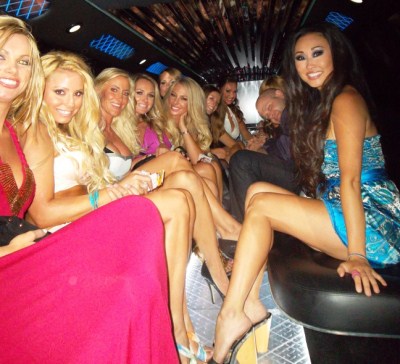 Candace Kita seated (right) in a sea of blonds at a recent Bench Warmer charity event for the
Children of the Night Organization.
Interesting concept I mused and asked her how this whole idea came about. "The Bench Warmer concept was created by CEO Brian Wallos who is living the dream of surrounding himself with beautiful women and getting paid for it". Good work if you can find it I retorted.
Candace also had some advice for AoSHQ readers regarding the new bubble gum cards. "Remember to only eat the bubble gum in the card sets. Never eat the whole package" she said.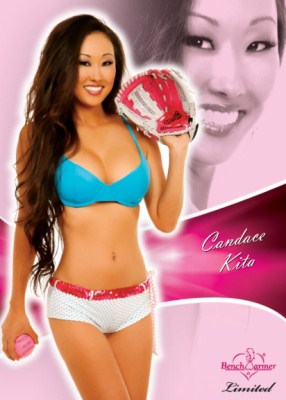 Candace Kita's Bench Warmer card (front)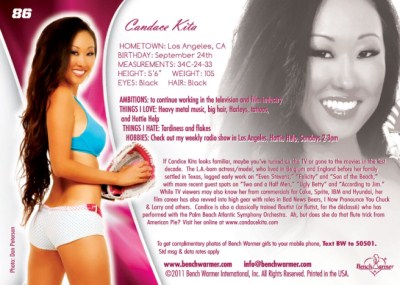 Candace Kita's card (back)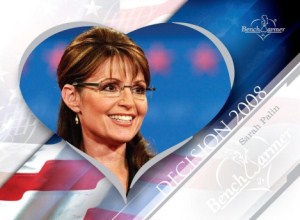 Even Sarah Palin has a Bench Warmer card!
More cards can be viewed at http://www.benchwarmer.com/


posted by Open Blogger at
09:24 PM
|
Access Comments