« Well That Makes Sense: Park51 Group Requests $5 Million In Federal Taxpayer Money For Their Victory Mosque
|
Main
|
Updates On Obama, Palin Speeches
Obama Accepts September 8th Date »
August 31, 2011
Why Be a Global Warming Skeptic - Greatest Hits [ArthurK]
Charles Martin gives some reasons why he's skeptical of Global Warming. It's a decent read which includes some killer quotes I'm dying to share with you.
All modeling efforts will inevitably converge on the result most likely to lead to further funding.Anyone with a unbiased eye who looks into it will find any number of people who have found that a model that predicts more warming gets funded; a model that predicts relatively less warming gets less funding. Pre-tenure researchers in particular are warned away from results that don't fit orthodoxy.
YES! This work is done by humans with human weaknesses.
...they're selecting data points that fit the models well - but then testing the models by how well they fit the data.The models themselves turn out not to be very predictive. (that is, they don't work) ... These models are often revised so that after the fact that predict what really happened. This isn't very satisfactory. ...It's unclear how the AGW hypothesis can be falsified in its current form.
Falsifiability. That's a key word that people forget when talking about science, theories and what's real. If something is part of science it must be falsifiable. That means there must be some method that can be used to prove that theory* wrong. That doesn't mean that you have to disprove the theory - but it must be possible to attempt to disprove it.
*I'm often using theory where I should be using hypothesis or speculation.
For example, very recent creationism. I'll say my theory is God created the universe 24 hours ago. That sounds absurd! You remember things happening more than 24 hours ago. That tree over there took more than 24 hours to grow (and a million other arguments). But my theory has the answer to those arguments. You remember something from last week? God created those memories! That tree looks old? God made it that way!
This sounds like a game a kid would play to pester his parents. But look at what's scientifically wrong with very recent creationism. It's not falsifiable! There's no method conceivable that could disprove it because the results of any experiment that refutes the theory are answered by "God made it that way." So it's not science.That doesn't mean it's not true! God may have created the universe 24 hours ago. It's just that proving or disproving it isn't in the realm of science since the theory isn't falsifiable. Just because you can't prove something happened doesn't mean it didn't happen. But science is a finicky bitch - she doesn't try to cover everything.
The arguments against the skeptics turn out to be unscientific, and often unprofessional, in the extreme.These range from the common "the consensus is" ..."The consensus is" neglects the fact that science isn't decided by consensus, not permanently at least. (At one time, the consensus was that fire involved a special elemental substance called phlogiston...)
Yeah. Science isn't a democracy. Our politicians have a problem with that since they're used to building consensus. That's good for governing but they shouldn't apply that idea to science. Just as science can't speak on things that aren't falsifiable, government shouldn't try and force consensus into areas it doesn't work.
As a reward for making it this far,
I give you a graph
.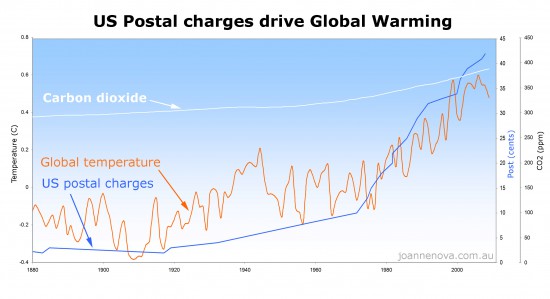 Science!
Published by Ace.
Ace here, still. One idea I had about open blogging was this -- write posts whenever you like, but then put them into draft. Then let me know it's there.
This has a couple of big virtues. For one thing, I can schedule them properly, and not have posts piling on top of one another.
Another thing is that Open Blog posts are often thinky/general interest posts which are not time-sensitive as news stories are. These posts tend to be overlooked during the day. But at night or on weekends -- off-hours, in other words -- they get read a lot more. Because people are more in the mood for that, and there's not as much news anyway.
Anyway, this seems like a good idea to me.