« Navy Board Decides To Allow Fired Skipper Of USS Enterprise To Stay In Navy
|
Main
|
Top Headline Comments 8-25-11 »
August 24, 2011
Overnight Open Thread
Star Wars Extravaganza!
The Empire Strikes Back: Han and Leia - The Deleted Scene:

I'd have liked to see the scene right after this one but then we all know how well Lucas does love scenes.

But wait - there's also photographic proof of Leia's affair With Chewie: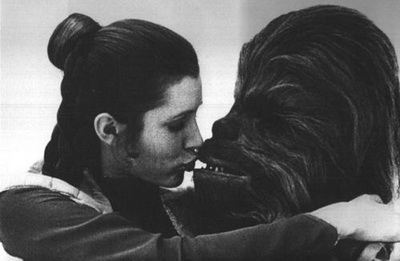 Which isn't that suprising given that Chewie cleans up well:

Who knew Cloud City was such a wretched hive of love and betrayal?
"Major Hasan was the first mass murderer in U.S. history to give a PowerPoint presentation outlining the rationale for the crime he was about to commit. And he gave the presentation to a roomful of fellow army psychiatrists and doctors. Some of whom glanced queasily at their colleagues, but none of whom actually spoke up. And, when the question of whether then Captain Hasan was, in fact, 'psychotic,' the policy committee at Walter Reed Army Medical Center worried 'how would it look if we kick out one of the few Muslim residents.'"
-Mark Steyn, After America
Speaking of earthquakes…
People for some reason always assume that earthquakes are western things, but after the DC quake maybe people will start having some respect for the New Madrid fault which has been biding and building for almost 200 years. When it goes, so will Memphis and other Mississippi cities. Personally I won't miss Memphis all that much but I hear Cape Girardeau is nice.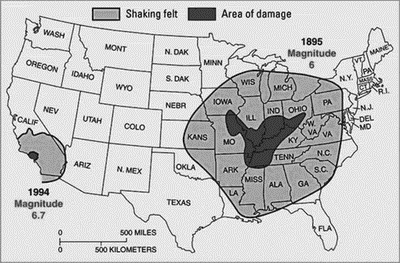 10 Landmark Moments in YouTube History
From the very first YouTube video to more infamous ones you've probably seen most if not all of these.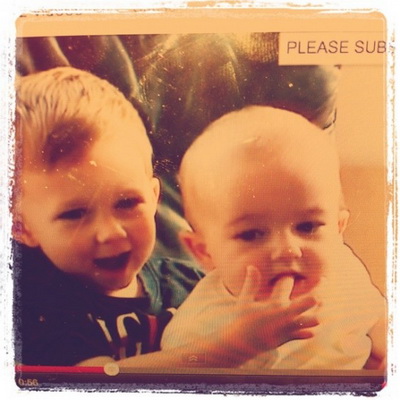 The Dear Leader Tongue Scraper??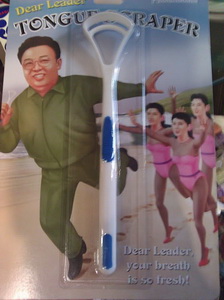 Well I was skeptical until I saw
this picture
.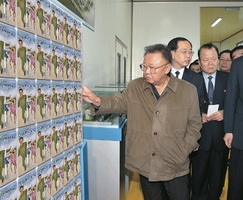 Okay then. (thanks to Michael Rittenhouse)
When MAD Magazine Had Computer Programs
It's hard to believe now but there was a time when many magazines included programs in their issues. This is a collection of BASIC programs from the October, 1985 issue of MAD magazine.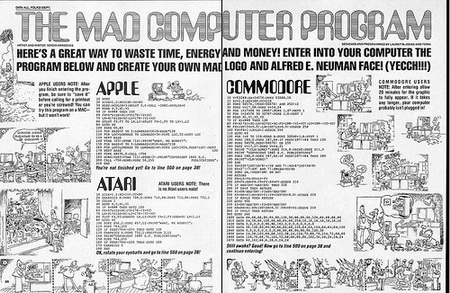 Samsung Cites '2001- A Space Odyssey' As Prior Art Against the iPad
Samsung and other companies are embroiled in patent disputes with Apple who have apparently patented everything that's related to a tablet computer. But now Samsung is pointing to this clip from 2001 as proof that prior art exists and invalidates some of Apple's iPad patents.

last night Samsung filed a brief in opposition to an Apple suit against the company claiming that the iPad is not original. In fact, the brief claims that there is 'prior art' in the 1968 film '2001-A Space Odyssey'. The filing notes that in a scene in the movie, the two astronauts are shown eating and watching the news on a device that looks like an iPad.

..."As with the design claimed by the [Apple patent], the tablet disclosed in the clip has an overall rectangular shape with a dominant display screen, narrow borders, a predominately flat front surface, a flat back surface (which is evident because the tablets are lying flat on the table's surface), and a thin form factor," Samsung said.
And then you have
this ad
.
Man Crashes Stolen Semi Into Adult Store, Steals Vagina
Well in his defense it was an $800(!) vagina and no women at all live in the town. I don't approve, but I understand. The man was captured but the vagina is still on the loose.

Tonight's post brought to you by infallibility: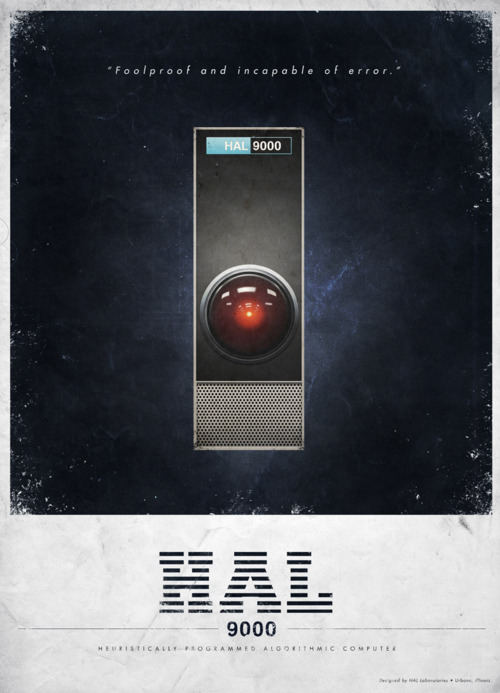 Notice: Posted by permission of AceCorp LLC. Please e-mail overnight open thread tips to maetenloch at gmail. Otherwise send tips to Ace.

posted by Maetenloch at
09:20 PM
|
Access Comments