« Saturday Morning Open Thread
|
Main
|
Oh God...31 Americans And 7 Afghans Killed In Helicopter Crash »
August 06, 2011
Unemployment Followup - Was it Really Not All That Bad?
When you read things like this, did it make you think that maybe yesterday's job report might not have been all that bad?
The U.S. economy added more jobs than expected in July and the unemployment rate edged down, a move that should help ease concerns that a new recession may be around the corner.
The takeaway for a lot of people has been: "Well, the job creation wasn't that great, but at least it was above expectations." I have 2 points to make on that topic.
"Above expectations?" A week before the release, the consensus was +100K jobs. Half a week before the release it was +85K jobs. The day before it was +50K jobs. When your expectations are that volatile up to the day before the release, I don't think they matter at all. It's not good news - it's meaningless news.


"Jobs created?" The job creation number is normally taken from the Establishment Survey (the survey of businesses), but it doesn't distinguish between full-time and part-time work. So let's take a look at full-time employment from the Household survey (the survey of the civilian noninstitutional population):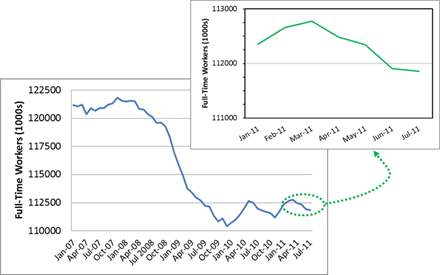 Yes, according to the Household survey, all of that wonderful job creation has not been creating full-time jobs. In fact,
we've lost more than 900,000 full-time jobs since March 2011.
So yeah, I think the unemployment report was a stinker.

posted by Geoff at
10:00 AM
|
Access Comments