« The Progressive Crisis
|
Main
|
Borrowing Now At 100% of GDP »
August 03, 2011
The Government's Cereal Killers
We've all been there. It's been a long day at the hobo hunt office, you get home, grab a drink and sit on the couch to watch television. Your body is telling you it needs food, but just the thought of getting up and cooking is exhausting. Just as you resign yourself to the thought of having to actually make an effort to feed yourself, you remember.
Cereal. In the pantry. A box of sugary love from a cardboard box. Apple Jacks, Cocoa Crispies, Frosted Flakes...heaven in a bowl. You know where this is going, right? Where you see something beautiful bureaucrats see...an opportunity to take it away from you.
The Obama administration is after your Lucky Charms, or at least your children's. The public comment period closed on July 14 for a set of "voluntary" guidelines for the marketing of food to children. If adopted, these rules will transform the advertising of breakfast cereals.

Put forward by an interagency working group, the guidelines will establish nutritional standards that most cereals flunk—and not just those of the "Chocolate Frosted Sugar Bombs" variety. Corn Flakes will not be advertisable to children, along with Raisin Bran, Special K, Rice Krispies, and Wheaties. Plain Cheerios squeak by the proposed 2016 rules but fall foul of the "ultimate goal" for sodium effective in 2021.
Wait...what? Cheerios?
These Cheerios? The bland yet delicious little circles that have placated toddlers for decades? That nutrition data, by the way, is for a 28 gram serving size. Sometimes, food manufacturers set the serving size low to keep the numbers down. This is not one of those times.
I did a little experiment to demonstrate what 28 grams of Cheerios looked like. Here's what 28 grams of Cheerios looks like, weighed on a food scale: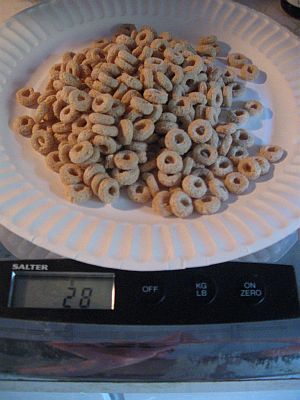 That is not a small serving. That's enough Cheerios to keep a nursery quiet for at least an hour. This is what our government considers unhealthy. To comply with the new regulations, these companies will be forced to spend millions of dollars to re-engineer their products, and will do so at a particularly bad time for the industry.
Sales of ready-to-eat cereals fell 2.55% in the 52 weeks ending April 17 to $6.41 billion, according to data from Symphony/IRI which covers retail outlets such as supermarkets. Sales of cheap, private label cereals dropped 7.2% to $637.5 million during that same time frame. Sales and units shipped have been lackluster since at least 2007, predating the Global Recession and the recent rise in grain prices.
A drop in sales combined with these new regulations should do wonders for these companies, and the profits they use to keep people employed and pay farmers for the raw materials.
Now, some of the more Frumian among the morons may be saying...'Wait...the regulations only prevent these companies from advertising their unhealthy products. Surely, we should prevent such horrible things from being marketed to children, right?'
Back to the Weekly Standard.
The definition of "marketing to children" is broad. A television show is deemed "targeted to children" if 20 percent of the audience is 18 or under. Any child-oriented theme, like education or parenting or T-ball, cannot be mentioned in the advertising of foods that don't meet the standards. Frosted Flakes will no longer be allowed to sponsor Little League baseball. The Coca Cola Company will have to give up its Coca Cola Scholars Foundation (which provides $3.4 million a year in scholarships) or perhaps rename it after one of the company's bottled waters. General Mills's "Box Tops for Education" program will be barred from kid-friendly cereals. The slogan "Choosy moms choose Jif" will be forbidden as too "targeted."
So no more money for educational programs, T-ball leagues, Little League, Scholars, and
schools around the country.
Add that to the potential job losses in the cereal industry, the lost advertising revenue for television stations and those regulations are just looking better and better, huh?
Really, what would we do without the federal government?
Other than prosper and enjoy a nice bowl of cereal, that is.
(Thanks to the Twitter feeds of @nathanwurtzel and @baseballcrank for the links)
Also, via Gabe Malor, Members of Congress...you know what needs to be done.

posted by Slublog at
06:53 PM
|
Access Comments