« Dueling Demagogues: Obama vs. Chaffetz & Jordan
|
Main
|
Soros drops clients instead of complying with New Regs. [krak] »
July 26, 2011
I hear the DOOM a-comin', it's rollin' 'round the bend...
His Majesty once again deigns to leave the Golden Throne and speak directly to His subjects. His heart-rending pleas for shared sacrifice rang somewhat hollow, given King Obama's wardrobe (bejeweled crown, golden scepter, ermine cloak, diamond stickpin, cloth-of-gold pantaloons) and entourage (a troupe of court eunuchs fanning him with fresh hundies straight from the Treasury vault). William Kristol at least was not terribly impressed:
These "people outside of Washington" are not little children being lectured on an obscure subject by a worldly adult. These people outside Washington are ... citizens. Judging by the polls, most of us have opinions about whether, and under what conditions, the debt ceiling should be raised. We don't seem to be as ignorant as Obama thinks we are of the term or concept of a debt ceiling. But the president assumes we've never bothered our pretty little heads about such a thing.
His Majesty only wishes to spare us the confusion and distress inherent in running our own lives. How much easier to let the King do it!
Currency traders sure didn't think much of Obama's speech. (Boehner's either, for that matter.)
Of course Jimmy Carter is smiling. He's no longer the worst President of the post-WWII age.
Republicans, who have brought either four or five different budget plans to the table since April and have had them all shot down by a recalcitrant Senate or an imperious President, are still somehow to blame for the budget impasse according to the wise heads at the New York Times. Pretty soon they'll just start writing random mash-notes and love poetry to Obama and posting those in lieu of op-eds. ("Dear Obama, you are just the ginchiest!!!! Huggz and big wet smooches from your darlings at the New York Times! Luv4Eva!!!!")
Britian is learning the same sad lesson that the cousins in America are struggling with right now: shrinking the government is a lot harder than growing it. The piece is by Theodore Dalrymple (the nom de plume of Anthony Daniels, a former prison-doctor in the UK), and like all his other stuff, is a must-read.
As soon as the crisis is over, though this may not be for some time, the politicians are likely again to offer the public security and excitement, wealth and leisure, education and distraction, capital accumulation without the need to save, health and safety, happiness and antidepressants, and all the other desiderata of human existence. The public will believe the politicians because—to adapt slightly the great dictum of Louis Pasteur—impossible political promises are believed only by the prepared mind. And our minds have been prepared for a long time, since the time of the Fabians at least.
Another thing Britain has in common with the colonies? Their AAA bond-rating is in danger as well. I can't think of any sovereign debt I'd rate at AAA right now (except maybe Switzerland).
That August 2 "deadline" really isn't a deadline. It's a manufactured crisis meant to cause alarm in both the population and the markets. (Don't get me wrong: the markets are right to be alarmed -- but the alarm should stem from the degradation in our finances that has been decades in the making, not from some stupid manufactured political "deadline".)
But so far, oddly enough, nothing has happened. Despite warnings that a deal would need to be brokered by Sunday night before the Asian markets opened, stocks merely stumbled on Monday — the type of weakness usually associated with soft corporate earnings instead of an economic apocalypse.

Wall Street's blasé response presents a serious challenge for the administration. The government has been ringing the alarm bells of an impending catastrophe to add urgency to its efforts to get Republicans to hash out a compromise.
Which just convinces me that the markets have decided not to dance to Obama's tune any more.
The next Federal agency to need a bailout is...the FHA! Come on down!
This FT writer places blame on Germany and Greece equally for Greece's current distress -- well, no. "Blame" is the wrong word. "Responsibility" is a better one. Still, I'm pretty sure that much of the onus lies on the Greeks for lying and cheating and weaseling their way into the Euro and then going on an epic spending binge; the Germans merely allowed them to do it. There are no innocents in this crime, but Greece brought much of its pain on itself.
Poor, doomed, boned California. As public money runs out, you'd think that the cities in Callie would concentrate their resources on things like infrastructure and public safety, right? You'd think that, but you'd be wrong. Left unchecked, public-employee pensions and healthcare costs are going to bankrupt hundreds of cities, but in many cases state and federal law prevent cities from taking remediative action. It'll all end up in the already-overburdened court system, and any solution will probably happen too late to do anyone any good.
UPDATE 1: England's GDP growth was a measly 0.2% from the April to June time-period. This is well short of the (not exactly dazzling) growth of 1.2% that analysts expected. And before we gloat, we might want to consider how badly we missed our own GDP targets.
UPDATE 2: If I had the money (and enough tolerance for risk), I'd have been running the hell out of that CHFUSD trade. CHF is the Swiss Franc, USD is the US DOllar. As you can see, the CHF is kicking the USD's ass right now. The Dollar isn't looking all that sweet these days. Investors are looking for alternatives.
UPDATE 3: From kratos in the comments comes "Winds of Change". A sobering bit:
Yet, more trouble is coming along. A recent report from Bloomberg reports that ever larger numbers of citizens are racking up debt to just keep food on the table and provisions on the shelf. The bottom line is that citizens are turning to their last source of revenue- debt- in order to drive and feed their families. Debt to fund a boat is an act of stupidity. Debt to feed your family is an act of desperation.
UPDATE 4: Via HotAir -- a debt-downgrade may come as early as Friday. I'll go on record here: I don't think it will happen. The footprint of US debt in the world is huge, and I don't think even the newly-vigorous debt-rating agencies are quite ready to release the hounds. I think we're just seeing yet more politically-motivated "pressure" to drive the two sides to a compromise.
UPDATE 5: "We need tectonic changes." But remember this about tectonic changes -- a lot of stuff gets destroyed to make way for new things. It's necessary -- in fact it is inevitable -- but it's very painful and sometimes deadly.
UPDATE 6: Sauron has fallen! (via rdbrewer)
UPDATE 7: Contra my belief that default is not imminent, someone has just gone short on Uncle Sam in a mighty big way. If money talks and bullshit walks, this guy is talking with his outdoor voice.
UPDATE 8: More on that whole "liquidity" vs "solvency" thing. Washington is pretending that we have a liquidity problem, when in fact what we have is a solvency problem. (In other words, the problem is not cashflow; the problem is excessive debt brought on by excessive spending.)

So then I started doing my one-cat show, My Life As A Hairless Cat, in an off-Broadway place called Cooper's. Well, actually, it was off-off-off-Broadway. But I got some good reviews. The guy at the New Yorker said it was "full of strange whimsy". And I got a callback on that Fancy Feast commercial gig, so things are looking up!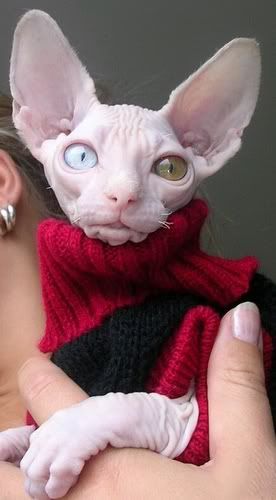 posted by Monty at
08:32 AM
|
Access Comments