« Reid, Pelosi Push Debt Deal With $2.5T in Cuts
|
Main
|
Top Headline Comments 7-25-11 »
July 24, 2011
Overnight Open Thread - Back in the Saddle Edition
Hey all - I'm back.
And tanned, rested, and ready...for another vacation which is why I always say that any sufficiently awesome vacation requires still another vacation to fully wind down from it.
Well that ain't gonna happen so I offer this eye exam instead.
Oh and thanks to all the people who worthily filled in on the ONT during my absence!
Well take this quick test to see if you need glasses: Sitting at your normal reading distance from the screen do you see Marilyn Monroe or Albert Einstein?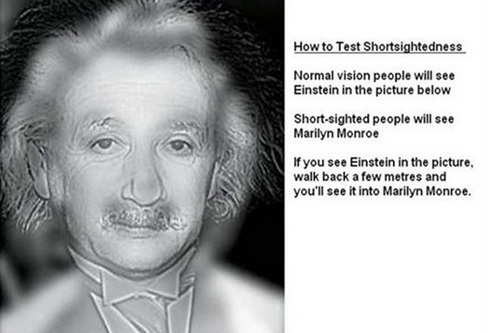 If you see Marilyn Monroe, you should probably be wearing glasses or contacts.
If you see Albert Einstein, then you're seeing things as you should.
So how does it work? The answer is that this image is a mix of low frequency elements from a picture of Monroe and high frequency details from a picture of Einstein. Normally our brain pays more attention to higher frequency components of an image so if you have normal vision, you'll tend to see Einstein's face. But if you're near-sighted, the high frequency details are blurred and so you'll just see Monroe.
Oh and here's another illusion that turns normal faces into horrible monsters.

To find out why it happens, go
here
.
How Good Is Yer Kidz Schools?
Well go here and enter your address, zip code, or school name to find out. The ProPublica site will give the rundown on the school and even compare it with others in the area. Sadly my high school seems to have declined since my days there.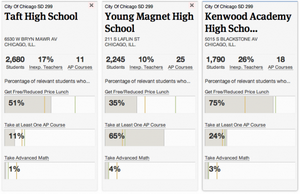 So What Are Norwegian Prisons Really Like?
Well truthfully they sound pretty cushy and remember that even mass murders like Anders Behring Breivik can end up in open prisons like Bastoey Island albeit for 21 years at most.

I was visiting Bastoey, an open prison 45 miles south of the Norwegian capital. It is home to about 115 detainees, including murderers, rapists and other felons, who enjoy activities not usually associated with prisons.

In summer, they can improve their backhand on the tennis court, ride a horse in the forest and hit the beach for a swim. In winter, they can go cross-country skiing or participate in the prison's ski-jumping competition.

Inmates work between 8:15 a.m. and 2:30 p.m. The island is a farm, so there are cattle to tend, timber to cut and organic crops to grow. Inmates also work at a sawmill, using axes, knives and saws. Another job is to restore wooden houses dotted around the island. Based on their time in Bastoey, many men will obtain professional qualifications.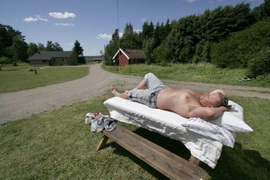 Interested in Reloading?
Then get yourself the Lee Anniversary reloading kit for $81.98. I first bought mine about 13 years ago for about $80 and it was an excellent deal then. And now it's only gotten better.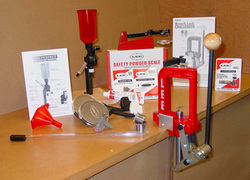 Bathing Beauties of Yesteryear
From the 1920's in CA and TX.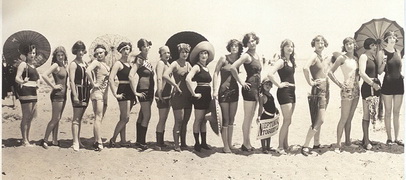 How To Make Bacon Wrapped Eggs
Looks tasty but seems like a lot of work for the payoff. I'm kinda old school in my pleasures and like to enjoy my vices individually.

Steve McQueen: Tough Guy
Well most of this probably isn't a surprise to longtime ONT readers, but Neo-neocon also uncovers some extra Steve tidbits.

For McQueen, the best thing that ever happened to him when he was growing up was to be rejected by his alcoholic mother and raised by his great uncle. Unfortunately, she kept asking for him back, and whenever he returned to her, trouble ensued. The next best thing that happened to him when he was young was to have been labeled incorrigible as a result of his stepfather's petition, and placed in California Junior Boys Republic in Chino, California. The third best thing was that McQueen finally decided to get with the program when he was a Marine.
McQueen had an unusual reputation for demanding free items in bulk from studios when agreeing to do a film, such as electric razors, jeans and several other products. It was later found out that McQueen requested these things because he was donating them to the Boy's Republic reformatory school for displaced youth, where he had spent time during his teen years. McQueen made occasional visits to the school to spend time with the students, often to play pool and to speak with them about his experiences.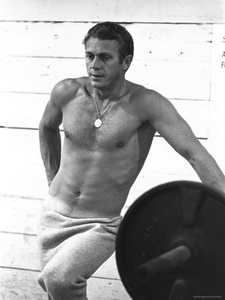 5 Villains That Were Thinly-Veiled Versions of Real People
Okay the Soup Nazi I was aware of but who knew that Snape and Moe were based on real people?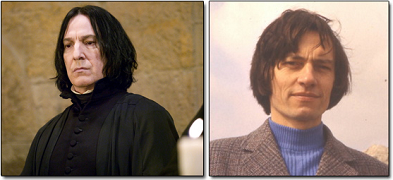 Weekly AoSHQ Commenter Standings
Top 10 commenters:
1 [537 comments] 'Vic' [75.38 posts/day]
2 [488 comments] 'As If...'
3 [456 comments] 'sifty'
4 [449 comments] 'Kratos (Ghost of Sparta)'
5 [409 comments] 'soothsayer'
6 [393 comments] ''80sBaby'
7 [372 comments] 'Y-not'
8 [339 comments] 'cherry π'
9 [331 comments] 'chemjeff'
10 [309 comments] 'curious'
Top 10 sockpuppeteers:
1 [97 names] 'kbdabear' [13.62 unique names/day]
2 [73 names] 'fluffy'
3 [56 names] 'Wyatt Earp'
4 [51 names] 't-bird'
5 [50 names] 'Fish the Impaler'
6 [47 names] 'toby928▒'
7 [43 names] 'Cicero'
8 [36 names] 'The Robot Devil'
9 [36 names] '18-1'
10 [34 names] 'Papa Editor'
The group. Yeah.
Tonight's post brought to you by COD IRL: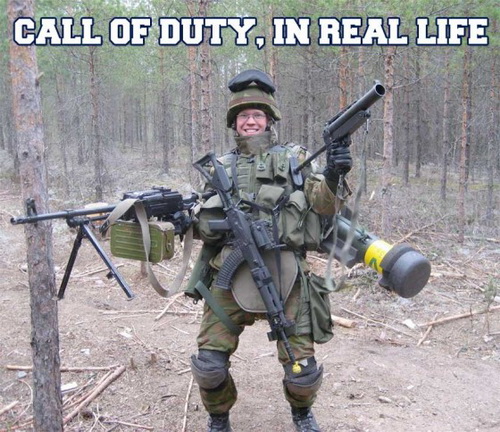 Notice: Posted by permission of AceCorp LLC. Please e-mail overnight open thread tips to maetenloch at gmail. Otherwise send tips to Ace.

posted by Maetenloch at
09:20 PM
|
Access Comments