« Higgs Boson Found?
|
Main
|
Reid, Pelosi Push Debt Deal With $2.5T in Cuts »
July 24, 2011
July 24, 1944. "Bocage" A New Word That Meant Danger
Allied forces having successfully taken the beachheads, were now slogging through the hedgerows and traps. So much about history has (rightly) commemorated the landings, and fight of June 6, 1944.
There was so much more danger waiting, so many battles yet to fight.
At this point in the fight, victory was not assured. Hitler's "Fortress Europe" did not depend upon the beaches. It was a retrograde action, miles of hedgerow, and flooded fields, and danger for the Allies. They were fighting into a well-laid trap.
And still they fought.
This win cost thousands of lives past the beaches. God grant them rest, and I hope we're not so young we ever forget what they did.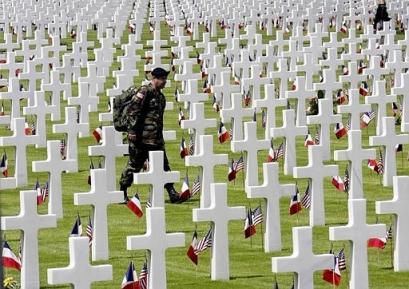 posted by Dave In Texas at
08:19 PM
|
Access Comments