« Los Angeles- Area Republicans, Remember: Special Election Is Tomorrow
Bumped; Hahn's Mother Dies On Eve of Election
|
Main
|
Top Headline Comments 7-12-11 »
July 11, 2011
Overnight Open Thread
Okay tonight I have some good news and bad news.
Bad news first: Bacon Prices Expected To Surge This Summer
The reason for surging bacon prices is that hog farmers have pared their herds due to high feed costs after corn prices hit a record near $8 a bushel last month. Retail bacon prices hit $4.77 a pound in May, according to the Labor Department, and Rich Nelson, director of research at Allendale, told Reuters that it could reach near $6 a pound in the next few months.
Better start hoarding. And maybe it's time for the president to release some bacon from the SBR.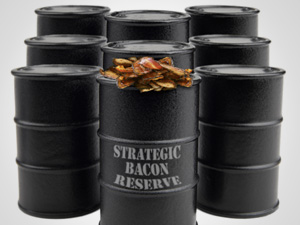 And the good news: Alcohol Doesn't Really Kill Brain Cells
It just interferes with forming memories. According to researchers in the latest issue of The Journal of Neuroscience:

"Alcohol isn't damaging the cells in any way that we can detect," senior investigator Charles F. Zorumski told ScienceBlog. "As a matter of fact, even at the high levels we used [in their experiment], we don't see any changes in how the brain cells communicate. You still process information. You're not anesthetized. You haven't passed out. But you're not forming new memories."
So if you're feeling kinda retarded, don't go blaming demon rum or the Lifestyle - because maybe you're just naturally stupid.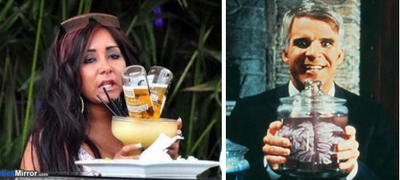 UK Watch: Father Fined £1,000 and Found Guilty of Harassment for Warning Families About a Pedophile
Well the three protected classes of modern Britain are public employees, Muslims, and criminals:

He was horrified to find his ex-wife's new husband – stepfather to his daughter, 11 – had served three jail terms for sex crimes.

…When he showed the mother of one girl a newspaper clipping revealing the stepfather's convictions, all the parents stopped their children going to the sleepover.

Following that action, as well as repeated phone calls to the home of his ex-wife and her husband, the father was arrested and convicted of harassment at Worcester Magistrates Court and fined £1,000.
And
Church of England Calls for Legal Right to Wear Crosses
Ironically it's now considered 'offensive' to practice the official state religion too publicly. But of course we all know what the new de facto state religion really is.
Christians who wear crosses at work or discuss their beliefs with colleagues must have legal protection from persecution, the Church of England demanded yesterday.

Church leaders revealed that they have held talks with Coalition ministers about attempts by employers to suppress Christianity and how these are supported by judges and courts.

...The development follows five years of deepening hostility among bosses to workers who wear crosses or talk about their faith.

Last year, in a key test case, Christian nurse Shirley Chaplin was denied the right to wear her crucifix while working on an NHS ward.

An employment tribunal said wearing the cross was not a 'mandatory requirement' of her faith.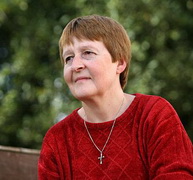 Hey Why Are Men Gaining Jobs More Quickly Than Women?

One theory to explain it is that men, facing higher rates of unemployment and feeling more pressed to find work, are being less choosy about accepting positions. Perhaps they are agreeing to wage and benefit cuts. Perhaps they are taking menial positions more readily. Perhaps they are shifting into piecemeal or part-time employment faster (though, by and large, the average duration of unemployment is similar for men and women).
Plus I suspect that many men have decided that their previous jobs are never coming back and have chosen to just take the hit in pay and status by switching over to entirely new fields.
Dessert Pr0n: The Peanut Butter Cup Brownie Torte
Sure it's gratuitous and probably illegal in NYC, but it also looks delicious.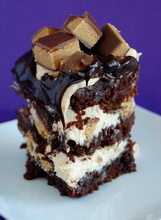 Cheating At Fishing?
If that's possible. Or maybe just using cheap camera technology to see what's actually nibbling on your line.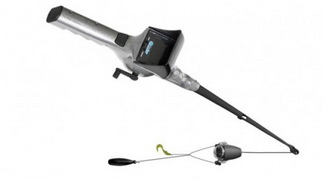 Pics From The 1989 Oscars
Chronologically it wasn't all that long ago but these pictures make it seem like a bygone era.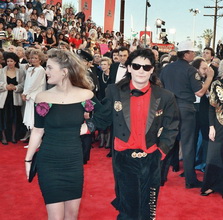 The 10 Best "Why? Because Eff-U"s
Why? You know why!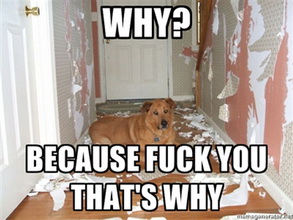 That's Not Feminist!!
Here 'Fennel' from - I am not making this up - Vag magazine explains what is and is not Feminist. And guess what - it turns out that the Internet is not feminist. Why? The ONT lifestyle - that's why.

The Yahoo AoSHQ group. Bla bla bla. And don't forget about the Job Bank.
Tonight's post brought to you by 1991: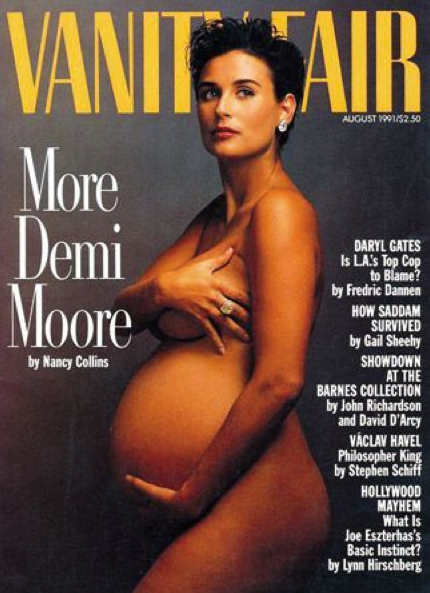 Notice: Posted by permission of AceCorp LLC. Please e-mail overnight open thread tips to maetenloch at gmail. Otherwise send tips to Ace.

posted by Maetenloch at
09:58 PM
|
Access Comments