« I'll Gladly Cut Spending On Tuesday For a Tax Increase Today
|
Main
|
Top Headline Comments 7-11-11 »
July 10, 2011
Overnight Thread-Sunday Edition [CDR M]
Hopefully tonight goes a little better than last night.
As you read this, Space Shuttle Atlantis is orbiting the earth on her last voyage. It's gonna suck having to rely on the Russkies to get to and from the space station for the foreseeable future. According to PopSci magazine, here are your Top 10 Tech Designed For The Space Shuttle We Can Enjoy.

The next time you get in a horrific car crash and have to be cut out of it, you can add NASA to the list of things to thank for making it out alive. Rescue squads often use a particular hand-held cutter to get victims out of wrecks, and as it turns out, that cutter is essentially a miniature version of the one used to, as NASA says, "separate the shuttle from the solid rocket boosters after launch." It's ideal for rescue situations because as it uses controlled explosive charges rather than spinning blades, it needs no auxiliary power or "cumbersome hoses," and it's actually 70% cheaper than competing equipment.
I had no idea those rescue devices had explosive bolts in them. Of course, being green made the list at #7 with biodegradable lubricants.
We've all seen movies or TV shows that just had horrible development of some of their main plots and found that some fan ideas would've made much more sense. Here are 5 Movie Fan Theories That Make More Sense Than The Movie Or TV Show.

According to this theory, cylonism is a virus, and the method of transmission is sex. It actually makes perfect sense when you look at the series. During the course of the show, all four characters had either slept with cylons or slept with people who'd enjoyed some cylon lovin' themselves.
Basically, every single one of these characters can be traced back to a cylon ... through fucking: Chief Tyrol's ex turned out to be a cylon sleeper agent; Colonel Tigh's wife slept with a male cylon (and was later revealed to be a cyclon herself); Tory slept with Baltar, a man with a robot fetish so extreme he'd allowed a sexy cylon spy to destroy his home planet; and Anders was married to Starbuck, who also slept with Baltar and possibly with a cylon, too.
On this day in military history, the Battle of Britain began. This battle was one of my favorites to read about as it was an air battle straight up with an overwhelming beast in the form of the Luftwaffe and Nazi Germany vs the resolute and underdog British. The Me 109 vs the Hawker Hurricane and Spitfire. The first phase, known as the channel battles or Kanalkampf, occurred from 10 July through 11 August and consisted mostly of the Luftwaffe engaging and sinking British convoys while the Brits flew convoy patrols and engaged the attacking Germans when they found them. This phase favored the Germans has they had the numbers with attack groups versus the small patrols maintained by the Brits. Battle of Britain: Kanalkampf.

So as fraught as the date and the events were, the Battle of Britain started with a bit of a whimper. The Luftwaffe was exhausted from the Battle of France – and so, to slow down the tempo and allow for training replacement crews, the first month of the Battle was spent sparring over the English Channel.
And so the two air forces spent the month like a couple of boxers in the first round, poking at each other, feeling out each others' games.
Oh boy. Chris Hansen has reportedly pulled an Anthony Weiner. Or is it called a Brett Favre? Anyway, it is the National Enquirer but you never know!

Former To Catch A Predator host Chris Hansen has allegedly sent a woman who is not his wife photos of himself nude in a bathrobe, grabbing his genitals.
Hansen apparently sent at least two of these photos via his cell phone to the same Florida newscaster with whom he was caught on camera in a way that suggested an affair. She was allegedly unimpressed.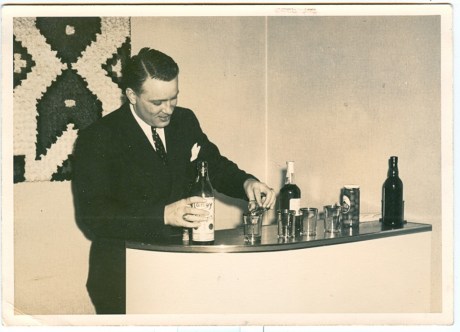 Here's a handy, dandy article on
How To Stock A Home Bar
. I still recommend Russian Standard for your vodka. That stuff is teh awesome.
Alright. I saw this list of the
Top 10 Coolest Weapons In Sci-Fi Cinema
and agreed with some but I really have to question the author of this list. No lightsabers??? Really???
Hmmm. After reading
The 7 Destructive Habits Of Highly Incompetent People
, the current resident at the White House fits it pretty well no? Well, except for number 4. He does not seem to give up easily on things he really, really wants.

Here are the commenter's stats for the week:
Top 10 commenters:
1 [379 comments] 'CoolCzech' [53.20 posts/day]
2 [367 comments] 'kbdabear'
3 [295 comments] 'Kratos (Ghost of Sparta)'
4 [283 comments] 'Vic'
5 [264 comments] 'garrett'
6 [254 comments] 'steevy'
7 [248 comments] 'As If....'
8 [228 comments] 'sifty'
9 [224 comments] 'tangonine'
10 [218 comments] 'Cherry π'
Top 10 sockpuppeteers:
1 [152 names] 'kbdabear' [21.34 unique names/day]
2 [58 names] 'Wyatt Earp'
3 [57 names] 'KZnextzone'
4 [44 names] 'Mallamutt, RINO President for Life'
5 [43 names] 'CoolCzech'
6 [40 names] 'Cicero'
7 [38 names] 'Blue Hen'
8 [37 names] '18-1'
9 [35 names] 'Fish the Impaler'
10 [33 names] 'toby928-'
Tonight's ONT brought to you by:

Notice: Posted by permission of AceCorp LLC. Please e-mail overnight open thread tips to maet. Otherwise send tips to Ace.
&topic=world_news">

posted by Open Blogger at
09:21 PM
|
Access Comments