« Obama To Announce Afghanistan Drawdown Plan On Wednesday
|
Main
|
Tommy Christopher on Larry O'Connor's Podcast »
June 20, 2011
Overnight Open Thread
VDH: The Metaphysics of Contemporary Theft
Here VDH discusses the normalization of casual thievery and lawlessness in central California:

1) I left my chainsaw in the driveway to use the restroom inside the house. Someone driving buy saw it. He slammed on the brakes, stole it, and drove off. Neat, quick, easy. Mind you there was only a 5-minute hiatus in between my cutting. And the driver was a random passer-by. That suggests to me that a high number of rural Fresno County motorists can prove to be opportunistic thieves at any given moment.
2) On the next night, three 15-hp agriculture pumps on our farm were vandalized — all the copper wire was torn out of the electrical conduits. The repairs to each one might run $500; yet, the value of the wire could not be over $50. I was told by neighbors that reports and descriptions of the law-breakers focused on youthful thieves casing the countryside — in official parlance a "gang,"
3) A neighbor has a house for sale. It is unoccupied and rather isolated. I saw someone approach it on Friday, and drove over to ensure he was lawful. It was the owner's assistant, who lamented that someone had just stolen all the new appliances out of the house — carting off the refrigerator, dishwasher, stove, and microwave. ...Don't the appliance thieves have homes, and if so, do they have locks on the doors to protect their investments from the likes of themselves?
Sadly VDH's observations remind me of the experiences of white farmers in Rhodesia who decided to stay when Mugabe took over. No matter how armed and committed you are, if a large enough proportion of the surrounding population is determined to steal your property (and/or kill you), it's simply an untenable situation in the long run. And now the farmland confiscated by Mugabe from the white farmers is under-farmed or simply lies vacant to the detriment of all concerned.
In more cheery CA news Companies Are Leaving California in Record Numbers. Which isn't really surprising given that California ranks #49 in the nation in business climate. And it turns out that retired San Francisco city employees get more in retirement benefits than the average working private worker in the city earns.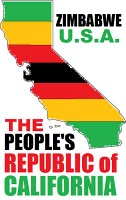 Once a significant proportion of your population survive off of the money and property of those who actually produce, then collapse is probably inevitable. And like in Zimbabwe the talented and ambitious either flee completely or give up and retreat behind safer gated streets and homes in the cities if they can. Eventually - even in a super-resource-rich state like CA - you run out of people to steal from.
Lindsey Graham: Shut Up About Libya

On Meet the Press this morning, Sen. Lindsey Graham (R., S.C.) said "Congress should sort of shut up and not empower Qaddafi" by discussing the possibility of cutting off funding for military operations there.
Well Graham does love to tell Republicans to 'shut up' about things. Of course just two years ago he and Sen. McCain were sipping tea with Qaddafi in his tent - now he worries that constitutional questions about the Libyan mission might somehow empower Gadaffi.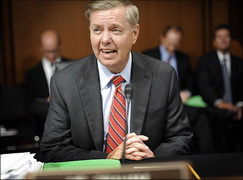 DSK and the Socialist Party
Remember how French writer Triane Banon said that DSK tried to rape her in 2002 but she was persuaded to not report it by her mother who feared her political prospects within the party would be hurt. Well it turns out that her mother's concerns were not unfounded - now the Socialist Party is trying to kick her out:

But now she is speaking out about what happened and what other Socialist leaders knew. And some Socialists — deeply embarrassed by the allegations against the wealthy man who was likely to be their presidential candidate next year — have called for her expulsion from the party.
Real nice people there.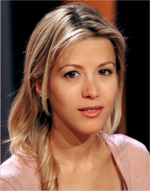 Earth Mover Theme Park Opens in Vegas
Every wanted to (legally) play with heavy earth-moving machinery? Well now you can.

Dig This sells three-hour packages that consist of a 30-minute safety and operation orientation followed by two hours of maneuvering either a bulldozer or excavator. 


Guests can either dig a trench up to 10 ft deep or build an earthen mound; there are also skill tests like picking and moving 2,000-lb tires or scooping basketballs from atop safety cones. 



Packages are priced at $400, which reflects equipment maintenance and insurance costs. Patrons 14 and older can play in the dirt.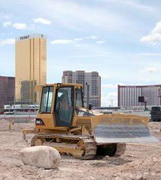 Did The SEALs Use Hi-Tech Night Vision Against Bin Laden?
This is mostly just speculation but there has been an on-going research program to develop night-vision contact lenses that can work up to half an hour or more:

The blink powered night vision contact lenses allow a person to see clearly in low- light environments by enhancing ambient light up to 200 per cent. These lenses use plasma technologies to eliminate the cumbersome and expensive image-intensification tubes used in convention night-vision goggles. The advantages of using the contact lenses above night-vision goggles are 1) full peripheral vision, 2) more comfortable interface, 3) a more cost-effective system, and 4) less disorientation with use.

Photos From Before WWII
But just because it was before the war doesn't mean that it was quiet. In fact many people were killed during the pre-war 'peace.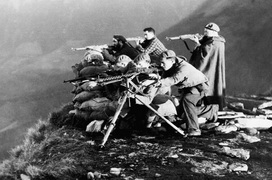 Hey Guys - Ever Wanted To Feel Pregnant?
Of course not. But that hasn't stopped scientists in Japan from creating a pregnancy simulation suit:

The device can replicate the 9-month long process in two minutes or it can be worn for a longer period to experience what it feels like day-to-day. To mimic the fetus, it contains a 4-litre bag filled with warm water. Kicking movement is recreated with a lining of 45 balloons that expand and contract.
Something-something About Christina Hendricks
And possibly something to do with Wonder Woman. (thanks to CDR M)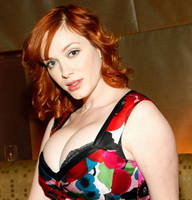 Bachelor Vision
Have you got it?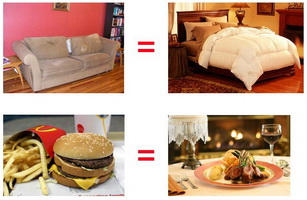 The Yahoo AoSHQ group. Bla bla bla. And don't forget about the Job Bank.
Tonight's post brought to you by happy rainbows:

Notice: Posted by permission of AceCorp LLC. Please e-mail overnight open thread tips to maetenloch at gmail. Otherwise send tips to Ace.

posted by Maetenloch at
09:44 PM
|
Access Comments