« Attention, Team Romney!
|
Main
|
Sunday Non-Book Thread »
June 11, 2011
Overnight Open Thread-The Short Straw Edition [CDR M]
Yup. I drew the short straw and I got the ONT tonight. Or is it that you guys get the short end of the stick? Whatever. Drink up. It's time for the ONT!
Now let's get this party started with some music. Here is Luka Sulic and Stjepan Hauser playing their arrangement of Welcome To The Jungle by Guns N' Roses. They got some flair too.

Beware this group of people called Bronies. It seems that there is a growing group of adults that are totally into My Little Pony. Wow.

Each day, out-of-work computer programmer Luke Allen self-medicates by watching animated ponies have magical adventures.

The 32-year-old, who lives in Albuquerque, New Mexico, loves his daily fix of My Little Pony Friendship Is Magic, and he's not alone. He's part of a growing group of "bronies" ("bro ponies") — men who are fans of a TV show largely intended for a much younger audience.

"First we can't believe this show is so good, then we can't believe we've become fans for life, then we can't believe we're walking down the pink aisle at Toys R Us or asking for the girl's toy in our Happy Meal," Allen said in an e-mail to Wired.com. "Then we can't believe our friends haven't seen it yet, then we can't believe they're becoming bronies too."

This video is timely in light of the whole Wiener saga thingee. A new opera in London called Two Boys put together this video and highlights our weird behavior from your everyday facebook/twitter/myspace/??? world and bring it into the real world.


How about a little Emo Kitty since it is Caturday.

I'm sure Congressman Weiner wishes he had heard of this extension for Chrome.
Save Yourself from Weiner-Caliber Online Embarrassment with Internet Shame Insurance
. Too funny.

Lifehacker also asked a great question in this article, How Long Can A Hard Drive Hold Data Without Power. Hope to see a follow on how long CDs/DVDs/Blu-Rays can realistically last.

A little montage of 250 Introductions of People, Groups and Things. Makes we want to break out the movie collection and watch some of these!


Alright 'ettes, since I'm a giver, here are your The Hottest Conservative Men. I'm sure I'll be on the list this year.


Crap. When the TSA see's this, they won't let us fly with luggage. Just as well since Delta charges an arm and a leg to bring your bags. Cheaper to just buy clothes at your destination. Pretty clever idea by these thieves. One question though. Why the hell were they using a 6 ft dude in the suitcase instead of, like, you know, an ewok or something?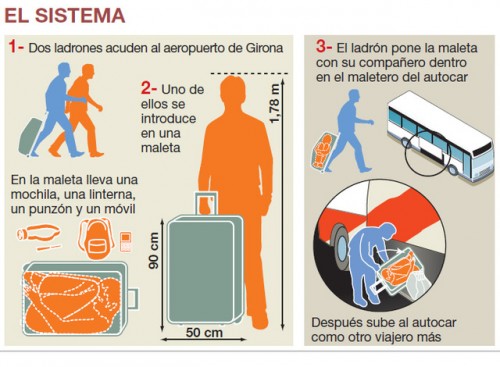 Music contest. Which version of Land of Confusion do you like? Genesis or Disturbed.


This is the Ginger of the Week. Meet Esme Bianco from Game of Thrones. If you've seen the show, hmmm, hmmm.

Remember, in Soviet Russia, kitteh pet you.

Tonight's ONT brought to you by:
Notice: Posted by permission of AceCorp LLC. Please e-mail overnight open thread tips to maet or genghis. Otherwise send tips to Ace.
PUT TEXT YOU WISH TO USE AS VISIBLE LINKING-LANGUAGE HERE
&topic=world_news">

posted by Open Blogger at
10:00 PM
|
Access Comments