« It's Been Too Long
|
Main
|
Top Headline Comments 6-8-11 »
June 07, 2011
Overnight Open Thread - Boringest Night Edition Zzzzzz...
If you could write a letter to your 16-year-old self, what would you write?
Without veering into platitudes - "Be happy" - or the overly specific - "for Gods sake stay home the night of Oct. 14th, 1984".
Well that's what a group of celebrities did back in 2009 for a charity book.

Below is a small selection of the many letters featured in Dear Me, these six written by Jonathan Ross; Debbie Harry; Emma Thompson; Danny Wallace; Alan Carr; and Patsy Kensit.
Emma Thompson's letter is pretty good but I also like this cartoon letter by Jonathon Ross.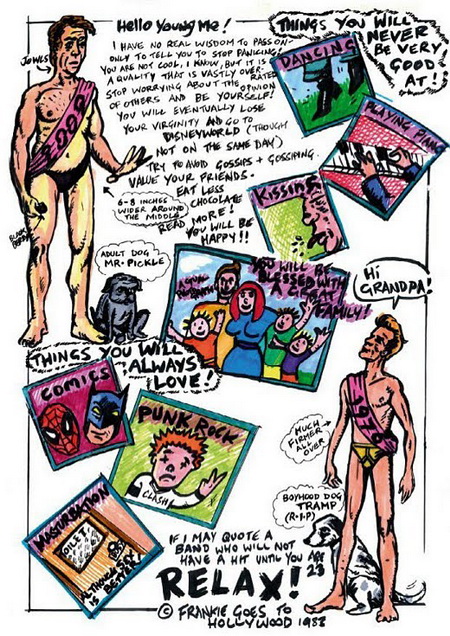 The 3 Ways Your Social Security Payments Are Already Being Cut
Wait you didn't think they were actually going to let you get a full slurp at the trough did you?

Policy experts have focused on alternative ways of eliminating Social Security's 75-year financing gap, but lost in the debate is the fact that even under current law Social Security will provide less retirement income relative to previous earnings than it does today. Combine the already legislated reductions with potential cuts to close the financing gap, and Social Security may no longer be the mainstay of the retirement system for many people.

In 2002, the frequently quoted replacement rate for the "medium earner" who earned about $42,000 in today's dollars and retired at age 65 was 41%; that is, Social Security benefits were equal to 41% of the individual's previous earnings. Under current law, three factors will reduce this replacement rate: 1) the extension of the full retirement age; 2) the increase in Medicare premiums; and 3) the taxation of Social Security benefits.
And just remember this is under current laws - future laws will only whittle it down further.
Comedian Jokes About Killing Sarah Palin
Well I actually liked Chris Titus before this - mostly based on a special of his a few years ago about his fucked-up family - so this was disappointing to hear. Of course he won't ever be called on his "joke" because it's always funny to talk about "killing" evil Republicans. [clown nose back on] Ha ha ha.
But whenever someone jokes about killing the president what they're actually saying is that they don't truly believe in democracy. Sure the President may have been elected by a majority of the American people in an election, but hey they know better. So vote for whomever you want but just remember that Chris gets the final veto.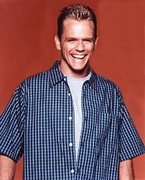 The Great Comic Book Crash of 1993
Here's an interesting article by Jonathon Last that talks about what led to the comic book bubble and then crash in the early 90's. And what we can learn about the real estate crash from it. Even if you have no interest in comics, it's still a good read.

At the retail level, comic-book stores were popping up all across the country to meet a burgeoning demand. As a result, even comics of recent vintage saw giant price gains. A comic that sold initially for 60 cents could often fetch a 1,000 percent return on the investment just a few months later.

But 1992 was the height of the comic-book bubble. Within two years, the entire industry was in danger of going belly up. The business's biggest player, Marvel, faced bankruptcy. Even the value of blue chips, like Action Comics #1 and Detective Comics #27, plunged. The resulting carnage devastated the lives of thousands of adolescent boys. I know. As a 12-year-old I had a collection worth around $5,000. By the time I was ready to sell my comic books to buy a car—such are the long-term financial plans of teenagers—they were worthless.
Luckily for me most of my comic book "investments" were mid-60's hand-me-downs from my uncle which I enjoyed the hell out of.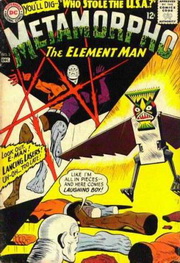 Ga + Al + H20 = Moar Fun
Gallium is a metal with a melting point of 85 degrees F which means it will melt in you hand. Now mix in some aluminum to create a liquid Ga-Al alloy and then add some water for some reactive entertainment.

Before and After D-Day: Color Photos From LIFE
Some nicely restored photos from before, during, and after the D-Day landing. Almost all of these were new to me.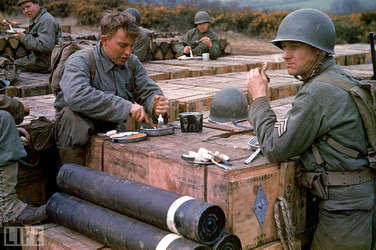 Estonian Runaway Brides
Apparently this from a "runaway brides" parade in Narva, Estonia where marriageable women show off their stuff while competing in wedding gowns. The good news is that they're 23% less likely to break your heart than Russian brides.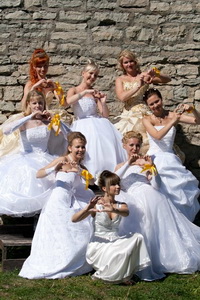 Remembering STARLOG Magazine
Back in the dark pre-Star Wars days of the 70's sci-fi was not cool and barely catered to by mass media. But then Starlog magazine appeared.

Back in the mid-1970's, being a science fiction fan just was not cool. Prior to Star Wars, anyone admitting to liking science fiction – at least in the rural Maine schools I attended – was subject to ridicule and occasional physical abuse.

...I spotted a colorful painting of Kirk and Spock on the magazine shelf above the comics. Normally those shelves were off-limits to me, but certainly this particular magazine had to be okay – it was Star Trek.

Better – it was Starlog.
Cocktails for Your Zodiac Sign

Gemini (May 21 - June 20)
The talk is as important as the drink at the places Gemini frequents. No lonely dive bars for the Twin -- he or she needs social and mental stimulation. Add a cool, refreshing beverage like a white wine spritzer (wine and club soda over ice) or a melon martini and all will be well in Gemini's world. Summer wine tastings and drink sampler nights appeal to the Twin's curiosity as well. Just make sure he or she has a designated driver for the ride home.
Or you could just get whatever the hell you feel like drinking instead of basing it on the day you happened to be born on decades ago.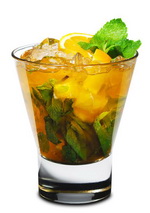 The Yahoo AoSHQ group. You know the way.
Tonight's post brought to you by best laptop review ever: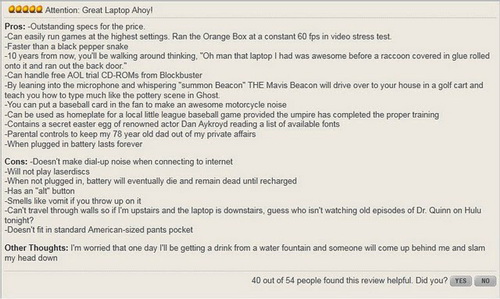 Notice: Posted by permission of AceCorp LLC. Please e-mail overnight open thread tips to maetenloch at gmail. Otherwise send tips to Ace.

posted by Maetenloch at
09:42 PM
|
Access Comments