« Jew Hatred, The San Francisco Treat [Ben]
|
Main
|
Paul Ryan Gave One Hell Of A Campaign Speech Last Night »
June 04, 2011
The Battle of Midway, June 4-7, 1942
Today is the 69th anniversary of the beginning of one of the most important battles in the Pacific in WWII. It was just six months after the catastrophic Japanese attack at Pearl Harbor. But during those six months Japan pushed ahead and consolidated their advantages, inflicting stinging defeats in the Philippines, Singapore and the Dutch East Indies.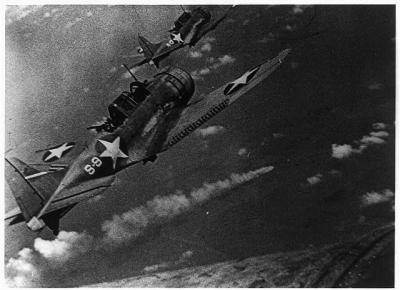 Yamamoto's intent was to eliminate the only serious obstacle to Japanese expansion, the American carrier fleet, and he judged the best way to do this was a complex operation that threatened Midway and lured the numerically inferior American forces into a conclusive defeat. The US had a very important advantage, they had broken Japanese naval code JN25 and knew not only what Yamamoto intended, but also his disposition and strength. Adm. Chester Nimitz was able to determine that Yamamoto had spread his anti-aircraft capabilities too thin, and he used that info to outmaneuver and defeat him.
American losses were one carrier, a destroyer, 150 planes, and 300 sailors. But the Japanese lost an astonishing 4 aircraft carriers, a cruiser, almost 250 aircraft, and 3,000 dead.
It's not possible to cover these events or their significance in a blog post, but there are several great resources out there, and actually the movie Tora! Tora! Tora! Midway is a reasonably accurate portrayal of the battle.
ghengis tipped me about the date, June 4. Coincidentally it's also my youngest kid's birthday.
also D'OH. Hey, they shared some footage (thanks commenter kj)
Have a great weekend y'all.

posted by Dave In Texas at
04:38 PM
|
Access Comments