« Election Thought Exercise of the Day - Home State Advantage
|
Main
|
Fact-Check: DNC Head Debbie Wasserman Is a Dirty Potty-Mouthed Liar »
June 01, 2011
Another Living Soldier To Be Awarded Medal Of Honor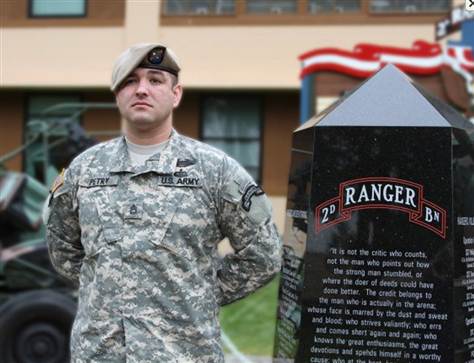 Hero.
An Army Ranger who lost his right hand and suffered shrapnel wounds after throwing a grenade away from his fellow soldiers will receive the Medal of Honor July 12, the White House announced Tuesday.

Sgt. 1st Class Leroy Arthur Petry will be the second living Medal of Honor recipient from the wars in Iraq and Afghanistan. Petry, like Staff Sgt. Salvatore Giunta, who received the nation's highest award for valor in November, will be honored for actions while serving in Afghanistan.

Petry, 31, will be recognized for his actions during combat operations May 26, 2008, in Paktya, Afghanistan.
The action for which SFC Petry will be decorated occurred in May of 2008.
The Army News Service said Petry and another soldier came under fire as they searched a courtyard. Petry was shot through both legs and the other soldier also was wounded, the news service said. When another sergeant arrived to assess their wounds, insurgents threw a grenade that exploded and wounded that sergeant and the other soldier again.

As two more Rangers tried to reach them, another grenade landed beside the three wounded men, the news service said. Petry grabbed it and tried to throw it away from the others, but it exploded as he released it, blowing off his right hand. He placed a tourniquet around the injury and radioed for help.

The two unhurt Rangers engaged the enemy, but one was killed in the firefight. The two wounded men with Petry then opened fire and killed the last attacker, the Army News Service said.

"If not for Staff Sgt. Petry's actions, we would have been seriously wounded or killed," Higgins later wrote in a report cited by the Army News Service.
3 years to get to this point? I'm pretty sure the first Medals of Honor were awarded before December 7, 1944. Something is terribly wrong with how we are handling the process to recognize our servicemen and women (yes, it's "we" who are responsible. In our system the military, like all government agencies answer to the people, therefore we are ultimately responsible for how it acts).
While I'm very glad that the military is no longer treating the Medal of Honor as an exclusively posthumous award, they are still be very, very stingy about awarding it. Yes, I know the Medal is not something to be handed out like candy but we've been in two wars for the better part of a decade. Petry will be just the ninth recipient as part of the War on Terror.
I'm very confident that there are more individuals who deserve to be recognized with the Medal of Honor. This isn't simply about recognizing extraordinary individuals. A cadre of Medal of Honor recipients (especially surviving ones) will be an important resource, link and example for future generations of soldiers, sailors, airmen and Marines to all the heroes of the last 10 plus years.
Men like SFC Petry don't do what they do for medals or recognition but that doesn't mean we shouldn't ensure they all know how thankful we are to them and amazed by what they do.

posted by DrewM. at
11:56 AM
|
Access Comments