« Top Headline Comments 4-12-11
|
Main
|
Economics at AoSHQ U: Part 1 - The Economy »
April 12, 2011
A Note on Military Spending
Alternate Title: Pie Charts Are Hard
Leftists and Doug Mataconis stumbled on this graph yesterday and immediately jumped to the wrong conclusions.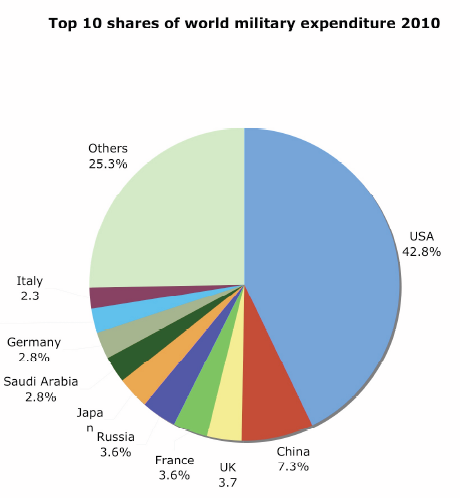 Here's Doug (and I don't mean to pick on him specifically, but he summarizes the overall leftist response to this chart):
Now I think we can draw a few conclusions from this information:

1. There is no nation on the planet that poses a real threat to the United States in the way that the USSR during the Cold War. Russia's share of worldwide military spending is less than the United Kingdom's and equal to that France. Our military spending is six times larger than that of China. That's not to say that there aren't threats out there, but the idea of any nation posing existential threat to the United States is, I think, off the table
2. Our allies (the U.K., France, Saudi Arabia, Germany, Japan, and the vast number of nations that make up "Other") can afford to pay more toward their own defense than they are now.
3. We could afford to make serious cuts in our defense budget without threatening our own security.
At the outset, Doug's first "conclusion" casually dismisses the possibility of an "existential threat" to the United States. Unmentioned are threats to national security of a lesser nature, as if to say that since lesser threats are survivable for some of Americans that some losses are acceptable to Doug.
Consider also that the U.S. responds to even lesser threats by altering, sometimes drastically, national policy. I'm not sure how Doug feels about "enhanced interrogations", but for the liberals he's lining up with such interrogations themselves represent an existential threat to the America they believe in.
Finally, I want you to note the assumption that is made in the first conclusion, because we're going to come back to it later: he assumes that defense spending is correlated to national security. High defense spending relative to other countries means existential security. Remember that, because it's going to come back in a minute.
Doug's second "conclusion", that our allies can afford to spend more on their own defense, is probably true, but not evident from the chart. And it's not evident from the chart for the same reason that his third "conclusion" isn't: the chart doesn't have a thing to say about national security.
As far as our allies, the question of how much they can afford to pay for more defense depends first of all on whether they have the money to spare or divert from other spending. But it also depends on how much desire they have to exert force abroad. The United States takes a very pro-active stance when it comes to securing national interests in places other than mainland America. Most other countries don't because they can't.
As for the third conclusion, that we can cut defense spending without harming national security, this is nothing more than a preexisting delusion that Doug and the other liberals who passed that chart around yesterday possess. It may be true, but as I said, the chart says nothing about national security.
More importantly, the third conclusion directly contradicts Doug's first conclusion. Remember, he just got through saying that high defense spending means that there is no existential threat to the United States and implying that defense spending is correlated with national security. All that goes out the window in the third conclusion. Now, rather than correlated, Doug wants you to believe that we can "make serious cuts in our defense budget without threatening our own security."
The Left's conclusions about this chart aren't really conclusions at all. They're just a list of ever-present beliefs about defense spending in the United States. They would have reacted to a chart of random values the same way.

posted by Gabriel Malor at
07:43 AM
|
Access Comments