« Obama on Verge of Government Shutdown: Hey, I Think I've Earned Another Vacation!
|
Main
|
Top Headline Comments 4-8-11 »
April 07, 2011
Overnight Open Thread
So Who Spends The Most Years in Retirement?
Here's a chart comparing average life span with average retirement years across countries.
One sad thing about this chart is how relatively few years most Americans get to enjoy retirement - 10 years for men and 16 years for women. It may be small compared to many other countries but it's still enough to bankrupt Social Security. And I'm guessing it's going to get shorter in the next few years. So uh, good times, good times.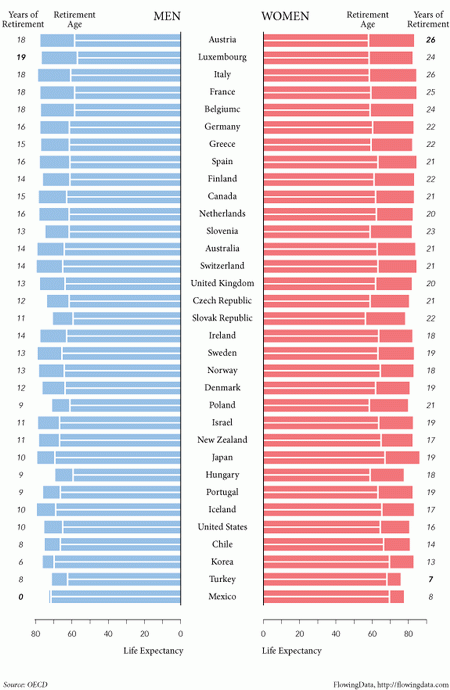 Oh and The Awful Truth About Taxes. I guess we're all government employees until May 24th. And there's no shutdown for us.
NRA Pushing For FL Law Banning Doctors From Asking About Guns

The National Rifle Association and other gun rights groups had pushed for a much stronger bill that would have precluded doctors, in many cases, from asking patients about whether they own guns. Backers of the measure, sponsored by Sen. Greg Evers, R-Baker, had said patients were being harassed over gun ownership.

But citing the confidentiality of what is said between doctors and patients, and a broader desire to protect other members of patients' families, doctors had pushed back hard against the bill (SB 432). The issue had promised a fight between two of the most powerful lobbies at the Florida Capitol.
Well Don Surber is against it on the grounds that doctors are supposed to ask questions of their patients and keep the answers confidential so another law isn't needed. My feeling is that whenever someone asks an out of bounds question, they don't deserve a truthful answer much less an answer at all. And if they insist on prying, well I'll take my business elsewhere. So I guess we both agree that this law isn't really necessary.
Moral Equivalence of the Day
This time from Der Spiegel where they equate evangelical preachers with Taliban murderers:

This is not the "Clash of Civilizations" that the late American political scientist Samuel Huntington prophesied after the end of the Cold War. Instead it is a clash of the extremes. On the one side are the radical, evangelical Christian pastors who offer blanket condemnations of Islam, knowing full well what the consequences might be. On the other side are the Muslim extremists who react reflexively and kill indiscriminately as revenge. Both sides think they are right. And they play by rules that disregard basic tenets of civilization. Man does not kill man. And man does not insult man, either.
These are just the same -
really
?? When exactly did insulting other humans become a crime against civilization on par with murdering people? Well I'm guessing at a minimum after 1945. But wait - I remember this kind of stuff happening in Germany practically yesterday. So maybe the new rules started in early 2009.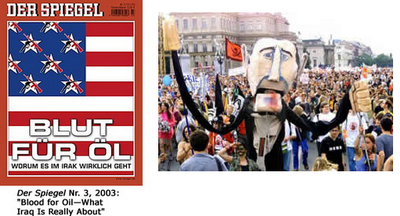 Remember All That Talk About The Huge Growth Of Solar/Wind/Unicorn Energy?
Well it was just that - talk. The reality is that over the last decade the biggest growth in actual energy has come from coal - primarily in Asia. And realistically coal, oil, and gas are going to account for nearly all new energy for the next ten years too. If solar and wind were even close to being economically viable, the government wouldn't have to be continually subsidizing them.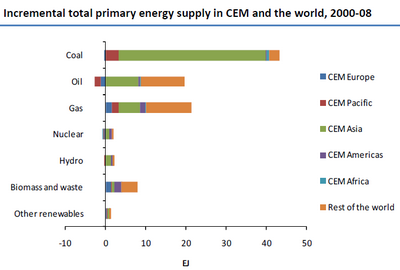 Weapons Smugglers Mysteriously Blow Up in Sudan
Amid rumors that they were setting up a deal to sell mustard and nerve gas to Hamas. Now lots of countries have drones and aircraft flying over the area but of course it's always the Joos who get the blame when sketchy people explode for no reason.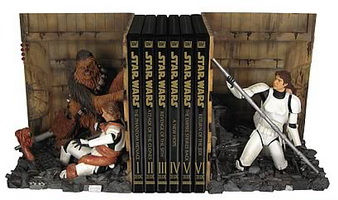 So How DO You Clean The Cobra Pit?
The answer seems to be very casually. And are sandals really appropriate snake-wrangling footwear?

Nine Celebrities Who Spent Time in Prison Before They Were Famous
Two of which actually killed people. Of course these days once you're famous it's virtually impossible to be sent to prison no matter what you do.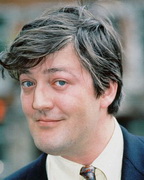 16 Female Behaviors Even Chicks Don't Get
Alas not getting is not the same as not doing.

1. Dragging your boyfriend shopping. Guys typically hate shopping. Shopping should be fun and relaxing. Having Donnie Downer there with you ruins everything. Let him do something he actually wants to do … on his own. You can carry your own damn bags.

2. Acrylic nails. Don't you want to be able to pick your nose occasionally? Plus, your were born with REAL fingernails.

3. Transforming into a bridezilla on your wedding day. Why are you losing it over my close-toed shoes that I never wanted to buy in the first place? Everyone is looking at you anyway. Get your expectations in check.

4. Wanting to spend every waking second with your man. Good God, girl, don't you have anything you need to take care of on your own?
Have you
ever
seen this kind of scene in real life? Of course not.
New Trend: Teens Getting Elf Ears?
Okay granted these don't look nearly as awful as most body mods, but which parents are actually paying for this when breast enlargement is already a known and proven technique for enhancing attractiveness?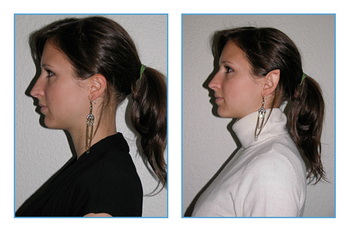 Yahoo group. That is all.
Tonight's post brought to you by the four types of spouses: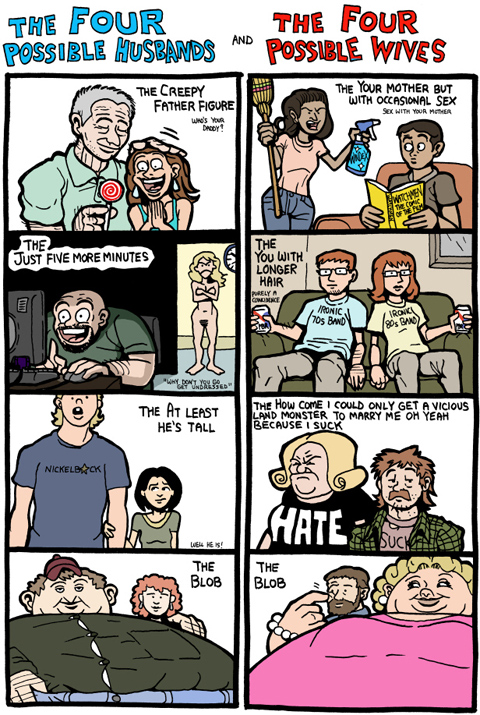 Notice: Posted by permission of AceCorp LLC. Please e-mail overnight open thread tips to maetenloch at gmail. Otherwise send tips to Ace.

posted by Maetenloch at
10:35 PM
|
Access Comments