« Ryan Vs. Obama, By The Numbers
|
Main
|
Schadenboners: Obama Supporters Defend Obama's Embrace of Military Tribunals, Gitmo »
April 05, 2011
Ryan's Plan: Necessary But Not Sufficient (Bumped)
Paul Ryan released his new deficit-cutting budget plan today, saving almost $6 trillion over the next 10 years, which is very nice. Really. The National Committee on Fiscal Responsibility and Reform released a similar plan last December, saving almost $2 trillion by 2020, and it too was nice.
Really.
Despite my tone, I am a big fan of these plans, and earnestly hope that at least most of their features will be implemented. But lest we violate the guiding maxim of the estimable Winston Wolfe, let's remind ourselves of exactly how bad things are, so that we understand just what these plans can and can't do for us.
In FY 2011, we are running a $1.425 trillion deficit. This single year of spending will take our public debt from 62.1% of GDP up to 69.1% of GDP. Now, in our daily life, whenever we run up a debt the first thing we ask is: How long will it take me to pay this off?
So, how long will it take to pay off the debt we're adding just this year? Or, a slightly easier task: how long will it take to get the debt/GDP ratio back to what it was only 6 months ago?
Please understand that we're talking about money we're burning right now. We're halfway through the fiscal year, so we're right in the middle of running up this tab that we're going to have to pay off. And the Dems won't let us slow our spending to any significant degree.
So, how long? Let's point out right away that the White House budget never pays a penny of the 2011 debt back. In fact, the public debt keeps climbing and climbing, reaching 87% of GDP by 2021. So only the two budget reform plans are even trying to pay that money back. And just how fast are they hoping to do that?
Have a look:*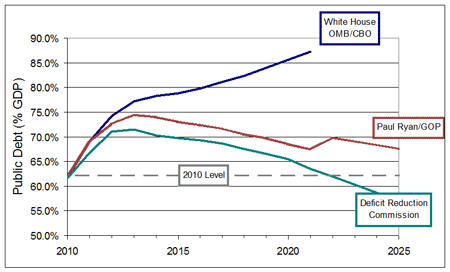 The gray line is where we were at the end of September 2010 ==> that's our target. The blue line is the Obama administration's baseline budget. As you can see, it sails off into the stratosphere. This is the budget plan the Democrats are defending.
The teal line and red line are the Deficit Commission and Ryan's plan, respectively. The teal line makes it back to the gray line by the end of 2022. Ryan's plan? Well, you'll have to wait another 10 years.**
So here's the bottom line. If you believe that the GDP will start growing at a healthy rate and continue at that rate forever, and if you manage to reform Medicare, Medicaid, and Social Security, and if you reform the budget process, and if you reform the tax code, and if you accomplish all these reforms in FY12, then you might be able to pay off this year's spending within 11 to 12 years. Or maybe the decade after.
This is what the President and his crackerjack economic team have wrought. A one-year deficit that is so large that it can only be paid back if everything goes exactly right. And if everything goes exactly right, we're still looking at decades before we can get back to the debt level we had only 6 months ago.
But, on the bright side, perhaps as early as 2023 we can start working on paying off the FY10 deficit.
So when the Dems start their caterwauling about how "extreme" the GOP's suggestions are, just remind them that these "extreme" suggestions may not succeed in paying back even 1 year of Obama's spending.
*S. Weasel worked on an earlier version of that chart, using Ryan's old numbers. It looked great, but then it became obsolete before I got around to using it. I wanted to get this up quickly, so I just plotted it up myself. My apologies to Ms. W., and my thanks for her efforts.
**One of the key reasons that Ryan's plan pays down the debt more slowly is that he caps government revenue at 19% of GDP, while the National Commission lets it keep rising towards 21%. The Commission didn't take into account the likely negative effect of increased government revenue on GDP (Ace also talks about this below), so their projections are likely to be optimistic.

posted by Geoff at
02:02 PM
|
Access Comments