« DOOM! in my pocket like grains of sand
|
Main
|
Update: GOP Insider Claims No Deal; Says Democrats Are Claiming A Deal In Order To Accuse Republicans of Backing Out and Shutting Down The Government »
March 31, 2011
Improvement in Initial Unemployment Claims Slowing?
Everybody's biggest economic fear, right after the one about total economic collapse and anarchy, is that we may fall into the second trough of a double-dip recession. We had been seeing some improvement on the business front (not, as Monty points out, on the debt front) - several of the indicators were looking better, but the last few months have not been so encouraging. Today we're seeing Initial Claims data which are also not very uplifting.
This blog was one of the first to note that Initial Unemployment Claims stopped improving back in November 2009, and one of the first to point out that they started improving again in August 2010. So let us be the first today to say that it looks like the improvement might have stalled once more.
Today the Department of Labor reported initial claims of 388,000, down 6000 from a revised number of 394,000 for last week (last week's original number was 382,000: the +12,000 correction was one of the largest I've seen). It's encouraging that it stayed below 400,000, but as you can see from the plot, the lovely downward trend we've enjoyed since last August seems to have stopped in January. Now we're just crawling sideways. Again.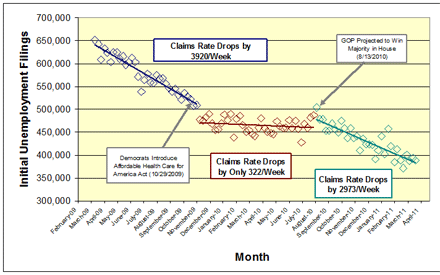 It's a little early to say for sure - we should know within three or four weeks whether the doldrums persist.

posted by Geoff at
10:24 AM
|
Access Comments