« CAC's Art Thread (NQSFWBSBTYBNTBSAJP edition)
|
Main
|
Top Headline Comments 3-21-11 »
March 20, 2011
Overnight Open Thread
They mostly come out at night. Mostly.
I think I've covered this before but Playboy After Dark was a TV show hosted by Hugh Hefner that debuted in January 1969 and ran for just 26 episodes. It was designed to give the feeling that you were present at a private happening cocktail party at Hef's pad. Despite its short run it managed to include some iconic bands of the time and now it's like a time capsule of period groovaliciousness.
Here's some classic videos from PAD with Iron Butterfly and Ike and Tine Turner.
xkcd's Radiation Chart
It's appeared everywhere else so why not here.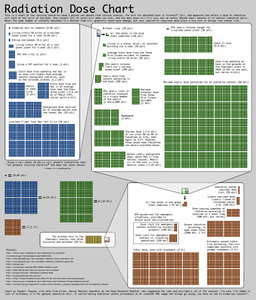 Zombie Defends Rebecca Black's 'Friday' Music Video
Contrary to reports it is not the worst pop song ever.

I think "Friday" is popular with the 10-to-14-year-old crowd specifically because its lyrics are completely innocent and unsophisticated. Kids are sick of being barraged with sexuality and violence and cynicism. At last, for the first time in a long time, a pop song for kids is not about humping or angst. Kids just want to be kids! And Rebecca Black is their new guide.
And if you're part of the remaining 11% of the internet public who haven't seen the video in question, well here's your chance to remedy that.
Attending SXSW, HBR's Susy Jackson was dismayed to find her beloved business cards no longer carried the cachet they did back in the day. Writes Jackson: 'I had a lovely conversation with two young entrepreneurs from New York and when it was time to part ways, I used that old line: 'Here, let me give you my card.' They both paused, looking unsure about whether or not I was serious. Then I saw the understanding wash over them. I was speaking a forgotten language. A business card. How precious.' And while Jackson appreciates the convenience of exchanging e-business cards, Twitter handles, and phone numbers (texting), she's still a softie for a good business card: 'Some cards are plain; others speak to their holders' personalities through odd trim sizes, quirky color schemes, or clever word play. Each will tell me something more about the person who gave it to me than I could have known from their contact info alone.'
Well I still get and give business cards fairly often. They have the benefit of being small and quick and easy to pass around in meetings. Until there's a standardized, fast electronic way of doing the same thing, the card will always be around. Plus physical objects still have certain qualities that electronic forms can't replace.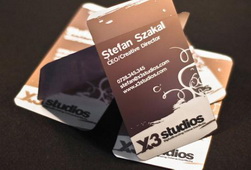 How Capt. Lou Albano Made Wrestling What It Is Today

One could forgive a child of 1991 if he were to look at a photo of Captain Lou Albano and say, "That's Super Mario," or a teenager from 1986 if he were to say, "That's Cyndi Lauper's dad." Similarly, one could forgive a late '80s wrestling fan if he saw Albano only as a buffoonish torchbearer for the good guy wrestlers, or an older wrestling fan if he knew him only as a loudmouth heel hypeman.
Never the greatest wrestler his pairing up with Cyndi Lauper in the early 80's was inspired and was good for both of them and professional wrestling in general.
10 Things You Probably Don't Know About Star Trek

Is Shatner's quaff of hair real or store bought? Accounts notoriously conflict, some co-stars say he had hair and went bald after the series was filmed, other say Shatner wore a hair weave due to having naturally thin hair that looks bad under stage lights. Star Trek Co-star George Tekei claimed in a radio interview that Shatner was balding since the beginning, but Make-up artist Fred Phillips describes using a bald cap on Shatner in an episode where Captain Kirk had to age rapidly.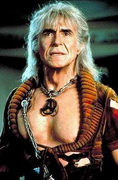 Strange Books on Amazon
The beauty of self-publishing and Amazon is that it lets anyone create and sell books. And that's also what results in these books.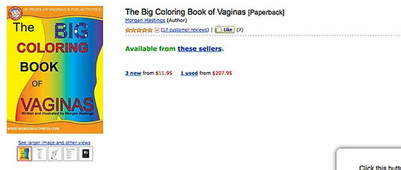 How To Make The Perfect Steak
This time science gets involved with experiments and labs and stuff:

I cooked two steaks of known weight side by side. The first, I carefully turned with tongs each time. The second, I used a fourchette de cuisine (that's fancy-pants for one of those two-pronged forks) completely indiscriminately, mercilessly (though not excessively) poking the steak this way and that as I flipped it. Afterward, I weighed both steaks again. The result? Exactly the same weight loss.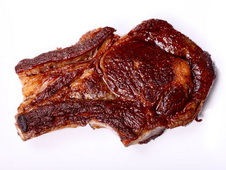 Finally - It's now officially email - not e-mail.
Next we can stop capitalizing Internet.
The World Penis Size Chart
I don't know how they got this info, but now at least now you can make your vacation plans accordingly.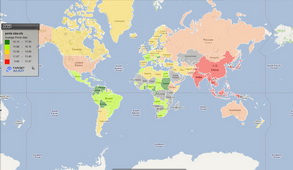 Weekly AoSHQ Commenter Standings
Top 10 commenters:
1 [469 comments] 'Kratos (Ghost of Sparta)' [65.84 posts/day]
2 [400 comments] 'Vic'
3 [341 comments] 'kbdabear'
4 [339 comments] 'garrett'
5 [315 comments] 'sifty'
6 [284 comments] 'momma'
7 [283 comments] 'FlaviusJulius'
8 [277 comments] 'curious'
9 [270 comments] 'Jane D'oh'
10 [245 comments] 'crosspatch'
Top 10 sockpuppeteers:
1 [107 names] 'kbdabear' [15.02 unique names/day]
2 [68 names] 'Fish the Impaler'
3 [44 names] 'toby928▒'
4 [42 names] 'Mallamutt'
5 [38 names] 'Fritz'
6 [37 names] 'fluffy'
7 [34 names] '18-1'
8 [31 names] 'Romeo13'
9 [31 names] 'The War Between the Undead States'
10 [29 names] 'Downscaled Upscale'
The group. Yeah.
Tonight's post brought to you by 1987: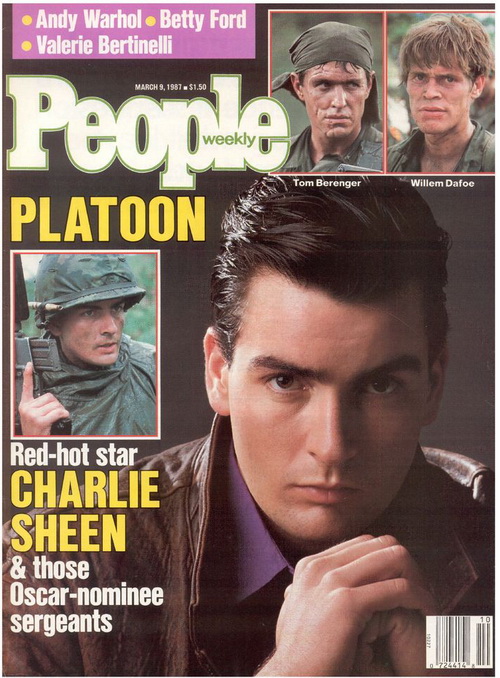 Notice: Posted by permission of AceCorp LLC. Please e-mail overnight open thread tips to maetenloch at gmail. Otherwise send tips to Ace.

posted by Maetenloch at
09:38 PM
|
Access Comments