« As Karol Used to Say, "Quick, Let's Give These People a State"
UPDATE: Celebration in the Streets
|
Main
|
Fukushima #3 Explodes »
March 13, 2011
Overnight Open Thread
It's been a long hard week both in the macro and the micro. But here we are with a fresh new one to break and sully. And you know what to do.
So What Was Really in Spock's Scanner
Well he was always busy watching something in it. Now the truth can finally be told: he was goofing off at work just like you. And he's also a dirty, smelly Vulcan.
A Bad Choice
So the mayor and town officials of Otsuchi in Japan's Iwate prefecture are all missing. And here's why:

It also has been unable to communicate with the mayor and officials in Otsuchi after the town office was swept away by a tsunami while the mayor and town officials were apparently inside the building….

Why were the mayor and town officials inside the building at the time the tsunami struck? According to news reports, they were holding a meeting to discuss safety measures that should be taken. The town office was a two-story building only 1-kilometer from the shore, making it one of the worst imaginable places to sit down and have a discussion while a deadly tsunami was on its way.
The old saying 'In times of crisis, go with what you know - not what you think you know' is a good one. But if what you know is running meetings, then maybe you should try something new.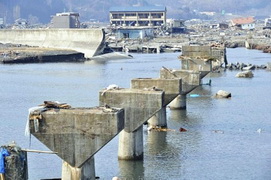 The Maersk Alabama: Like Crack For Pirates
Less than two years after its captain was taken hostage by Somali pirates, it has now fended off its third attempted hijacking by pirates as it sailed to Mombasa. Apparently its size, cargo, and route make it a perfect target for the pirates. But these days it carries an armed security team:

Earlier today, a spokesman for the Maersk's parent company disclosed that a "suspicious skiff" carrying four passengers and a ladder started pursuing the ship. When the pirates got within half a nautical mile, security officers on board fired off more warning shots, prompting the skiff to turn away.
Maybe it's time to start sending out Q-ships whose only purpose is to attract and kill pirates.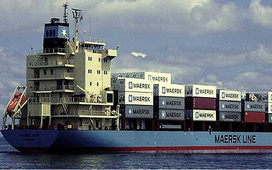 Some Color Pictures Of San Francisco's 1906 Earthquake
And actually in 3D if you cross your eyes.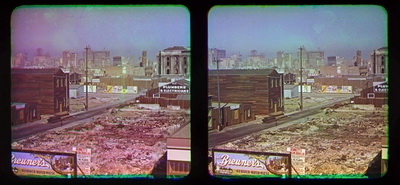 So How Come Quadaffy's Name Is Never Spelled the Same Way Twice
Well the short answer is that some Arabic sounds don't exactly match up with English pronunciations or spellings.

[T]he spelling is complicated by a perfect storm of issues: Arabic letters or sounds that don't exist in English, differences in pronunciation between formal Arabic and dialects, and differences between transliteration systems.

Let's look at it Arabic letter by Arabic letter:
His name's first letter is the Qaf, representing a sound that does not exist in English. It's sort of like a K but sounded from the back of the palate. (And no, it's NOT the rough "kh" or German "ch" sound — that's yet a different letter.)
Usually this letter is transliterated with a Q, as in Quran and Qatar and Iraq. An outdated but still seen transliteration is K, as in Koran.
However, the letter is pronounced differently in different Arabic dialects. In Libya, it's often pronounced as a G, so that's the letter the AP and some others use.
And how does Gaddafi pronounce his own name?
How does Gadhafi himself pronounce it? That's easy since he refers to himself in third person quite often. He tends to say "Gath-thafi" with the middle letter pronounced like the soft "th" in "either."
Hopefully this will all be a moot point in a few weeks, no thanks to the Obama administration.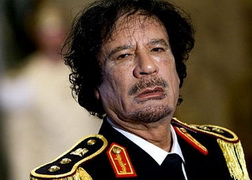 'It was only rape because I was 13'
Says Roman Polanski's victim, Samantha Geimer, now 43 years old. I can understand why she might want the whole thing to be forgotten, but this is also why victims aren't given final say in whether crimes are prosecuted. Plus she received a monetary payout from Polanski sometimes during the 80s which may explain why she's not anxious to keep pursuing him. And contrary to what she claims, her testimony at the time made it clear that it was both statutory rape and rape-rape.

Ms Geimer testified that he had plied her with champagne, gave her a sleeping tablet and brought her to a bedroom where he sexually assaulted her.
Before this, Polanski, acclaimed director of Chinatown and Rosemary's Baby, had regaled her with promises that he would make her a model and actress.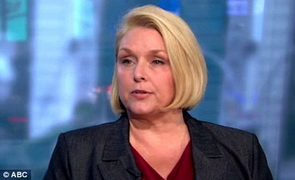 Diesel Now Offering BJ Kneepads
For free if you buy $150 worth of their clothes.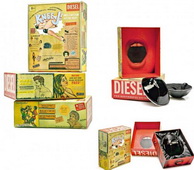 The Man Behind the "Rooster Sauce"
During the Vietnam War David Tran and his family made a living selling dipping sauces that were packaged in recycled baby food jars. Later in 1979 he and his family escaped to the US and became an American success story based on their popular sauce.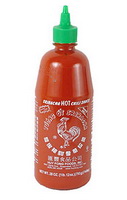 The 10 Queen Taco Bell Drag Queen Fight
I think this has already been covered here but just in case it hasn't, here it is in all its video glory. Sadly it's always the wigs that suffer the most in these kind of incidents.

Weekly AoSHQ Commenter Standings
Top 10 commenters:
1 [519 comments] 'George Orwell' [73.28 posts/day]
2 [464 comments] 'Kratos (Ghost of Sparta)'
3 [381 comments] 'FlaviusJulius'
4 [311 comments] 'kbdabear'
5 [295 comments] 'garrett'
6 [283 comments] 'Rum, Goddess of Doom'
7 [278 comments] 'Merovign, Dark Lord of the Sith'
8 [275 comments] 'Vic'
9 [248 comments] 'Y-not'
10 [245 comments] 'MWR'
Top 10 sockpuppeteers:
1 [87 names] 'kbdabear' [12.28 unique names/day]
2 [62 names] 'toby928▒'
3 [60 names] 'George Orwell'
4 [52 names] 'andycanuck'
5 [44 names] '18-1'
6 [43 names] 'Cicero'
7 [41 names] 'Kemp'
8 [39 names] 'NC Ref'
9 [36 names] 'Fish the Impaler'
10 [35 names] 'Mama AJ'
The group. Yeah.
Tonight's post brought to you by the Rat Pack: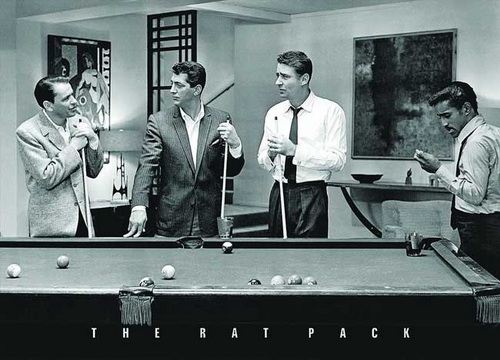 Notice: Posted by permission of AceCorp LLC. Please e-mail overnight open thread tips to maetenloch at gmail. Otherwise send tips to Ace.

posted by Maetenloch at
09:07 PM
|
Access Comments