« Reminder: Um, DST Starts Tonight
|
Main
|
Overnight Open Thread »
March 12, 2011
Open Nuke Thread UPDATED: Second Reactor In "Partial Meltdown"
Above The Post Update:
[DrewM.] Looks like a second reactor at Fukushima is in trouble.
AP: Japanese government spokesman says partial meltdown is likely under way at second reactor
(I removed something about the first reactor because I'm not sure I was right. There's enough bad/wrong/confusing information out already)

Original Post:
From Kyodo News, another reactor loses cooling functions:
Tokyo Electric Power Co. said Sunday another reactor of its quake-hit Fukushima nuclear power plants had lost its cooling functions, while at least 15 people at a nearby hospital were found to have been exposed to radioactivity.

The utility supplier notified the government early Sunday morning that the No. 3 reactor at the No. 1 Fukushima plant had lost the ability to cool the reactor core. The reactor is now in the process of releasing radioactive steam, according to top government spokesman Yukio Edano.

It was the sixth reactor overall at the Fukushima No. 1 and No. 2 plants to undergo cooling failure since the massive earthquake and ensuing tsunami struck Japan on Friday.
And, for reference purposes, pictures of BWR plant innards. Reports are that Fukushima #1 lost secondary containment and that primary containment is still in place. I'm guessing the first picture more accurately depicts the structure of Fukushima #1 than the second, which shows a single large containment shell. Maybe our resident nuke experts can shed some light on this.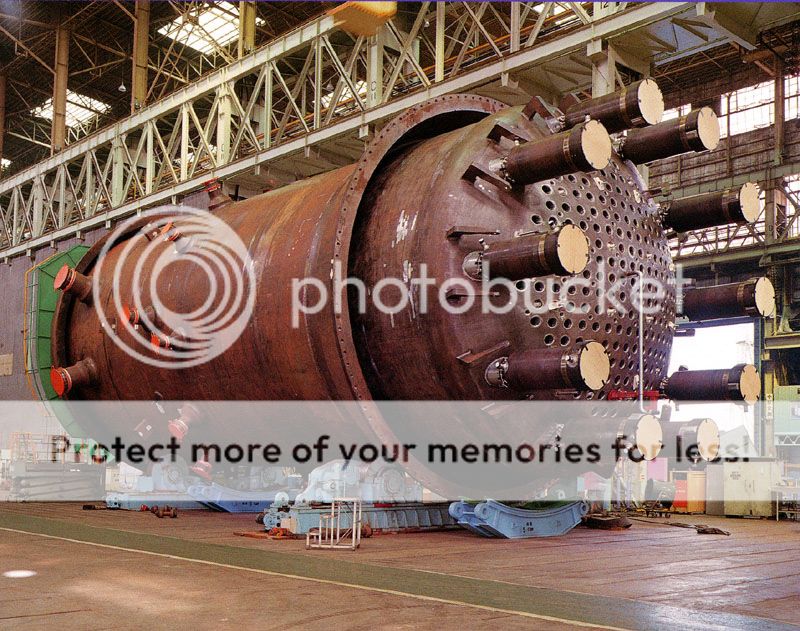 For an idea of the size, note the step stool in the foreground.
Update: A recent picture of Fukushima #1:
You can see it most closely resembles the structure shown in the first schematic above. Thanks to commenters "booger" and "Momma."
Update: Momma says she's all cried out and feels helpless, needs a laugh. I think we're all a little drained by the bad news in Japan. How about a little meltdown music?
I got this from the vault at the IAEA after seeing a reference to it in the computers at the NRC. Under the title "Meltdown Music" it said, "Play only in the event of feeling cried out and helpless after a large earthquake, a large tsunami, and during a meltdown scare." So I figured, hey, that kind of fits this situation.
Update: Drew sends this tweet from BNOnews:
TEPCO says radiation at the Japan nuke plant premises has surpassed legal limits - Kyodo
Keep your meltdown music handy. As Drew says, that doesn't sound good. Sounds almost deceptive, like understatement, in fact.
Update: Commenter "BUTCH" sends his analysis based upon an ANS "backgrounder":
I received the attached from the American Nuclear Society. They set up a special page on the ANS blog (http://ansnuclearcafe.org) to aggregate media reports and provide additional credible information.

Don't believe what you hear on the news - most of the talking heads don't know what they are talking about. Remember how little the media gets correct when reporting on your field of expertise? Keep that in mind.

- The affected plant is a 40-year old boiling water reactor (BWR). This is a good simplified diagram of a generic BWR: http://www.nrc.gov/reactors/generic-bwr.pdf
- The reactor sits inside a steel primary containment structure (drywell) that looks like an inverted light bulb. The drywell vents via spargers to a torus (looks like a donut ... mmmm, doh-nutt ...) AKA wetwell.
- It appears that it experienced a way-beyond design basis event.
- The reactor is shut down, no power is being produced by fission. However, the highly radioactive fission products generate significant decay heat after shutdown. Wiki doesn't do a half bad job explaining it. http://en.wikipedia.org/wiki/Decay_heat. Long story short, after a day, this is ~0.4% of core power. This translates to 6MW of power.
- All nuclear plants have two separate independent emergency diesel generators (EDGs) plus sufficient fuel to provide power for emergency cooling pumps. These EDGs started, but stopped after about an hour. The tsunami surge apparently contaminated the fuel. Hence the rush of diesel generators to the site.
Maybe BUTCH and some of our crew of nuke experts could critically analyze that and, well, tell us (me) what it means.

posted by rdbrewer at
10:28 PM
|
Access Comments