« Obama Goes Golfing
|
Main
|
Top Headline Comments 3-7-11 »
March 06, 2011
Overnight Open Thread
Last call for the weekend.
So What Were a US Soldier's Odds of Dying in Each War?
From Nicholas Hobbes' Essential Militaria comes this table of the odds of a US soldier being killed in various wars:

• War of Independence: 2 percent (1 in 50)
• War of 1812: 0.8 percent (1 in 127)
• Indian Wars: 0.9 percent (1 in 106)
• Mexican War: 2.2 percent (1 in 45)
• Civil War: 6.7 percent (1 in 15)
• Spanish-American War: 0.1 percent (1 in 798 )
• World War I: 1.1 percent (1 in 89)
• World War II: 1.8 percent (1 in 56)
• Korean War: 0.6 percent (1 in 171)
• Vietnam War: 0.5 percent (1 in 185)
• Persian Gulf War: 0.03 percent (1 in 3,162)
Clearly the Civil War was statistically the deadliest war but the Mexican and Revolutionary Wars also deadlier than they're usually described.
Another surprising fact is that the Vietnam War was actually less dangerous than the Korean War. But of course in movies and TV going to Vietnam was portrayed as practically a death sentence.
More here.
Rodney King, 20 Years Later
Well he's older and a grandfather now but he's spent nearly all of his $3.8 million settlement and is still kind of a fuck-up.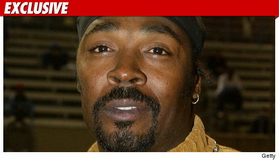 Sarah Palin on Kathy Griffin: A '50-Year-Old Adult Bully… Has-Been Comedienne'
Which is a pretty apt description of Kathy Griffen - who has a fondness for attacking young daughters of Republican politicians.

Some Frontier Pictures
Taken between 1887 and 1892 in the Dakota territories.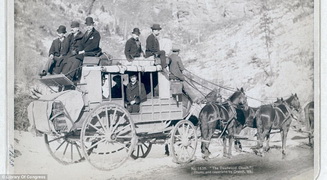 Iowahawk Spanks Paul Krugman: Part Deux
This is why graduates of Ottumwa B&F should not be misunderestimated. Read the first part here. Iowahawk then responds to critiques and shows that Krugman was trying to slide by using Simpson's Paradox:

Let's take a baseball example; suppose you were a manager and you were evaluating two hitters:

Hitter A:
Against right-handed pitchers: 300 at-bats, 90 hits (.300 average)
Against left-handed pitchers: 200 at-bats, 50 hits (.250 average)
Total: 500 at-bats, 140 hits (.280 average)

Hitter B:
Against right-handed pitchers: 100 at-bats, 32 hits (.320 average)
Against left-handed pitchers: 300 at-bats, 78 hits (.260 average)
Total: 400 at-bats, 110 hits (.275 average)

Hitter B has a higher batting average against both righties and lefties, but Hitter A has a higher overall average by dint of facing a different mix of pitchers. Now comes the question: it's the bottom of the 9th, two out, and you need a base hit. Who would you insert as a pinch hitter, A or B? The detailed data suggests Hitter B, irrespective of whether the pitcher was right- or left-handed.

The overall average, in this context, is worse than meaningless - it leads you to exactly the wrong conclusion.
SNL Does Charlie Sheen
Duh, Winning!

Putin Makes Solzhenitsyn Required Reading

Depending upon your perspective, it is the most or second-most horrific story ever told: the story of the multi-decade Soviet holocaust. It's not banned in the United States, but it might as well be for all the attention it gets.

Now, in Russia, Vladimir Putin — who had once sought to rehabilitate Stalin — has recognized the need for at least an "abridged" version. (Better abridged than nothing.)

Although Solzhenitsyn's masterwork runs well over 600 pages, densely footnoted, and unsparing in its detail of an attempted soul-murder of an entire people, its wry candor makes it droll at times. It is, nonetheless, a tall order for most students — presumably why it's required in Russia.
Sadly I bet there's not a single high school in the US that requires students to read any Solzhenitsyn. I remember reading
One Day in the Life of Ivan Denisovich
in a single evening in college (and it was a good read). After finishing it I found myself so hungry that I walked a mile to an open-all-night KFC and nearly ate myself sick on fried chicken.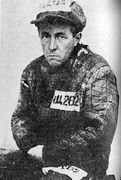 Bishops Boot 'Booty' From Bible
Apparently because of its Baby Got Back connotations.

• The word "holocaust," now associated with World War II genocide, has been replaced by "burnt offering."
• The 1970s version of the 23rd Psalm — "even when I walk through a dark valley" — becomes a "walk though the valley of the shadow of death."
• Proverbs 31:10, the ode to "The Ideal Wife," is now a "Poem on the Woman of Worth."
"Women will like this: being measured by their own accomplishments, not in terms of a husband's perspective," says Mary Elizabeth Sperry of the Bishops Conference.
These seem like more than just mere translation tweaks.
Cyndi Lauper Not Dead
Here she is singing "Girls Just Want To Have Fun" into the PA system at the Buenos Aires airport to sooth angry delayed passengers.

The WTFiest Family Photo Ever Taken
Apparently these are real people - and their vote counts just as much as yours.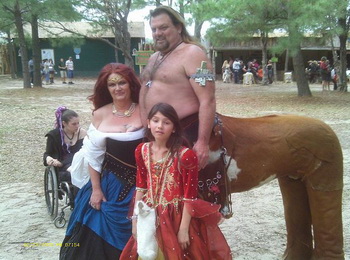 The Secrets of a Long Life
It turns out that most of what people think is wrong.

The idea that your job or your boss is leading you to an early grave is one of several myths debunked in an analysis of a 90-year study that followed 1,528 Americans. Among other myths: be optimistic, get married, go to church, eat broccoli and get a gym membership.
And it turns out that sweating the details is a good thing:
One of the best childhood personality predictors of longevity was conscientiousness — "qualities of a prudent, persistent, well-organized person, like a scientist or professor — somewhat obsessive and not at all carefree," the authors conclude. They say the most obvious reason "is that conscientious people do more things to protect their health and engage in fewer activities that are risky."
For men especially having a purpose in life seems critical to living a long time. And it doesn't matter what the purpose is - just that you have something that motivates you to get up in the morning. Another key factor is exercise. My grandfather who died three years ago at age 86 said that one of his greatest regrets is that he didn't start exercising much earlier in his life. Of course he was from the WWII generation when fitness wasn't a big deal so he had an excuse. What's yours?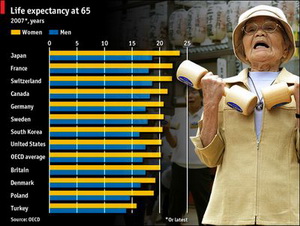 Weekly AoSHQ Commenter Standings
Top 10 commenters:
1 [374 comments] 'Kratos (Ghost of Sparta)' [53.42 posts/day]
2 [318 comments] 'ace'
3 [304 comments] 'soulpile is... expendable'
4 [298 comments] 'sifty'
5 [284 comments] 'curious'
6 [264 comments] 'Y-not'
7 [243 comments] 'FlaviusJulius'
8 [235 comments] 'Vic'
9 [227 comments] 'kbdabear'
10 [225 comments] 'Rum, Goddess of Doom'
Top 10 sockpuppeteers:
1 [96 names] 'fluffy' [13.47 unique names/day]
2 [64 names] 'kbdabear'
3 [37 names] 'Wyatt Earp'
4 [29 names] 'NC Ref'
5 [28 names] 'Barbarian'
6 [27 names] 'Truck Monkey'
7 [26 names] 'Zach Greinke's Bobblehead'
8 [26 names] 'garrett'
9 [25 names] 'George Orwell'
10 [24 names] 'toby928▒'
The group. Yeah.
Tonight's post brought to you by Col. Sanders and Alice Cooper: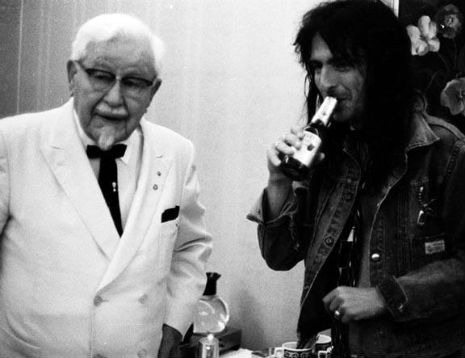 posted by Maetenloch at
09:00 PM
|
Access Comments