« Candace Kita Reflects on Working With Charlie Sheen [dri]
|
Main
|
Movie Review: The Adjustment Bureau »
March 04, 2011
Overnight Open Thread
Worst. ONT. Ever.
Tonight's Random ONT Quote of the Overnightish Nightliness:
"I would not want Jimmy Carter and his men put in charge of snake control in Ireland." (Eugene McCarthy)
Oregon Man Wakes up to Find Dog Ate 3 of His Toes:
Pretty sure it was just trying to be helpful and all. Like at those salons where you can put your feet in a tub and fishies nibble off your dead skin. So I'm told.
"ROSEBURG, Ore. (AP) - A diabetic Roseburg man with no feeling in his feet woke up to find his dog had eaten part of his right foot, including three toes. The Roseburg News-Review reports that the 61-year-old man, whose name was not disclosed by police, was in serious condition after calling 911 at about 3 a.m. on Tuesday."
"What! I got an alibi! At least as far as you know!"
More proclamations of LoafDog's innocence and snakes below the fold...
A Cautionary Tale: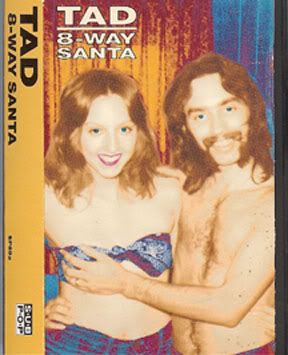 Well, a cautionary picture anyway. That's what happens when somehow a Polaroid of you getting all grabby/being grabbed ends up getting sold at a garage sale and finally ending up as an album cover for the band Tad. Sadness and conflict ensued:
"Another lawsuit was filed due to the cover of 8-Way Santa (which was a found picture of a man fondling a woman's breast). The couple in the photograph, one of whom had since become a born-again Christian and remarried, took exception and sued. Sub Pop changed the album cover to a group shot."
The article mentions that it was "another lawsuit" because Tad also found himself/themselves in trouble with PepsiCo:
"Jack Pepsi" was released as a single, but Pepsi filed a lawsuit against the band due to the cover art on the single, which was the Pepsi logo with "Tad" in place of "PEPSI."
Can't a Tad get a break? Personally I think it was a lovely, if not horrifying tune:
Here's Some Hot Lava on Lava Action:
And Sandy Duncan's 'Funny Face' In the Original Japanese."
Happy Python Day!
You'd think that they'd at least put a saddle on the poor thing.
Which reminds me that Vic requested some Zeppelin tonight…
And who am I to deny him? From their early Seattle period (See how I tied that in?):
And here they are at the peak of their popularity:
Unfortunately, all good things come to an end. This was their final minor hit in the mid-80s when they were but a shadow of their former selves:
Notice: Posted by permission of AceCorp LLC. Please e-mail overnight open thread tips to xgenghisx@gmail.com. Otherwise send tips to Ace.

posted by Genghis at
10:27 PM
|
Access Comments