« AP's dueling business headlines
|
Main
|
Hundreds Of Billions In Waste And Duplication Found In Federal Budget The Democrats Swear Can't Be Touched Without Killing People Or Something »
March 01, 2011
High Speed Rail To Nowhere...Winning The Future A Wasted Billion At A Time
Political deals to steer money to the middle of nowhere, threats to the livelihood of farmers and cities and towns that don't want Obama's toy trains ripping through their neighborhoods at 150MPH.
What could go wrong?
Philip Klein of the American Spectator found out.
Things took a more perplexing turn last December, when California's High-Speed Rail Authority announced its choice for the initial 65-mile segment of the line, connecting Borden and Corcoran. If you haven't heard of them, don't feel bad -- neither have most Californians. Together the towns have an estimated population of 25,000. But as the San Jose Mercury News noted, Borden "is an unincorporated community for which the U.S. Census Bureau doesn't even keep official population estimates."

Democratic Rep. Dennis Cardoza, no doubt frustrated the railroad money wasn't going into his district, dubbed it the "train to nowhere." In reality, "tracks to nowhere" might have been a bit more accurate, as the Authority never had plans to run actual high-speed trains until more than 200 miles of the system are built, and the rails reach one of California's major cities."
There's a lot in the story and you should take a few minutes to read it all but let me just pull one more excerpt to illustrate the folly, the fiscally dangerous folly, of this all.
If the system is fully built, it would cost an estimated $647 million a year for 30 years for state taxpayers to pay off the $9.9 billion in bonds that would need to be issued.

...Some have raised questions about the reliability of the estimate that the entire system would cost $43 billion. A Reason Foundation study projected that the real cost would be far higher, in the range of $65 billion to $81 billion. Wendell Cox, one of the authors of the study, says that based on international data, the cost of these types of projects tends to be underestimated by 40 percent to 100 percent, because public officials have every incentive to low-ball the figures to get projects approved.

Even if the $43 billion is accepted at face value, the funding is still a daunting challenge. According to the Authority's business plan, it needs to receive at least $18 billion in federal funding to complete the project, with the rest coming from the state bonds and private sources. Yet the project received a windfall in 2010 largely due to a confluence of historical factors that are unlikely to be repeated, namely, a Democratic president and Congress coming into power with a crisis they didn't want to waste.

"We got the most out of any state in the nation, $3.2 billion," Wall boasts. "So when we matched that with the state funding, we have $5.5 billion after one year of pursuing federal funding heavily."
So even there low ball budget figures don't add up and if they did (and again, they don't) the state would still be on the hook for well over $600 million/year for 30 years just in debt service. This of course is on top of the debt that already exists and pretty much has the state thisclose to insolvency already.
And best of all...that's just one state! Obama wants to replicate this across the country.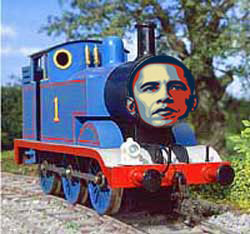 From the Slublog Collection

posted by DrewM. at
10:46 AM
|
Access Comments