« Andrea Mitchell Was Smoking Crack In The 1980s
|
Main
|
On Singing The Anthem Professionally... (tmi3rd) »
February 07, 2011
Overnight Open Thread
Remember Obama's Cairo Speech?
Well the Egyptians sure don't. Here's what his 'unprecedented' speech and outreach has bought us:

According a Zogby International Report, "Egyptians are disappointed with President Barack Obama and have a decidedly negative view of U.S. policy in the Middle East."

Here are some Zogby public opinion numbers, after two years of an Obama foreign policy that was silent on human rights in the Middle East but apoplectic on Jewish apartment condos in Jerusalem:
- 85% had an unfavorable attitude toward the U.S.
- 87% had no confidence in the U.S.
- 92% named the U.S. as one of two nations that are the greatest threat to them
Just wait until you see Obama's super-duper outreach to the new Islamic Republic of Egypt.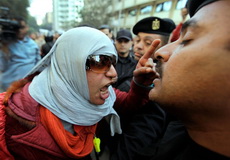 The 30 Freakiest Ads of 2010
Including lesbian CPR, killing AGW unbelievers, fart-sorbing blankets, and then things start to get strange.

Anne Rice Back To Hating Catholicism
I haven't kept track of Rice's long up and down relationship with the catholic church but apparently she had left the church many years ago, then re-embraced it passionately for 12 years and now has recently denounced it again as dishonest and immoral:

"I hadn't been a Catholic for 38 years, so I began to study it. I began to live it…. And I came to the conclusion 12 years later that it was not a fine religion, that it was dishonorable, that it was dishonest, that it's theology was largely sophistry… and that it was basically a church that told lies. And that it was for me, for my conscientious standpoint, an immoral church; and I had to leave it."
And the key issue seems to be homosexuality - in particular her son's:
It is increasingly obvious that Rice's hatred (and it does appear to be hatred) of the Catholic Church flows from her conviction that her son's homosexuality is not only perfectly fine, it should be celebrated and proclaimed good by the Church. Like so many others, she makes it personal, as if the Church has pinpointed her son; yet the Church has consistently, from the start (Romans 1, anyone?), understood homosexual acts to be sinful—just as the Church has held that adultery, fornication, etc., etc., are sinful. Her "argument" seems to be simply: "I think being gay is great, and anyone who disagrees is evil."
Now I'm not Catholic but it seems to me that over the last 38 years the church's policies and practices have been pretty consistent and the vitriol and volatility has been on Rice's part. Like Andrew Sullivan she takes it personally that the church won't bend itself to accommodate her views on homosexuality. But that's never been the case before. So why should Anne Rice be so special?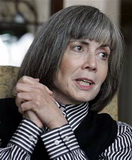 Michael J. Totten: What If There Is No Way Out?

For years I asked Arabs and Israelis alike, "what's the solution?" Finally I had to stop. It is such an American question. I can't think of a single person I know who lives in the region who thinks there is a solution to the problems that ail it.
I do know this, though. If Egyptians are bound and determined to be ruled by Islamists, they cannot be held back forever. They might not ever get it out of their system until they see what it's actually like. They won't be dissuaded by dialogue, and they won't be dissuaded by prison. Islamism is like communism for some people. It looks good from a distance on paper, but up close and in person it's ghastly.

Totten's views on the Arab Middle East are pretty close to my own i.e. it's a hell hole full of unpleasant human beings and there ain't much we can do about it. Sometimes oppression can elevate a people but sometimes it just turns them into an paranoid, child-like population who embrace ideology as the answer to all their problems i.e. Egypt. And there ain't much we can do about that either. Meteors please.
Out: Dinosaurs, In: Therapsids
Imagine giant chipmunks with the personality of a velociraptors. Therapsids rule, dinosaurs drool.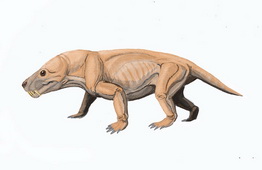 The Mysterious Portuguese Car Time Capsule
Hidden troves of vintage cars don't just appear, but this one seems to be real. And here's part of the story that's come to light:

The owner of the cars was a car dealer in the 1970s and 1980s, and decided to save the more interesting cars that came through his doors. When the barn was full, he padlocked and "soldered" the doors shut. (Perhaps welding was too permanent.)

Web sites varied on the number of cars: 58, 100, and 180 were speculated. According to Morais, there are 180 cars in the barn.
...
Clara was able to determine that the cars are located somewhere in the area of Sintra, near Lisbon. I asked Morais if he could ask the owner if he had a favorite car. "He has lots of good cars in very good condition," he says, "but he loves the Lancia Aurelia B24. He has two."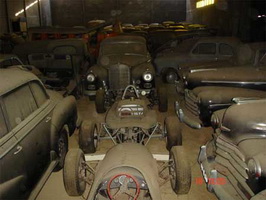 Where Are The Ladies At?
Yep there's an app for that.

The Death-Defying Commute in Colombia
Imagine taking the zipline route in Guyabetal, Colombia daily.

On an average day, it is used by about 15 people, mostly farmers going back and forth to fields on the other side of the valley, in what must be the world's most harrowing daily commute. The half-minute ride spares them a hike of two to four hours up and down a steep path through the forest.
6 Of The Most WTF Products Found On Amazon
I actually own one of these products - it was a white elephant gift and it currently resides on the refrigerator.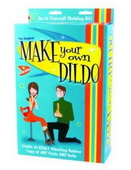 The Yahoo AoSHQ group. Bla bla bla. And don't forget about the Job Bank.
Tonight's post brought to you by +2 elixirs of courage: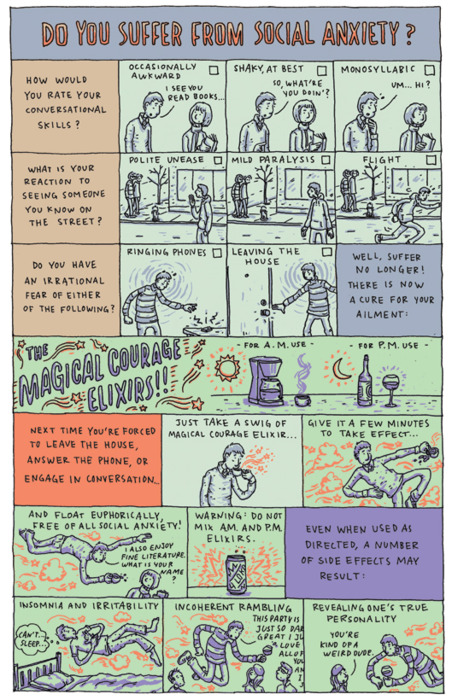 Notice: Posted by permission of AceCorp LLC. Please e-mail overnight open thread tips to maetenloch at gmail. Otherwise send tips to Ace.

posted by Maetenloch at
09:08 PM
|
Access Comments