ę Overnight Open Thread
|
Main
|
Sunday Book Thread Ľ
January 23, 2011
When Bad Things Happen to Good Statistics
Uh-oh - looks like I'm an idiot, just after I accused Mr. Bookman of being one. He did correctly quote the federal civilian employment, and I screwed it up. I've struck out that portion of the post and added some more better paragraphs before it.

A Mr. Jay Bookman of the Atlanta-Journal Constitution decided to try to edumacate the rabble by posing a little quiz to his readers. It's the sort of misleading article that will naturally go viral in the Kos/TPM/Olbermann community. He makes 3 points (I'll address 2), all supposedly crushing the GOP's rationale for reducing spending. At the end of his little Q&A post, he smugly declares: "I think thatís enough for today. Class dismissed."
Well, that sort of class explains why Johnny can't read and the Democrats are averaging more than a $ trillion/yr in deficit spending. For instance, one of his big points is that the GOP plan to reduce the federal civilian workforce by 15% is completely ridiculous. It will take us back to 1950 levels, and besides, federal civilian employment was almost at its peak when Reagan left office!
As you can see from his supporting table, however, Mr. Bookman is not telling the whole story. Federal employment actually peaked in 1968, under LBJ. Reagan essentially froze civilian employment at civilian agencies, which had increased by 50% under LBJ, Nixon, Ford, and Carter, and he restored some 100K civilian jobs at the DoD, which had lost 400K jobs since LBJ's administration.
Bookman also doesn't tell you that since Reagan's time, civilian employment at the DoD has dropped by another 450K, while civilian employment at other agencies has risen by another 200K. Cutting 15% of the jobs in civilian agencies will only take us back to 2001 employment levels. It is the DoD, which has already operating at 1950 civilian employee levels, that has been cut to the bone and will be hamstrung by another 15% loss. But I doubt that Mr. Bookman is truly concerned about the strength of the DoD - he'd prefer you to think that the domestic operations of the government will be crippled by draconian personnel cuts. It's just not true.
But Mr. Bookman is an idiot who can't even read the supporting table that he himself linked. Yup, he's quoting total federal employment (including military), not just civilian federal employment. In reality the 15% reduction will take us back to 2001 levels, not 1950. And the prize for highest level of Federal civilian employment actually goes to . . . . . Barack Obama for his outstanding effort of 1,357,000 employees in 2009!!
Mr. Bookman's observations on federal spending are similarly flawed not as obviously brain-damaged, but flawed nonetheless. He starts out like this:
1.) From fiscal 2001, when President Bush took office, to fiscal 2007, when Democrats took over the Senate and House of Representatives, total federal spending increased each year by an average of:
A. 4.39 percent
B. 5.35 percent
C. 6.57 percent
D. 11.86 percent

2.) From fiscal 2009, when President Obama took office, through fiscal 2011, when Republicans took over the House of Representatives, total federal spending increased each year by an average of:
A. 4.39 percent
B. 5.35 percent
C. 6.57 percent
D. 11.86 percent
Where the answers in bold are "correct." In case you're too Tea Partied out to get the point, he spells it out for you:
Thatís right. Between fiscal years 2009 and 2011, federal spending increased by an annual average of 4.39 percent. Between 2001 and 2007, it increased by an annual average of 6.57 percent.
Well that certainly makes us look foolish, doesn't it? Here we've been advocating budget austerity, and it turns out that we were the big spenders all this time! Color me chagrined.
Except for a few minor points, that is. Such as:
As I recall, we weren't actually happy with Bush's & Congress's spending from 2001 - 2007. In fact we were downright displeased. And in fact, the distrust generated during that period led to a popular movement known as......oh, yeah, the Tea Party, which has flogged the GOP into trying to cut spending. So, Mr. Bookman, the very people you're talking down to are the people who are one step ahead of you.


When revenues are increasing, increasing spending isn't as irrational as when revenues are plummeting. The Bush era had its own recession to deal with, but the Bush team was able to create a revenue/spending situation with steadily decreasing deficits. The fact that the Dems didn't respond adequately to the realities of the current revenue situation is a huge black eye for that party and its philosophies.


He's lying.
Perhaps that last point could use a little expansion. Did you notice anything odd about Mr. Bookman's questions? Like the ginormous missing gap between FY07 and FY09? Here's a plot of federal spending, using the exact tables that Bookman
used
: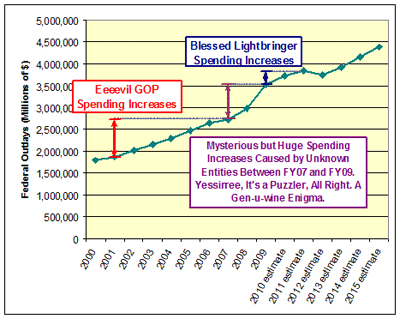 You can see the outrageous spending increases of the GOP on the left, and the temperate, modest, restrained spending increases of our "we're-not-good-enough-to-deserve-him" President on the right. But that gap - what's that all about?
Note to Mr. Bookman: when you've bumped up spending by 29% in a two-year period, it's pretty easy to throttle back for a few years. When the lowest of your team's past and projected deficits is higher than the highest of your predecessor's, then maybe you should pipe down - talking about federal budgets may not be your best strategy. And when deficits average $280 billion (as during the Bush/GOP majority years), it's much easier to rationalize deficit spending w/o budget cuts than when they average $1.14 trillion (as in the years since). Not that we like rationalizing deficit spending at all.
Hence the Tea Party.

posted by Geoff at
07:38 AM
|
Access Comments