« Loughner Video Released By Community College
|
Main
|
Survivor Of Arizona Shooting Who Blamed Palin Arrested For Making Death Threat Against Tea Party Spokesman »
January 15, 2011
Saturday Playoffs Thread
Never has such a playoff thread been so anticipated. I'm a big fan of anticipation myself, it helps the ladies manage their disappointment later.
I think.
First up, Ravens and Steelers. Next up, Packers and the Falcons.
Also, if Adrian Peterson shows up at your McDonalds at 3 in the morning and wants to use the restroom, you should check with your district manager before letting him in.
Rules are rules.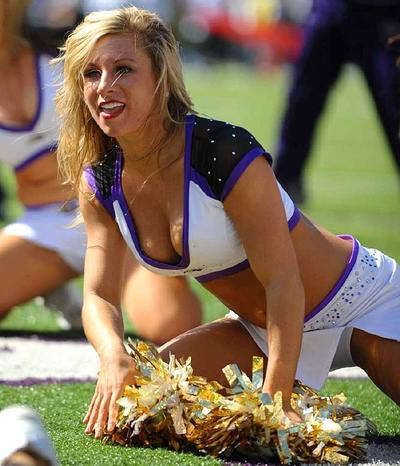 CDR M sent me a Seahawks cheerleader pic but they don't play until Sunday so you have to wait.

ALSO! Playoff thingy standings after last weekend:
1 Physics Geek's Entry 120
2 MoronPunditRules 110
3 Mrs.M 95
4 CharlieBrown'sDildo 94
5 Quarreyman 91


posted by Dave In Texas at
03:58 PM
|
Access Comments