« NFL Playoffs Thread: Saints Vs Seahawks; Jets Vs Colts
Yeah, Had To Happen: Seattle Whooping Up On The Saints
|
Main
|
Sunday Book Thread »
January 08, 2011
Overnight Open Thread
"Hand-carved from the finest Italian granite pixels"
Please forgive the crappier than usual post tonight. I was distracted watching this afternoon's New Orleans Saints' football practice. They looked pretty good and seem more than ready for next week's playoff game.
Oh, and since SOMEONE was remiss in providing you a cheerleader today, here ya' go: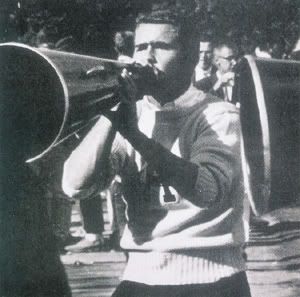 Don't everyone thank me at once...
Steven Wright's Tonight Show Debut:
Teh heh.
From Satirewire: "HOUSE TO READ 'HARRY POTTER' NEXT, THEN 'VAGINA MONOLOGUES'"
Some of the choicer nuggets:
"The Constitution was great, but it's kind of short so not everyone got to read," said House Majority leader Eric Cantor, one of 135 members who read aloud from the nation's groundbreaking charter. "And since we didn't plan to agree on anything this term anyway, we decided we could just continue reading to each other to pass the time."

"Reading to Congressmen is like reading to children," added House Sergeant at Arms Bill Livingood. "It's good for their development. It creates important bonding time. And it shuts them up for a while."
Tonight's Rube Goldberg Machine:
Of course there are better ones out there but there were football practices to watch. Hey, I spent at least 3 minutes finding this one.
Isn't there an extended one from Chitty Chitty Bang Bang or am I thinking of something from a similar movie? Something involving a convoluted breakfast-making device? Put me some knowledge in the threadzezez.
2011 No-Pants Subway Ride Scheduled for Sunday
In case you were terribly saddened from missing last year's festivities Apparently it's the 10th anniversary of the first ground-breaking No-Pants Subway Ride which has now spread to no less than 44 locales.
It'll be hip and stuff. Neither pants nor subway required to participate but unique facial hair stylings and anti-ironic shirts highly recommended (because they're anti-ironic, they're actually ironic and…uh…well, if I have to explain it to you then you just don't get it and fuck you because '80's preppie is coming back next year if I have anything to say about it. If I can find those Izods I'm sure are boxed up back at mom's house I mean. And argyle socks too. There will be argyle socks.)
Or now that I think about it, I declare tonight "No Pants ONT," also known as "every day."
"Everyone's getting into the spirit!"
Pandeh Smackdown:
No Peaches, they don't rip each others throats out at the end of the video, despite how much you enjoy watching such sick displays.
And Now a Final Word about Words:
Could be worse…I could've posted Wendy O. Williams. And I will...if provoked.
"Now imagine my legs attached to Michael Flatley's upper body. Or vice-versa."
Notice: Posted by permission of AceCorp LLC. Please e-mail overnight open thread tips to xgenghisx@gmail.com. Otherwise send tips to Ace.

posted by Genghis at
10:14 PM
|
Access Comments