« The Passing of the Gavel
|
Main
|
Psychedelic brain chemistry drug chemist "shocked" to find out his research is being used by bootleg recreational drug labs »
January 07, 2011
Overnight Open Thread
ONT rarely delves into the base political topics that the "lesser" contributors of the blog attempt to do during the daylight hours, but tonight we'll bow to the circumstances and dip our balls in salute to a great stateswoman…
A Farewell to Nancy:
A grateful nation thanks you for your public service, Ms. Pelosi.
More glowing tributes and heartwarming moments below the fold...
Worst Domain Names Ever:
So I was hanging out in/strapped to the bed last night watching tv when a commercial came on for something called Math Whizz appeared. Which is apparently a completely wholesome online childrens' math tutoring service. Except for the name and all. Did no one think this through? OK, so it's a play on 'wizard.' But when we see the word "Wiz," we probably, and sadly, think of this:
I apologize for subjecting you to that, but it was necessary or something.
And when we see "whiz," well, that's the usual slangish way of referring to a smart person as well as a delicious & versatile cheese-like product:
But "whizz?" Do I need to bust out the Urban Dictionary here? Upon seeing the commercial I was inspired and said to myself: "Self, go do a Google search on the worst or most ill-conceived domain names so you can fill up space on the ONT with as little effort as possible." Well, mission accomplished. Here's a list of The Top 50 Crappiest Domain Names according to some site which only got around to actually documenting 43 of them. Jib, cut etc. Here's the first 3 to give you an excuse to click the link:
1. penisland.net - Pen Island

2. sydneytherapist.com - Sydney Therapist

3. mammotherection.com - Construction Company
It always amazes me that I get paid for doing this and you don't.
How Evil Are You? (The Quiz)
There are 50 questions. If you score less than 100% you are henceforth banished from the ONT and only allowed to read and comment on Gabe's posts. Plus I like saying "henceforth." Makes me feel all LOTR and stuff.
Gaze into the face of pure evil...and let your soul be withered
(thanks & evil, cackling laughter to CDR M)
Paul Mason, Once World's Fattest Man, Suing NHS for Not Helping Him With Obesity:
Yeah, I'm going to Hell for this, but I figure that ticket's already been punched. Might as well upgrade to Business Class. You get a few more inches of lava bed to spread out in on the way down.
Ok, so here's the story (and I'm leaving the link for below for a reason):
"The world's fattest man wants to fight obesity: with a lawsuit. Paul Mason, who once weighed almost 1,000 pounds, is blaming the NHS (Britain's public health system) for sending him to dietitians who merely told him to lose weight -- but didn't identify his problem as an eating disorder, British newspaper the Sun reported.

The former postal worker told the Sun that when he went to the NHS for help with his eating as early as 1996, he was told to "ride your bike more."
Years later, after tipping the scales at 900 pounds -- while scarfing down 20,000 calories a day -- he was sent to a dietitian before finally getting life-saving gastric surgery."
Ok, fair enough. 20Kcal/day? Sounds like parts of equations I had to deal with back in skool (Physics For Non-Science Majors/Art Students/Moody Loners /Etc.). We also learned about things like
Well, it's not really important what we learned. What's important is the pic at the link. It's not safe for…lots of things. But mainly the geometry of Mr. Mason's physique. It just doesn't quite seem to add up. Well, it does, but not in a rational manner.
It's been suggested that Mr. Mason somewhat resembles the following: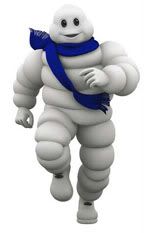 But not in any kind of rational universe I choose to live in. It just doesn't add up. There seems to be some inexplicable parts.
Courtesy of Dori Monson who points this out as well.

Giraffehs: The Video Toys R Us Doesn't Want you to See
I kinda' like the Japanese(?) commentary from the person filming it. It's like…Giraffezilla.
Tonight's ONT Theme Song:
(couldn't find a live vid with anything resembling decent audio quality…you'll live)
Notice: Posted by permission of AceCorp LLC. Please e-mail overnight open thread tips to xgenghisx@gmail.com. Otherwise send tips to Ace.

posted by Genghis at
10:14 PM
|
Access Comments