« National Enquirer: John Edwards Asks Reille Hunter To Be The Next Woman He Cheats On
Whoops -- It's Old!
|
Main
|
Top Headline Comments 1-7-11 »
January 06, 2011
Overnight Open Thread
Happy Thursday all.
Barack Obama - The Self-Manufactured Black man
He was born only half black, didn't grow up in a black family, and didn't really know any black people until he was nearly an adult, yet now he's considered the epitome of the successful American black man. This was not an accidental transformation.

As an American boy growing up in Indonesia and Hawaii in the aftermath of the civil rights movement, Obama was in a confusing position. He looked black, but he didn't know any blacks. He was descended from slave owners but not from slaves. Most disorientingly, Hawaii—where he was brought up by his white grandparents—lacked even those lingering remnants of racism, the exposure and expunging of which was, by the 1970s, the main preoccupation of the burgeoning establishment that had grown out of the civil rights movement.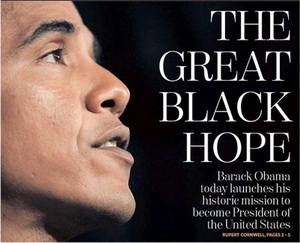 Where the average resident consumes 12.76 drinks per month. And remember - that's the average even after you include small children, the elderly, people in comas, Mormons, Muslims, and those awaiting liver transplants. Runner-up drinking towns were Fargo, San Francisco, Austin, and Reno.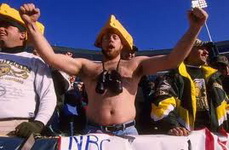 However, when Cooper pressed Nugent on whether Palin would make a good president, Nugent balked.

"It's too early to tell. Right know, if we had a vote, I couldn't vote for Sarah Palin. And I love her. I love her madly, and I respect her."
If Karl Rove can get to the Nuge, are any of us really safe?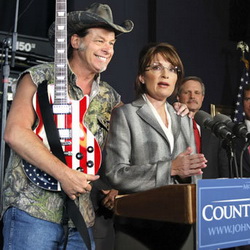 Old Democrats, Young Republicans
Young people may favor Democrats but more and more they're being represented by older politicians than Republicans are:

The average age of Republican House members in the new Congress convening today is 54.9, younger than the Republicans' average age in the previous Congress, 56.5. But the average age of House Democrats has risen, from 58 to 60.2.
This is the largest party age gap ever recorded. I guess it's no surprise that Jerry Brown is governor again at age 72.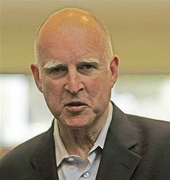 Welcoming Our New Chinese Overlords
Jonathon Last ponders the future of China and makes a good point about the liberal fetish for diversity. How come lack of diversity doesn't hurt the Chinese too?

The Chinese are 91.5 percent Han Chinese with a handful of other Asian groups making up a an 8.5 percent minority. And because their immigration laws are pretty tight, China isn't going to get less Chinese any time soon.

Seems to me that we hear an awful lot about how crucial diversity is for national success, how it fosters all sorts of synergy, creativity, energy, blah-blah-blah.

Either diversity really isn't particularly important, or the Chinese economic dynamo is going to have to find some way to overcome their tragic ethnic monotony.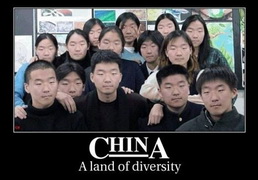 The 5 Star Cave Experience
Ever wanted to live like a caveman albeit a very wealthy, luxury-enjoying one. Well then head over to the Yunak Evleri hotel in Cappadocia, Turkey.

Each room is decked out in 5 star luxury, with warm hardwood flooring, spacious marble bathrooms, a Swedish jet and stream shower or Jacuzzi, handcrafted Mediterranean furniture and private patios overlooking the Turkish Mesa.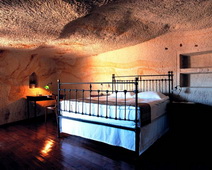 Bell Labs in the 60's
So back in the 60′s a Bell Labs employee, Lawrence Luckham, brought a camera to work and took some pictures. Young women + 60's fashions + vintage computer equipment = retro goodness.

New Miracle Drug Could Help You Lose two Dress Sizes
The drug, Liraglutide, helps you lose weight and also lowers blood pressure, raises 'good' cholesterol and can prevent and even cure diabetes. So I hope it pans out.
But for every breathless media story about a new miracle drug, there's another one like this (also from the Daily Mail) about previous miracle diet drugs that turned out to have been dangerous.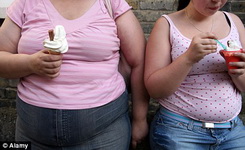 How To Make Candy in Your Microwave
Usually making your own candy is somewhat tricky and easy to mess up. But using the microwave actually makes it easier.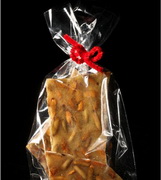 An Average Day on a Porn Set
An intrepid reporter spends the day at a porn shoot to see what it's really like. And it turns out to be rather...underwhelming:

After thirty enthralling minutes, which became 45 and then 60 (considerably less enthralling) minutes, I had an unlikely epiphany. "I never expected to say this," I told my friend as the actress gurgled on the actor's manhood, freshly withdrawn from her rectum, "but this is boring."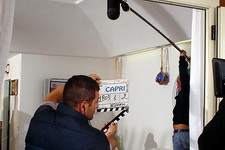 Yahoo group. That is all.
Tonight's post brought to you by the Duke:

Notice: Posted by permission of AceCorp LLC. Please e-mail overnight open thread tips to maetenloch at gmail. Otherwise send tips to Ace.

posted by Maetenloch at
09:43 PM
|
Access Comments