« Initial Unemployment Claims Data Continue to Fall
|
Main
|
Ancient Document Written In Foreign Language By Some Dead White Guys Being Read In House Of Representatives »
January 06, 2011
Those in Glass Hangars Shouldn't Throw Stones
Experts are pooh-poohing the stealth Chinese fighter:
Experts, however, are warning against drawing conclusions on the basis of the photographs.

Douglas Barrie, an aerospace expert at the International Institute of Strategic Studies, noted that the J20's airframe resembled that of an abandoned Russian prototype, the MiG 1.42.

"I'm not sure that its even much of an impressive airframe," said Richard Aboulafia, another analyst. "It looks like something that might have been designed in 1985."
That would be a lot more comforting if it wasn't true of the F-22, as well. The Demonstration/Validation part of the F-22 development program was started in 1986. Not only the design is old, of course - look at the average age of fighters themselves (from
Air Force Magazine
):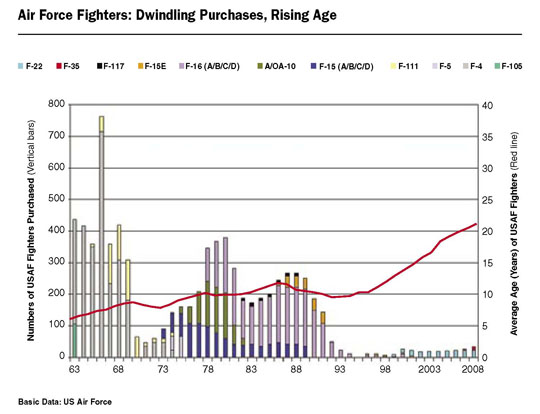 Before we start mocking the Chinese we'd better get some F-35s in inventory, or at least restore the F-22 buy that SecDef Gates canceled.

posted by Geoff at
09:36 AM
|
Access Comments