ę Top Headline Comments 1-5-11
|
Main
|
Jim DeMint: We Shouldn't Vote To Raise The Debt Ceiling Because We Didn't Create This Problem Ľ
January 05, 2011
ADP Employment Report: Up 300K Jobs!
ADP released its employment report for December, showing an increase of 297,000 jobs from November. From their press release:
...employment seems to have accelerated as indicated by Septemberís employment gain of 29,000, Octoberís gain of 79,000, Novemberís gain of 92,000 and Decemberís gain of 297,000. Strength was also evident within all major industries and every size business tracked in the ADP Report.
While most of the gains came from the service sector (rather than manufacturing, dang it), it's worth noting that
construction employment did not drop for the first time since June 2007
.
I'm sure you're all desperate to see the employment data in graphical form, so here you go: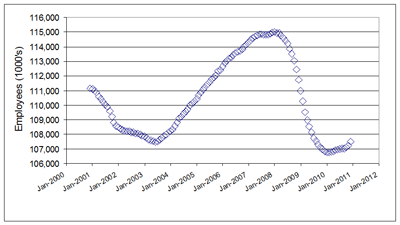 That little uptick on the right is dwarfed by the jobs lost, but it shows that the business sector has been showing some real signs of life for the last half-year. We're still looking at a very weak financial sector, and we're facing another
10 - 20% drop
in real estate prices this year, but the business sector is acting like it finally sees a path forward. And as I've been pointing out for the last couple of months, those signs of life started appearing once the election polls showed that the GOP would take control of the House.
Tomorrow we'll see this week's initial unemployment claims data, which has been falling reasonably steadily for 6 months, and on Friday the unemployment rate for December comes out.

posted by Geoff at
10:44 AM
|
Access Comments