« Obama As The Comeback Kid
|
Main
|
Top Headline Comments 12-23-10 »
December 22, 2010
Overnight Open Thread
Via Instapundit comes this damning statistic on the value of a college education these days:

The Center for College Affordability and Productivity (CCAP) has unearthed what I think is the single most scandalous statistic in higher education. It reveals many current problems and ones that will grow enormously as policymakers mindlessly push enrollment expansion amidst what must become greater public-sector resource limits.

Here it is: approximately 60 percent of the increase in the number of college graduates from 1992 to 2008 worked in jobs that the BLS considers relatively low skilled—occupations where many participants have only high school diplomas and often even less. Only a minority of the increment in our nation's stock of college graduates is filling jobs historically considered as requiring a bachelor's degree or more.
So basically all the money that many college students (and their parents) have paid/borrowed for a college degree was wasted. They paid $60,000+ just to qualify for essentially high school entry-level jobs.
Here's a breakdown of what percentage of different professions have a college degree: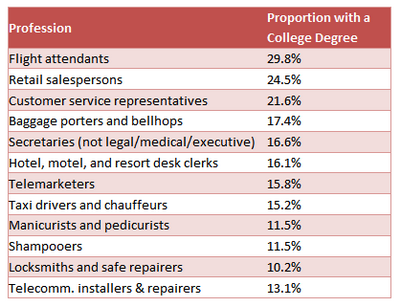 Note that none of these jobs require a college education to be excellent at them, but they do require specific knowledge and skills that aren't taught at a university. So pretty much every class that the college graduates working in these areas took was a waste.
Even worse than all the money wasted is the waste of student time and the opportunity costs. If instead of spending four years indebting themselves in college, the students had picked a profession and spent four years immersed in it, they could have already put in the requisite Gladwell 10,000 hours to become accomplished in the field. And would have made money the entire time without any debt hanging over their future.
I remember one of the things that the Soviet Union always boasted about was the high percentage of their citizens had a post-secondary school education and how this made them a better workforce. Most of this was in vocational and trade studies and the average Soviet worker had something like 2+ years of post-high school training.
Well after the Soviet Union collapsed it came out that most of this training was utterly worthless - the 'trained' workers were only about 1% more efficient at their jobs despite spending three years in a trade school. Basically the state authorities were using the schools to make themselves look good and as a way to hide the real unemployment among young people. I wonder if we aren't doing the same thing.
'Kiss me, you fool'!
Here Nancy Pelosi hugs Barney Frank before signing the legislation repealing the Don't Ask, Don't Tell policy. I view this as Exhibit A in the case against sexual reproduction.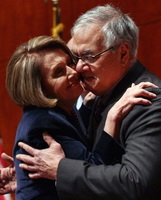 Prince Charles: Too Eccentric To Be King
Well Prince Charles has always been kind of an odd duck and pretty much every idea he's ever proposed has been stupid and/or wrong. The dangerous part is that he truly believes that he must act on his eccentric beliefs and is not used to ever being contradicted. And then you have the rumors that he's a crypto-Muslim.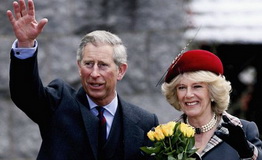 Just Say No To Huffing SF6
This is your dignity on sulfur hexafluoride.

The 10 Worst Airlines In The World
You might assume they'd all be Chinese or Russian, but you'd be wrong.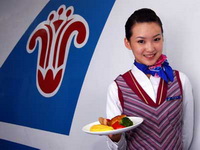 Should We Ban $100 Bills?
Here Timothy Noah argues that "hundred-dollar bills are for criminals and sociopaths" and ought to be banned. And yes the Benjamin is used a lot in criminal activity and money laundering, but it's also quite useful to have around for perfectly legitimate reasons. In the past I've $100 bills to buy cars, guns, and large appliances and it was much more convenient than having to carry around a bunch of $20s. Plus it's recognized pretty much anywhere in the world.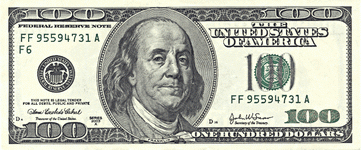 Tajazzle Your Vajayjay For The Ultimate In Personal Confidence!
Well Ace preempted my vagina facial coverage, so I present you Tajazzling instead. A 3-part system(!) - for the ultimate in personal confidence.

Life-Altering Footwear of the Day
These are based on the barefoot-is-better concept and have added a little padding. If they add in a heel strap, instep fabric, and some laces then they'll really have something.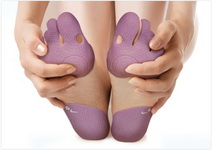 Tonight's post brought to you by a Bogie and Bacall Christmas: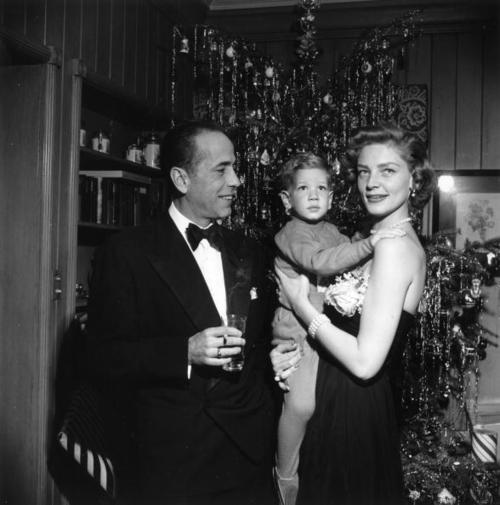 Notice: Posted by permission of AceCorp LLC. Please e-mail overnight open thread tips to maetenloch at gmail. Otherwise send tips to Ace.

posted by Maetenloch at
09:30 PM
|
Access Comments