« First Look: Here's That Electoral Vote Map We're Gonna Be Studying For The Next 23 Months
|
Main
|
Week 15 Pickem Stats »
December 21, 2010
Overnight Open Thread - Nuking Space Edition
Back in the summer of 1962 the US set off a hydrogen bomb 250 miles in space over the Pacific as part of Starfish Prime. And it created quite a show for Hawaii:

In Honolulu, the explosions were front page news. "N-Blast Tonight May Be Dazzling: Good View Likely," said the Honolulu Advertiser. Hotels held what they called "Rainbow Bomb Parties" on rooftops and verandas. When the bomb burst, people told of blackouts and strange electrical malfunctions, like garage doors opening and closing on their own. But the big show was in the sky.
The electrical malfunctions were the effects of an
electromagnetic pulse
(EMP) from the nuclear explosion and showed that EMP could be a weapon all by itself.
So why did we nuke space? Well it was an experimental age - the Van Allen belts had only been discovered a few years before and we figured that if we didn't do it, the Soviets would. So why let them get all the glory and secret data from it. Plus it was a good chance to show the aliens that we were totally willing to nuke things from orbit.

Jimmy Carter Admits His Worst Failure
But of course it's really our failure:

"I guess my biggest failure was not getting reelected," he said in an interview with Big Think, referring to the 1980 presidential election.

Carter, 86, said the loss taught him "not to ever let American hostages be held for 444 days in a foreign country without extracting them." He added, "I did the best I could, but I failed."
The sad part is that he probably was doing his best.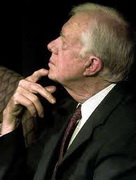 The Military's Real 'Don't Ask - Don't Tell' Problem
Is that the Afghan Pashtun men won't stop fucking each other and little boys:

The report described unease by U.S. Marines and British soldiers who felt they were being propositioned, or who were outraged by apparent acts of pedophilia by Afghan soldiers and police. It documented one case in which 12 of 20 Pashtun interpreters working with one U.S. Army unit had contracted gonorrhea from homosexual encounters.
And using young boys for sex creates a cycle damaging to boys and young men and also to the women:
Virtually all of the younger men who beat their wives (over their inability to become pregnant) had been former "apprentices" of older Afghan men, who used them for their sexual pleasure. Upon entering marriage, whatever the men knew of sex had been learned during their "apprenticeship," at the hands of the older man. To put it bluntly, some of the younger Afghans were unfamiliar with the desired (and required) mechanics for contraception.
I can only imagine what's going through the heads of the soldiers as they have to explain the birds and the bees in detail to young Afghani men.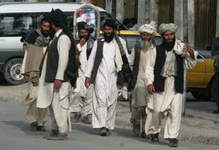 The Righteous Retribution of Barack the Barbarian
Yes these are all actual comic books based on Obama as collected by Cracked. And if you think the barbarian one is over the top, just wait til you get to the bizarro Japanese porno comics featuring Obama. Hey don't blame me - I'm just the messenger here.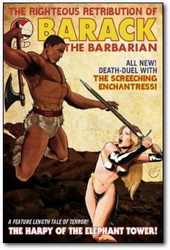 So You Want To Write A Hit Song?
Well thanks to this word cloud infographic the songs pretty much write themselves.*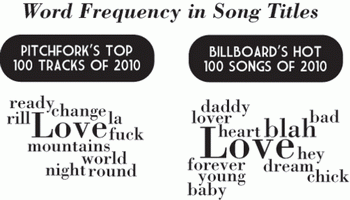 *
Catchy tune, cleavage not included.
Colorblind? There's an app for that.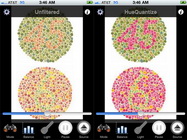 Best Extra Credit Question Ever
And couldn't Answers A and C both be true?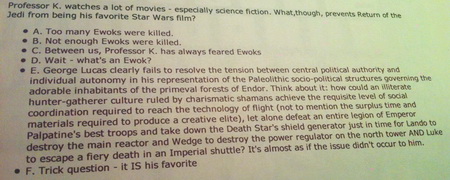 Poop Transplants Exist, Save Lives

A superbug named C-diff is on the rise, a germ that so ravages some people's intestines that repeated tries of the strongest, most expensive antibiotic can't conquer their disabling diarrhea.

Now a small but growing number of doctors are trying a last-ditch treatment: Using good bacteria to fight off the bad by transplanting stool from a healthy person into the sick person's colon.
15,000 people die from C-diff each year so I guess this does beat death, mostly.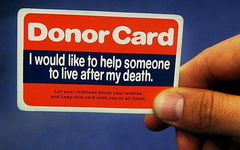 Is Bicycling a White Thang?
Well that's what worries Greg Raisman, traffic safety coordinator for Portland's Bureau of Transportation (PBOT), who frets that not enough minorities are using bike lanes. Apparently because bikes and bike lanes are considered 'too white':

Carla Danley, a year-round African-American cyclist in Portland, offers her take. "There's a hard conversation that needs to take place about the perception that bike infrastructure in communities of color equals gentrification. And that's not really considered a polite conversation."
Which is kinda odd because bikes seem pretty common in the more ghettoish neighborhoods. Mainly because the young men there can't afford cars and insurance and/or had one too many DUI. I consider this an indicator that either Portland has managed to solve all their crime and social problems or that PBOT's budget is
way
too large.
The Yahoo AoSHQ group. You know the way.
Tonight's post brought to you by the Western Auto catalog, Christmas '77: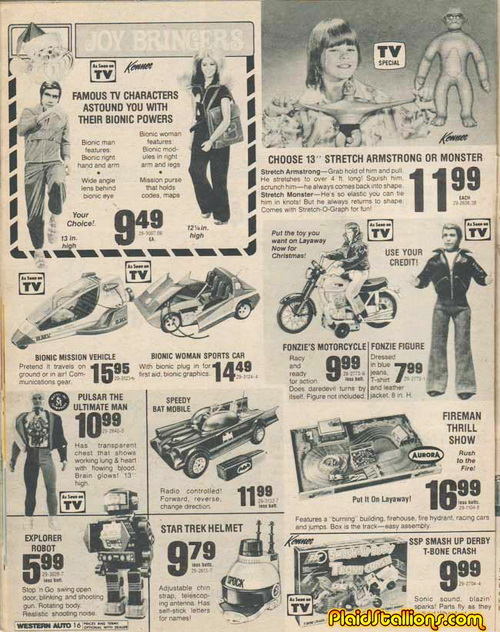 Notice: Posted by permission of AceCorp LLC. Please e-mail overnight open thread tips to maetenloch at gmail. Otherwise send tips to Ace.

posted by Maetenloch at
09:36 PM
|
Access Comments