« Report: Mike Pence To Make 2012 Decision Next Month
|
Main
|
Top Headline Comments 12-21-10 »
December 20, 2010
Overnight Open Thread
So where can you enjoy the AoSHQ lifestyle at least pr0n-wise?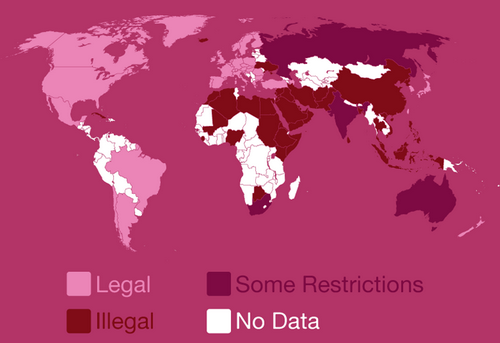 Surprisingly the Americas seem to be just fine with porn along with Europe except for Iceland, the Ukraine, and Latvia(?) where it seems to be banned. Of course when you have weird porn laws, you tend to get weird porn. Which may explain why Japan has tentacle and rape pron but no pubic hair and Australia requires porn actresses to have B-cups or better.
And which US states are the porniest?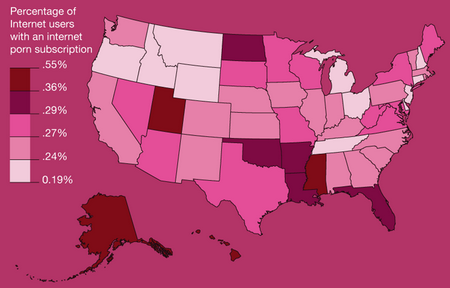 Well let's just say that Utah and Mississippi
really
love their online smut.
Of course as a commenter pointed out these states also tend to have the least amount of brick-and-mortar porn shops so I guess this is just the invisible porn hand at work.
The Return of Duck-and-Cover
The smug used to joke and smirk about duck-and-cover drills but they're actually one of more useful things you can do in the case of a nuclear (or even conventional) attack. In a real nuclear attack most people would be killed by heat and blast effects and residual radiation rather than be instantly vaporized. So anything you do to minimize these immediate effects will only increase your odds of survival.

Well, a terrorist bomb will likely be a surface-burst (or in a port, a water-burst if it's smuggled on a ship, a plausible scenario) which will reduce the fire-setting role of the flash. But, yeah, if you read the report (and I skimmed it last night) they seem to be thinking mostly about NY or DC. Note, too, that sheltering for even a few hours can make a big difference. Following the old "rule of 7″ the radiation is 1/10 its peak 7 hours later. (And 1/10 again — that is 1/100 at 7 x 7 hours — two days, basically). Also, of course, sometimes you're just screwed, which is why nuclear attacks on one's town are to be avoided if at all possible.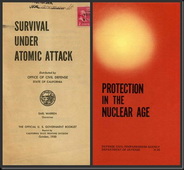 As a kid I remember sending off for a bunch of free stuff from the government and one of things they sent me was a how-to-survive-a-nuclear-attack manual from FEMA like
this one
. As I recall it actually had a lot of useful, practical information that would still be good to know in the event of a dirty bomb attack today. Sadly most of this information is not taught anymore since we're supposedly in a 'post-nuclear war' world.
Fine Kennedy Manners
When Patrick Kennedy retires this year it will the first time in 64 years that Congress is Kennedy-less. Which will make the world safer for waitresses, female campaign workers, rental cars, fire hydrants, and even Nancy Pelosi's mansion:

From Paul Bedard: "When Patrick was 10 years old, he related, his father, the late Sen. Ted Kennedy, called Pelosi and explained that Patrick and some of his friends were going to be in San Francisco, and could they stay with her? Of course was the answer, so the younger Kennedy and 35 of his friends descended upon the Pelosi home — and went wild. They had water fights in Pelosi's tony abode, amid expensive paintings and other finery."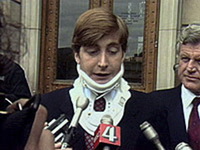 Queen of the Deadbeats
Patsy Campbell bought a nice two-story house on a half acre in a tidy middle-class neighborhood in central Florida in 1978. She stopped making mortgage payments in 1985 and various banks that have owned the mortgage since then haven't been able to get her out.

The saga actually began back in 1978, when the property was originally purchased by Paul Campbell, a pharmacist in Okeechobee, Florida. He took out a $68,000 mortgage to finance the purchase. Mr. Campbell married Patsy in 1980 and died later that year of emphysema. Five years later, Mrs. Campbell stopped making payments on the house after (she says) an illness caused her to lose income and fall behind on her bills.
...
As you might expect, Patsy Campbell has no intention of paying that note. She claims that no one owns her note, because of lender fraud and mistakes made when the mortgage was transferred on multiple occasions. Ms. Campbell plans to continue her fight; the attorney for Commercial Services says he receives a new appeals filing from the homeowner almost monthly, creating more delays, paperwork and expenses.

So if you don't mind making fighting foreclosure your full-time job, then you too can get a free house.
So What Was Happening Back in December 1980?
Well Reagan was considering declaring an 'economic emergency', Chrysler was bankrupt, Gov. Brown had to reimburse CA for personal political work done for him, and a new show called 'Magnum PI' premiered. Click on the image for a full-size version.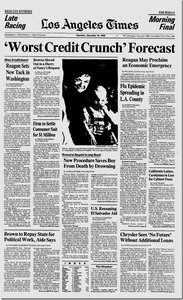 Ron Jeremy Made a Super Mario Brothers Porn?
In keeping with our new Ron Jeremy format I'd be remiss if I didn't mention Ron's forgotten 1993 porn movie based on the famous video game. There's SFW video at the link but I warn you - even by pron standards it's excruciating to watch.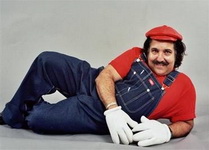 If The Internet Had Existed Years Ago
Well let's just say things would have been quite different.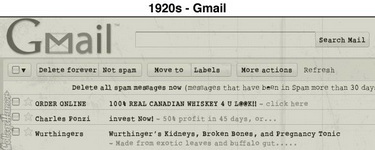 Dog To Get A Sex Change
Would it make more sense if I told you this happened in Britain?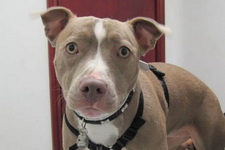 Demon of Darkness To Swallow Moon Goddess Tonight
Sacrifices must be made by 1:32am EST or we all die.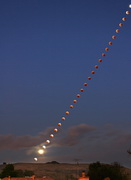 The Yahoo AoSHQ group. Bla bla bla. And don't forget about the Job Bank.
Tonight's post brought to you by weekends in Vegas: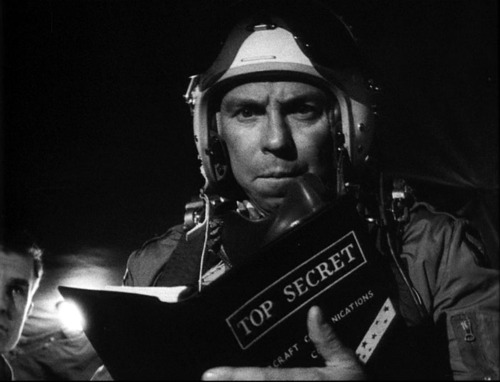 Notice: Posted by permission of AceCorp LLC. Please e-mail overnight open thread tips to maetenloch at gmail. Otherwise send tips to Ace.

posted by Maetenloch at
09:54 PM
|
Access Comments