« The Wave That Keeps On Giving, Even In Deep Blue NY
|
Main
|
America's Best in Afghanistan. [dri] »
December 04, 2010
Overnight Open Thread
Merry Vague, Secular, Non-Threatening Winter Something-or-other to you all! Here's a little something to get you into the holiday mood:
In the the mood for slitting your wrists that is. I feel bad for the lighting system there. How did it not have a nervous breakdown?
More holiday magic below the fold, if you dare to look….
Btw, Did you Know that Curtis Got Slapped?
Just thought I'd mention it if you didn't. Details here.
In unrelated news...
Retired Dental Surgeon/Former Playboy Model in Wheelchair With Small Yappy Dog is Forced to Strip Down to Her Underwear by TSA Agents at Will Rogers World Airport (Oklahoma City) As She Was Protesting...Oh, Fuck it. Just Read the Article:
"Dr. Banovac always refuses to go through the metal detector. She has to use a metal wheelchair and that means that she always gets a pat down no matter what. Lately, she says she feels violated because the pat downs have become increasingly invasive during the last few months. "If it happened anywhere else, it would have been sexual assault," she declared to a local newspaper.

She was so angry with the situation that she decided to change things. On November 30, the 52-year-old arrived to the Will Rogers World Airport in Oklahoma City en route to Phoenix, wearing just a trench coat. When it was time to pass through the check point, she took off her coat, stripping down to her black lace lingerie. She hoped that, by showing that she had nothing to hide, she would not be hand-searched.

Sadly for her, things got worse: The perspicacious TSA agents wanted her to go through the metal detector, anyway. When she understandably refused, they decided to give her a pat down."
If you're not into text and stuff, here's the video of whatever it was that happened:
If you ask me, the TSA agents didn't go far enough in terms of vigilance. The dog looks mighty suspicious. Like it might be an explosive yappy dog. Just to be on the safe side the bomb squad should've taken it out on the tarmac and detonated it from a safe distance.
Boys Lost at Sea for 50 Days Were Looking For Vodka, Not Love:
These are some hard-core Morons. Original story is that they were chasing some cross-ocean grass skirt. But now the truth can be told. And it is some awesome truth:
"Three teenagers who survived at least 50 days adrift in the Pacific in an aluminium dinghy say their odyssey began when they went searching for more vodka after partying on the beach."

"The boys, from New Zealand's remote territory of Tokelau who lived off rainwater and a seagull they captured during the ordeal, said they talked constantly about food as they prayed for rescuers to find them."
And apparently didn't take time to read their sea charts before setting off. Otherwise they'd have known that the island nation of Valu-Rite is located somewhere in the northern hemisphere.
"Edward Nasau, 14, denied reports that he and Samuel Perez and Filo Filo, both 15, had set off to find a girl from a neighbouring island who they had met earlier in the day."
Well, that's what happens when irresponsible awesome parents give their drunken kids the keys to the dinghy. All's not well since they made it back alive though. They've taken to singing sea chantys and calling one of their number "lad" rather than his given name.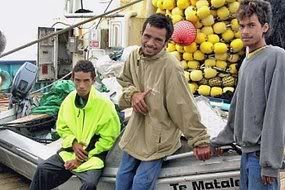 And I think it's pretty obvious which one that is.
But in brighter news...
All Texas Rangers are Now Honorary Chuck Norris.' Norrisis? Norrisai?
Whatever. As Ceiling Cat might say Iz good.
"GARLAND, Texas (AP) - There's only one man tough enough to take down "Walker, Texas Ranger." And that's Chuck Norris, Texas Ranger."

"The actor and martial-arts expert was named an honorary member of the elite Texas law enforcement force Thursday by Texas Gov. Rick Perry, a nod to the television character that enshrined Norris as the ultimate tough guy."
Meat the Super Cow!:
Super Cow...it's what's for dinner. I like the shaving part. Makes it easier to draw on those dotted lines...
Good thing they can't fight back. Unless they can...
Happy Cheetahday:
0-45 in 2.5 seconds?
And to make it up to you for the Babs vid at the top (even though you don't deserve it) here's
Rod Stewart Before He Went all Billy Squier on us:
Oh wait, no it's not, because whoever posted "Hot Legs" on YouTube disabled embedding. So I'll pour a little Veruca Salt on your wounds. Get over it.
Go now and comment in what way seems best to you.
Notice: Posted by permission of AceCorp LLC. Please e-mail overnight open thread tips to xgenghisx@gmail.com. Otherwise send tips to Ace.

posted by Genghis at
09:30 PM
|
Access Comments