« Hideous looking thing found on bottom of sea floor
|
Main
|
Midday Late Afternoon Early Evening Overnight Open Thread - "Make Money Now, Ask Me How" Edition [Rajiv Vindaloo] »
November 24, 2010
BREAKING: Tom DeLay Convicted Of Money Laundering
Thanksgiving came a day early for liberals.
DeLay was charged with money laundering and conspiracy to commit money. He faces a possible sentence of 5-99 years in prison and a maximum $10,000 fine on the money laundering charge, and 2-20 years in prison and a possible $10,000 fine on the conspiracy charge.

Prosecutors earlier said they believe the DeLay case is the first such criminal charge ever filed over Texas' century-old prohibition on corporate contributions in state political races.

Delay, a Republican who was nicknamed "The Hammer" because of his heavy-handed style, was accused of conspiring to funnel $190,000 of corporate money through the Republican National Committee, which sent $190,000 in campaign donations to seven GOP candidates for the Texas House.

State law prohibits corporations from giving donations to candidates directly or indirectly.
Sucks for DeLay but on the whole, it's kind of meh news. He's been out of office for a number of years and with the Republican wave this year and a new generation of leaders it just feels so old and from another era, mostly because it is.
Still, liberals will enjoy their moment and no one will care come Monday.
It'll be interesting to see how this all shakes out once the appeals are through.
Thanks to tmi3rd for the heads up.
Just a reminder...DeLay had the best mugshot ever.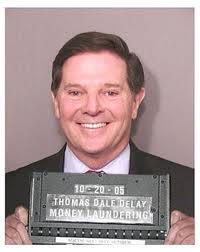 Added: In case you're mourning the fall of a great conservative leader, don't forget that in 2005 Delay said the federal government was small enough and the GOP was pretty much done cutting spending. Now, we'd all like to go back to the 'good old' days of only 300+ billion dollar deficits and 16 TRILLION in unfunded liabilities but that's only because of how insane things have gotten since then.
DeLay may have had a lot of good qualities as a Congressman but being a small government, cost cutting conservative wasn't one of them.

posted by DrewM. at
06:07 PM
|
Access Comments