« Department of Justice Rocked by Investigation [rdbrewer]
|
Main
|
TSA Gropes Menstruating Woman Because of Panty Liner [rdbrewer] »
November 24, 2010
Overnight Open Thread: WTF Edition [CDR M]
Wazzup Moron Nation! CDR M back on the ONT BattleWatch! Hope you all are ready for the most magnificent eating day of the year and for those of you traveling, hope the TSA didn't manage to mishandle your stuff, so to speak! Without further ado, I present to you, the ONT:
The Screw You Nebula
Remember this picture?
Well, it looks like the big Guy up in the sky has responded. Obama, you ain't got nuthin' on this:
Source:
APOD
Cooking Themes
These are homes that are owned by some of the top chefs and chefettes in the world. Man, they have some huge homes and are probably all kitchen! Also included with this list are some of their favorite holiday recipes. Anyone game to try them out? Now don't some of you morons get the bright idea of driving up to these homes and start celebrity stalkin' or somethin'!
Top Chef Homes and Holiday Recipes
Of course, that last post leads to this. Celebrity kitchens. Do they even know how to cook? Do they even eat enough to justify a kitchen? One thing I can't quite figure out yet is why Lady GaGa even has a kitchen? Is it her sewing room for her meat dresses?
Top Celebrity Kitchens
Now, what's a holiday celebration without some Moose Milk. No, fellow morons, not real moose milk, but the drink called Moose Milk. I developed a taste for this after hanging out on detachment with some Canadian military types. There are different recipes but this one is pretty good. Warning: It is very potent and will lead to good times! What concoctions are the rest of you mixing up for the holidays?
Moose Milk Recipe
More Moose Milk Recipes
Cooking Safety Video
Good Morning America did a little show on holiday cooking safety this morning and while there is some good information in it, she almost goes up in flames during the segment around the 1 min 15 sec mark as she puts out a grease fire with the lid. I think her technique would've worked out better if she had also moved the pan off of the heat source instead of just leaving it there. So close to having a new Darwin Award candidate.
Animal Themes
Yes, I know it's not Caturday but I could not resist seeing a cat show the effects of the moron lifestyle. Just tragic.

Could this be a video game for the moronettes? I don't know. I think the game would be better if the big cats would at least try to eat you. Or you can shoot 'em. Just sayin'.

Artwork
CAC inspired me to at least post one thing on "high class" artwork. Here goes. H.R. Giger is famous, right?

Military Pron

Name this gun. I have no friggin' idea!

Random Shiite
Heh. The world according to San Francisco.
This is pretty cool.

If you could choose which television show family you could spend Thanksgiving with, who would it be? TV Squad asked just that question and posted their list with reasons why or why not. I think I would lean towards The Bluth family of Arrested Development. No shortage of entertainment in that family but I think in the end, I'd have to go with the Bundy's.
Imagery, Intelligence Analysis Great site to peruse now and then for imagery analysis as it pertains to military issues. If you have Google Earth on your computer, you can load up the dot kml file for SAM's and it will depict the type, location and range rings for that type weapon.

Of course, no turkey day can pass without this classic montage of the turkey drop from WKRP in Cincinnati.

Top 10 Over Rated Acts in Music
I will now close this ONT with this little music ditty.

Well folks, that's all I got tonight. Take it easy.
Tonight's ONT brought to you by: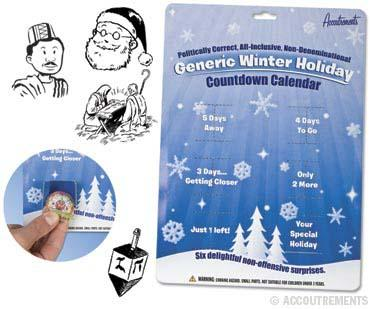 Source:
Maggie's Farm
Notice: Posted by permission of AceCorp LLC.


posted by Open Blogger at
09:11 PM
|
Access Comments